Swiss high-end kitchen appliance brand V-Zug has launched its fi rst restaurant in Singapore in collaboration with chef Ryan Clift of Tippling Club.
Situated right next to its showroom and help centre Zugorama, V-Zug's restaurant is christened quite matter-of-factly V Restaurant. The semi fine-dining spot has been conceptualised in conjunction with chef Ryan Clift, who is also V-Zug's global ambassador. Heading the kitchen is Tippling Club alum chef Lee Jing Peng, who will be offering degustation-only menus for both lunch (two, three, or five courses) and dinner (five or 10 courses). The menu offers quite straightforward dishes like wagyu tartare and watercress veloute, although bits of Tippling Club-esque modernist cooking does sneak into things like "textures of green curry" served with roast barramundi; and an El Bulli invention, the air baguette, is served here with manchego and truffles. Needless to say, it's all prepared using V-Zug's appliances.
#03-13 Scotts Square. Tel: 6950-4868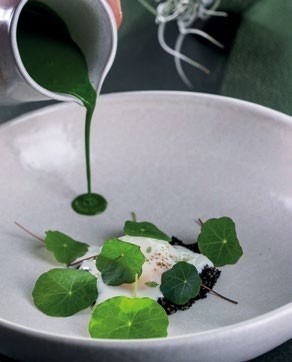 Classical European dishes that have a modern twist include wagyu tartare with housemade shrimp crackers (left), and watercress veloute accompanied by egg and potato.
TEXT WEETS GOH
DINNER IN ANOTHER SHOWROOM
Thai luxury property developer Sansiri has launched a multiconcept lifestyle space – complete with restaurant, showroom and art gallery – in Singapore, and the restaurant part is known as JAM. The concept brings together chefs Ming Tan of Lolla and Jeremy Cheok of pop-up Garang Grill to present contemporary Asian sharing plates – that is, familiar, moreish flavours refined for a restaurant setting. Expect dishes like thick-cut scallop carpaccio dressed in yuzu and truffle, spring onion, and topped with kombu and trout roe. Another highlight is the restaurant's charcoal grill, which is used to impart smoke and char to dishes like prime rib with shio-kombu butter and salsa verde; and Iberico pork collar contrasted with stone fruit compote. There's also a cocktail programme courtesy of the guys behind Sunday Punch, who will be riffing on classics – their negroni pays homage to home base with the inclusion of Thai red tea. 
#01-02, 8D Dempsey Road, Dempsey Hill. Tel: 9667-0533
UNITED COLOURS
Just a couple of months into opening, Asian French-Nordic chef's table concept Mythz and Myths has already launched its second menu. It's an improved one too, as the dishes are a little more thought-through, the portions adjusted, with more surprises around every corner. Expect plenty of fermentation and acidity in the new seafood-heavy menu, as well as unexpected combinations like squid with grilled cream and pickled rose petals; and quail, aged and hung for a week before being finished yakitori-style on a grill. The menu doesn't veer too far from familiar flavours, though – head honcho/chef Martin Wong understands the Asian palate, and plays to that strength well.
#01-00 CMO Building, 50 South Bridge Road. Tel: 9733-4377 
GLOBAL COOKING
After an illustrious eight years at its iconic location in Kampong Bugis, Kilo Kitchen is starting somewhat fresh in Duxton. Chef Manel Valero is now heading the kitchen again after departing in 2016 for a sabbatical. All the Kilo signatures remain: unfussy sharing plates, big flavours and international influences, which you'll find in perennial favourites like grilled baby corn with chipotle and furikake; and the seafood ceviche, which features tuna, octopus and snapper in a piquant dressing. The breezy new space now features a wood-fired grill in the centre of the open kitchen, which is fed with a combination of apple, cherry and jarrah woods to fire dishes like grilled lamb shank with roasted peppers and za'atar bread.
97 Duxton Road. Tel: 9625-0279