So Sofitel's rooftop hideout knows more than a thing or two about cooling off, tropical style.
So Sofitel's rooftop hideout knows more than a thing or two about cooling off, tropical style.
For a rooftop bar, 1927 fails spectacularly in the views department; its humble sixth-floor height atop the So Sofitel means it's easily dwarfed by the dreary offices surrounding it. However, the boutique hotel's new watering hole is still worth a visit, if only for one thing: spectacular tiki cocktails.
In keeping with its swank decor, 1927 calls its creations "Equatorial Classics" but just know it's a menu filled with rum-based favourites like the Rum Runner, Fog Cutter and Painkiller. All classics here, equatorial or otherwise, are executed effectively – which is to be expected of any decent hotel bar – so it's in the original creations that one can witness 1927's genius.
Start the evening with a Tiki Time Bomb, which gets its sweetness from grapefruit cordial and Velvet Falernum liqueur, and its strength from gin and burnt pineapple-infused vodka. For something lighter, the Hashtag Frose (rose wine, St-Germain, dry vermouth and champagne syrup) is crisp and refreshing. A little absinthe sometimes works wonders for tiki drinks, and is proven here in the bar's Absinthe Colada.
While there's no sunset or beach to toast to, 1927 is not lacking in ambience. In the chic space, brightly coloured tropical prints, planters and lounge chairs abound, with an infinity pool beckoning those who (we hope) sip responsibly. The 2.4m-wide screen and projector on the patio also make 1927 a suitable event space for private parties and launches.
SWEET AND STRONG
The Tiki Time Bomb is made of grapefruit cordial, Velvet Falernum liqueur, gin and vodka.
02 DARK HARMONY
When a winery that consistently produces wines that break the 90-point barrier announces a premium range, one has to wonder just how much better it can get. While taste is subjective, we will say that Marques de Casa Concha's new label, Etiqueta Negra (meaning black tie), is promising and its first vintage, the 2016, is a fine example of Chilean wine. Comprising 60 per cent cabernet sauvignon, 32 per cent cabernet franc and 8 per cent petit verdot, this is Marques de Casa Concha's first blend. With firm tannins, well-integrated oak and perfect balance laying the groundwork for notes of red and black fruits, cedar and smoke, the 2016 will pair well with red and game meats, and herbs like rosemary, thyme and bay leaf.
03 WEEKEND WONDER
Brunch is a many-splendoured thing that can always be made better by pairing it with generous helpings of champagne. Zafferano clearly agrees, as it launches its Saturday Champagne Brunch once a month. All the champagne and spumante you could want are accompanied by a bountiful spread of Italian favourites like stewed mussels, Tuscan thick soup, marinated salmon, burrata and cold cuts, served sharing-style at the table for a convivial feast. This month's edition is on Nov 24.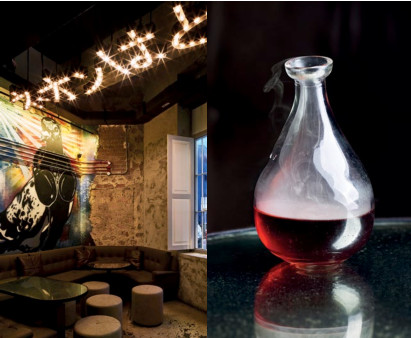 04 ILLUMINATING FLAVOURS
Even the most genial barman needs the occasional break from fussy customers who aren't clear on what they want. So Neon Pigeon's answer to that is an overhauled menu that breaks up its offerings into nine categories, with each one showcasing two cocktails. Each creation is also beautifully and helpfully illustrated to display the individual ingredients and their proportions. The taste profiles of these new drinks are diverse, complex and unapologetically bold. Goat milk is not a flavour one would associate with a cocktail, but it shines with green chartreuse and shiso in the Yagi. The aromas of the Teared Negroni – which swops out gin for rosemary-infused sake umeshu and prosecco – are almost as intoxicating as the liquid itself. If you've never been to this Keong Saik gem, now's a good time to start.
TEXT CHARMIAN LEONG