What happens when food and fashion collide? Michelle Tchea explores the crossroads.
01 PASTICCERIA MARCHESI It was opened in Italy in 1824 and has become an icon. 
In Florence, a young chef walks past the neon-lit Gucci eye illuminating the façade of Palazzo della Mercanzia and enters her kitchen. Finishing touches are placed on handmade tortellini stuffed with ParmigianaReggiano and lingering in a creamy, rich broth, bobbing like jewelled buoys at sea.
Another chef peers over the balcony of his seventhfloor restaurant, admiring the queue curling around Louis Vuitton Maison Osaka Midosuji, the brand's newest flagship store. Dishes – mille-feuille, braised wagyu beef, elevated croque madames and the like – flow out of the kitchen like supermodels sashaying systematically onto a catwalk.
In Milan, where fashionistas collide with foodies daily, gold leaf is delicately laced over pastel-coloured cakes at Marchesi 1824; Prada's lovable offshoot – a pasticceria or bakery – is in one of the most unassuming places for a fashion house.
On paper, fashion has no place in the food world. But if retro dishes, a golden arch and steaming hot bowls of ramen can be considered fashionable when printed on vintage tees, perhaps there is some synergy between the two industries.
While fashion labels have tinkered in the F&B industry for decades – think supermarkets in department stores, cafes next to women's accessories and even ice cream parlours on bedding floors – strategies have changed, reignited by some of fashion's biggest leaders.
In a world where physical touchpoints offer relief for brands struggling to make headway in e-commerce, consumer interactions are paramount.
Restaurants are no longer just looking to keep customers in the store and spending more. 
Instead, they are focused on securing top-client loyalty with customer experiences being bigger, bolder and better than ever to ensure success. 
Celebrity associations, toothsome collaborations and eye-catching design are feeding all five senses and changing the retail experience. The monogrammed baked goods are just the cherries on top of the shopping cake. 
02 THE LONDON OUTPOST The bakery opened its store in London in May last year. 
AMUSE BOUCHE
This year, the gourmet food industry has been dramatically upended thanks to the onslaught of luxury brands launching cafes and restaurants in flagship stores. Rather than just stamping a name to a restaurant, strategies seem to be more holistic, creating wholesome experiences which include craftsmanship, design and art served next to a chilled bottle of Krug.
While restaurants by reputable fashion companies is not a new trend, it is emerging as a highly competitive industry.
Whether it is a high-brow speakeasy and coffee shop like Ralph's Coffee in New York, Vanitas, the signature Italian restaurant at Palazzo Versace Dubai or the Lanvin café in Shanghai, we live in a content-driven world and fashion houses are betting on omni-channels to strengthen customer loyalty.
In this social media age, the winning formula plays on the weakness of humans – the desire to be seen, the thirst for inclusion and the fear of missing out.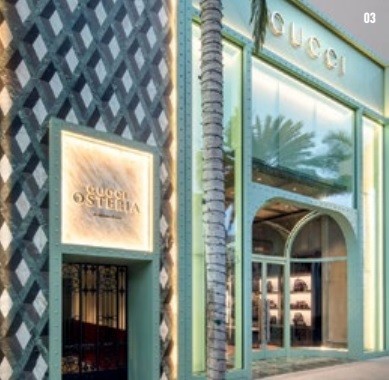 03 GUCCI OSTERIA IN FLORENCE The Bottura-helmed restaurant recently got one Michelin star last year. 
IN MILAN, GOLD LEAD IS DELICATELY LACED OVER PASTEL-COLOURED CAKES AT MARCHESI 1824, PRADA'S LOVABLE BAKERY. 
WHEN IN ROME... OR FLORENCE
When Massimo Bottura recently launched his second restaurant for Gucci in Los Angeles, A-list celebrities turned up to party, mingle and sample the double G monogrammed hors d'oeuvres.
Bottura is notably one of the first celebrity chefs to headline a strategic collaboration with a fashion label. Florence, home to the Gucci empire is where Bottura first introduced himself to the fashion audience in 2017 and perhaps the moment Gucci cemented its position as the market leader in the modern era.
The Gucci Garden within the historic Palazzo della Mercanzia is more than just Gucci's flagship store but a near-religious experience for those who love fashion and want to "Guccify" their life. Showrooms double as galleries offering an intimate, self-guided historical tour detailing Gucci's past and present as well as an all-round sensory experience to eat, breathe and live Gucci.
Alessandro Michele, the brand's current creative director, revealed that he revived the Gucci Gardens because he wanted to create an immersive experience which includes the Garden Galleria exhibition rooms curated by Maria Luisa Frisa and Gucci Osteria, a restaurant helmed by Bottura, one of the world's most revered three Michelin-starred chefs. 
04 THE MASTERMIND Massimo Bottura smiles for the camera. 
MASSIMO BOTTURA IS ONE OF THE FIRST CELEBRITY CHEFS TO HEADLINE A STRATEGIC COLLABORATION WITH A FASHION LABEL. 
Guests do not have to wear Gucci to visit. Instead museum-goers, art lovers, history buffs and, of course, foodies are welcomed for a small fee of 8 euros (S$12.40).
Fans of Michele's work will not question Gucci's bold move into the F&B space with Bottura. The Roman native leaves nothing to chance – everything is done with conviction and purpose.
Much like the organised chaos of Michele's iconic collections for Gucci, where tactile fabrics, rich embroidery and quirky prints coalesce with animals and florals in a soulful and meaningful manner, the telling story of Michele's recruitment in 2015 was a strong indicator of Gucci's strategic interest into the restaurant business and how it contributed to its revival.
Marco Bizzarri, Gucci's president and CEO, had a vision for bigger things, which seem to be coming into fruition now with a list of revamped global flagship stores in the works.
In a 2015 interview with Vogue, Michele revealed that he was on Bizzari's radar because he was head of accessories and jewellery at Gucci and, more importantly, the creative director of Richard Ginori, the porcelain tableware company Gucci acquired in 2013.
This struck a high-octane chord with Bizzarri, who added to his tenure a homeware collection that launched with Gucci cat print rugs, velvet monogrammed armchairs and a host of other Gucci Decor items, including a kaleidoscope of eclectically designed products which only look great as an ensemble in the right setting – such as a Gucci-themed restaurant. And what better way to do it than with the help of Bizzari's childhood friend, Bottura.
Earlier this year in February, Massimo Bottura rubbed shoulders with the likes of Brad Pitt, Gwyneth Paltrow and Elton John at the Oscars Party in Los Angeles when the spirited chef was opening his latest project, Gucci Osteria da Massimo Bottura in Beverly Hills. 
05 ENTERING THE RESTAURANT Your experience at Gucci Osteria begins here at the entrance. 
06 GUCCI OSTERIA IN BEVERLY HILLS The risotto dish presented as a pizza. 
AIRY INTERIOR The decor of the Gucci Osteria in Beverly Hills is informed by its counterpart in Florence. 
The latest incarnation is not dissimilar to Gucci Gardens in Florence with its marbled mosaic floor, antique wooden pulpit serving as the outdoor bar, Gucci's signature glade print wallpaper, an air of vintage luxury running through the restaurant, and cherry-red velvet banquettes adding warmth to the space.
The menu mirrors the Florence osteria and can be described as pure Italian but with locally sourced ingredients, like fish from Santa Barbara and vegetables from the Santa Monica Farmers Market, all presented in an ornate fashion one has come to expect from Bottura.
While some dishes are assumingly simple, the burger and ceviche represent playful renditions from young kitchen team. It also offers an accessible and unprecedented sampling of the famous dishes without the six-month waiting list from Bottura's Osteria Francescana, the 2016 and 2018 World's Best Restaurant. 
The synergy between fashion and food marries gracefully for Gucci, thanks to Bottura's exuberant, almost artistic presence in the kitchen. Stand-out dishes include the insalata di mare, a work of art in itself with an orchid appearing out of a plate with shavings of celery, beetroot and a mixture of squid clams and scallops nestled beneath. For dessert lovers, Charley Goes To Hollywood is sweet, salty, fun and, dare I say it, completely Instagrammable with smoked chocolate ganache, miso, caramel and chocolate star crisps resembling the very same Hollywood stars dining in the Gucci restaurant. 
07 A PASSION PROJECT Gucci Osteria was the result of two childhood friends who wanted to combine food and fashion. 
08 ON THE MENU The Emilia Burger at Gucci Osteria presented in a box. 
CHEF DE CUISINE Karime Lopez helms the menu at the Gucci Osteria in Florence. 
ENTREE
Louis Vuitton is hot on the stiletto heels of Gucci with the Louis Vuitton Maison Osaka Midosuji. Hundreds queued and waited patiently in line on Feb 1 this year. Osaka, long regarded as an important Japanese port city, inspired architects Jun Aoki and Peter Marino to incorporate both history and a splash of modernity into their architectural wonder.
The seventh-floor store puts other flagships to shame, commanding both design lovers, artisan seekers and foodies to come together and perceive the brand in a completely different light.
This being his 10th project with the French fashion house, Aoki drew on Osaka's nautical history and designed a traditional higaki-kaisen cargo ship structure with billowing sails rising above the concrete jungle of Midosoji.
Inside, famous artworks by Vik Muniz, Polly Apfelbaum and Kimiko Fujimura, curated by Marino, add bursts of colour as they invite consumers to just sit, admire and enjoy their newly-found favourite art gallery of sorts.
Making your way to the brand's first and only restaurant is a must. Much like Gucci, a celebrated chef ensures the Louis Vuitton experience is unrivalled and admired.
Like Bottura for Gucci, Tokyo-born Chef Yosuke Suga brings a simplified version of his award-winning restaurant Sugalabo to Louis Vuitton with Le Cafe V and Sugalabo V, an intimate 10-seat restaurant with a secret entrance disguised as a series of stacked LV luggage that magically opens at the wave of the hand. Golden brass pipes that snake around the space and transparent valves on the walls incorporate Aoki and Marino's water theme. 
THERE IS NO ENTRANCE FEE TO THE LV OSAKA STORE BUT YOU WILL BE PAYING ANYTHING BETWEEN US$16 AND US$23 FOR CHATELDON AND PERRIER. 
09 GUCCI GARDEN The exterior of the Gucci Garden, shot by Bea De Giacomo. 
The protege of French chef Joel Robuchon has a somewhat disjointed menu with tiny French food, albeit well-executed and made with locally sourced ingredients in an open kitchen to bring a theatrical touch to the whole sensory experience.
Unlike Gucci, there is no entrance fee to the store but you will be paying anything between US$16 and US$23 (S$23 and S$32) for Chateldon and Perrier, which will surely have the French mouthing c'est incroyable! (it's incredible!). For the budget-conscious, one litre of locally sourced water is US$14.
As far as fashion restaurants go, is it really possible to bring the two worlds together? Fashion houses seem to think so.
In an experience-craved world, maisons are confident they have the winning formula by merging immersive and tactile sensory experiences with art, culture, food and that certain je ne sais quoi under the one roof.
Well, if Gwyneth Paltrow can't resist, how can we? 
---
A LA CARTE
ARMANI
Debuting in 1998, Armani now has over 20 bars, cafes, restaurants and hotels around the world, including Dubai, Tokyo, Milan and Cairo, making it one of the busiest fashion brands delving deeper into the hospitality industry. While celebrity chefs do not head any of its outposts, the brand has created a reputation for ramping up the gourmet experience with the namesake behind such dishes as the Armani black truffle pasta, Armani malara shrimp and Armani Amalfi Coast lemons and foie gras.
TIFFANY & CO.
This brand keeps it simple with the Blue Box Café in New York and and a second one that's soon to open in Harrod's London. For those obsessed with the little blue box, the cafe offers a chance to eat in one. Think Tiffany Blue walls, herringbone marble, amazonite stone and 4.5m highlight chains. Afternoon Tea includes Cornish crab, Barber's cheddar rarebit with pickled shallots and radish, as well as dainty finger sandwiches with smoked salmon and cream cheese. The Tiffany Martini with London gin, creme de violette and elderflower liqueur with a lemon twist helps take the edge of the prices here.
PRADA
Rather than creating a restaurant from scratch, Prada bought the historic Milanese bakery Pasticceria Marchesi 1824 in 2014 and has since opened its second location in London. In 2015, the brand's creative team collaborated with Hollywood director Wes Anderson on Bar Luce at Fondazione Prada in Milan with decor setting the scene for a unique dining experience in a space that references famous Milanese landmarks and cafes. Picture heavily stylised furnishings like upholstered pastel formica tables and chairs, whimsical wallpaper reminiscent of a 1950s Milanese cafe and a Steve Zissou-themed pinball machine outside the modish restrooms. 
Text Michelle Tchea