The first are tart while the second are sweet.
The first are tart while the second are sweet. Together they create a delicious flavour contrast. What makes this mix even better: Each fruit contains different powerful polyphenols that fight inflammation and keep your arteries clear, according to research from Israel. "When you combine them, you get an even wider range of protection," says Michael Aviram, a professor of biochemistry at Technion Rappaport Faculty of Medicine in Haifa. While his study found that pomegranate juice and whole dates (pits included) are the most effective pairing, Michael says that any combination of these fruits and seeds will give you heart-healthy benefits. This pork dish definitely delivers.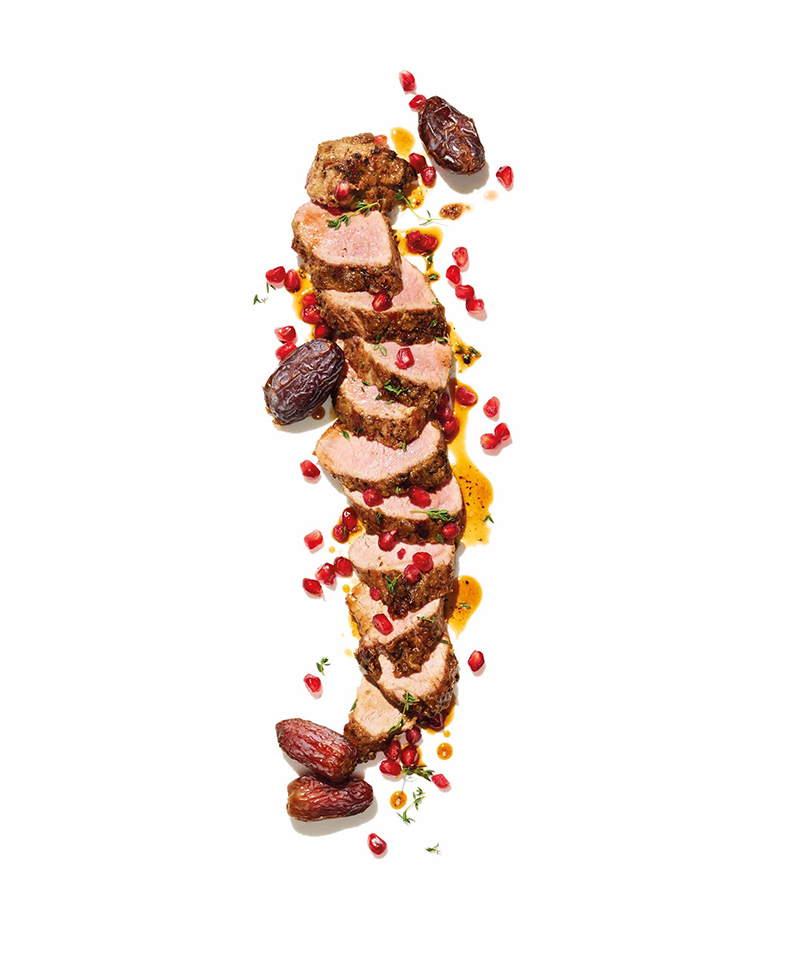 PORK TENDERLOIN WITH POMEGRANATE AND DATES
SERVES: 4
ACTIVE TIME: 10 MINUTES
TOTAL TIME: 60 MINUTES
> 2 tbsp pomegranate juice
> 2 pitted dates, plus more for garnish
> 1 tbsp fresh thyme, chopped > 2 garlic cloves, roughly chopped
> ¼ tsp red pepper flakes
> ¼ cup diced shallots
> 1 tbsp Dijon mustard
> ½ tsp kosher salt
> 1 tsp black pepper
> 2 tsp extra virgin olive oil
> 680g pork tenderloin
> ¼ cup pomegranate seeds
1. Preheat oven to 220 deg C. To food processor, add pomegranate juice, dates, thyme, garlic, red pepper flakes, shallots, mustard, salt and pepper, and one tablespoon olive oil. Pulse until smooth. Place pork in large ziplock bag and pour all but two tablespoons of marinade over it. Toss to coat and marinate for at least 30 minutes (if any longer, place in fridge).
2. Heat remaining tablespoon olive oil in cast-iron skillet or ovenproof pan over medium- high. Add pork, searing for two minutes on each side. Transfer skillet to oven and roast meat for about 15 minutes or until it reaches an internal temperature of 62 deg C. Remove from oven, brush with reserved marinade, and rest for five minutes. Slice and sprinkle with pomegranate seeds. Garnish with dates.
Nutrition score per serving 278 calories, 11g fat (2.1g saturated), 8g carbs, 36g protein, 1g fibre, 425mg sodium