A NORWEGIAN-INSPIRED SEAFOOD DINER AND MARKET.
A NORWEGIAN-INSPIRED SEAFOOD DINER AND MARKET.
Take a virtual tour of the interiors and interesting dishes through our walkthrough video. See page 18.
New to Stevens Road is a 4,000sqf dining and retail destination that is swimming with new experiences for diners. Fisk Seafoodbar & Market prides itself on distributing quality Norwegian seafood, as well as serving unique and top-notch seafood dishes.
Founder of Fisk Seafoodbar & Market and CEO of Snorre Food Frank Naesheim, and executive chef Markus Dybwad, were excited at the opportunity of bringing Norwegian seafood directly to consumers. "Norwegian food is part of our culture and heritage," Markus explains. The diner's name is the Norwegian word for "fish", with the interior decor sporting a nautical theme.
Fisk is conceptualised as a onestop solution for seafood enthusiasts – a restaurant and fresh seafood market rolled into one. After trying the tasty dishes, those who wish to make the dish at home can head to the market, where an array of exotic seafood awaits. Expert fishmongers can dish out advice on any aspect of cooking – from selection of produce to preparation and best cooking methods. "Coldwater seafood, especially those coming from Norway, ticks all the right boxes. As a chef, it is about the taste and freshness of the product," Frank says.
As you dine, you will feel relaxed – Fisk's interiors exude a sense of tranquillity. To achieve a timeless Nordic style, the design agency Greymatters added warmth, using rustic materials in a modern manner – the retail area uses glossy finishes that showcase the patina and accents of steel. Meanwhile, the ocean-like mosaic feature wall and blue leather chairs suggest Fisk's seafaring roots.
The retail area also has a light installation made of old lobster traps from Kvitsoy, a small group of islands on the west coast of Norway. Being born and raised in the area, Frank and Fisk operations manager Jarleif were able to rely on personal connections to ship over 20 lobster traps from the fishermen in the area. Each has a carving of its owner's initials.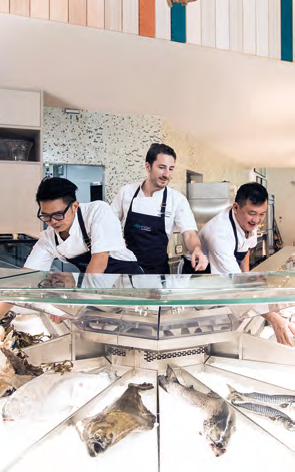 RIGHT
Experts are on hand to offer advice on how best to prepare and cook your purchases.
ABOVE
A diverse menu of unique seafood dishes awaits diners.
RIGHT

Choose to sit by the open kitchen at the 44-seater, and catch the chefs in action.
FISK SEAFOODBAR & MARKET IS LOCATED AT #01-01, 30 STEVENS RO AD, TEL: 6732-0711,
WWW.FISK.COM.SG.