The Keong Saik neighbourhood's revamped shophouses now boast more culinary diversity than most hotspots, from European to African or Caribbean. That makes this the current 'hood of choice for bon vivants.
The Keong Saik neighbourhood's revamped shophouses now boast more culinary diversity than most hotspots, from European to African or Caribbean. That makes this the current 'hood of choice for bon vivants.
The bar also has books by Hemingway, in case you find the tidy menu too easy a read.
With everything from cosy bistros like Gaston to creative Italian at Bar Cicheti, and six new F&B launches from Kesa House (which occupies a stretch of 10 shophouses), Keong Saik is the foodie enclave du jour. It's also a popular locale for street parties and festivals, as its narrow lanes are easy to cordon off.

Caribbean, African, French, Korean, Indian, Spanish… the culinary diversity here is largely responsible for turning the district into a gastronomical trove. Geoffrey Daurelle, owner and manager of Gaston Burgundy Bistro & Wine Bar, cites the "melting pot of cultures" in this neighbourhood as the main reason for setting up shop here.
"I find Keong Saik Road an exciting place because of its great cultural diversity and a mix of local restaurants, fine dining, bistros and wine bars," says Geoffrey. "For that reason, it attracts a lot of people, especially in the evenings. It has a really good vibe."
Chef Alain Devahive of Olivia Restaurant & Lounge agrees. "Keong Saik Road is attractive both commercially and visually – the diversity of the restaurants and vendors is so rich and intriguing. It's a hub for independent dining establishments and therefore appeals to many types of diners. So we feel it's a great privilege to be able to join such an eclectic dynamic in one of Singapore's most iconic roads."
Here's our guide on where to get your fix. 
NEW KICKS ON THE BLOCK
The freshman class includes an award-winning bar.
THE OLD MAN
Possibly the most innovative bar in Singapore now. This is the first international branch of the original award-winning Hong Kong bar, and its name and cocktails – A Farewell to Arms, The Sun Also Rises – are Ernest Hemingway-inspired. Like the ingenious writer (who did love a drink), the cocktails here are experimental. Each spirit goes through processes like fat-washing utilising a centrifuge, rotary evaporation, or sous-vide cooking. (The Negroni, for instance, features coconut oil fat-washed applejack.) It's not just the preparation techniques that impress. The bar also has a brass section running across it, acting as a cool beer mat to keep your drink chilled at the optimal temperature and density for maximum enjoyment. We do love a great after-school special.
#01-04, 55 Keong Saik Road 
PASTA BAR
The only pasta place in Singapore that handmakes its pasta daily. Yes, daily. Chef Alessandro Giustetti of Pasta Bar isn't playing around with his heritage. He uses old recipes inherited from his family in Genoa to retain the authenticity of his fare. From the types of semolina and flour to the amount of egg yolk, everything has been calculated to create different textures for various pasta shapes. 
A favourite is the beef ragu – thick tagliatelle coated in a rich decadent sauce of beef, parmigiana and tomato paste. The noodles are firm, but melt in your mouth and meld with the sauce once you start eating.
#01-05, 55 Keong Saik Road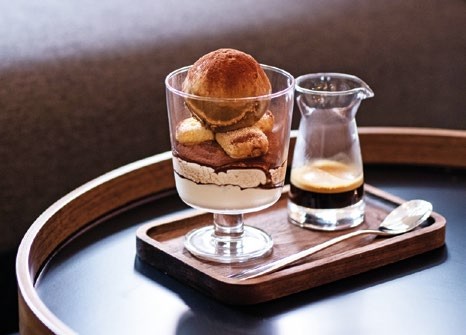 THE AFFOGATO LOUNGE
Coffee in dessert form? Yes, please. Live out your dreams of drinking liquid tiramisu as you relax on the comfiest of couches at The Affogato Lounge. Designed to make you feel like you're chilling at home, this place is a quieter version of its sister bar next door, The Affogato Bar. 
Non-coffee drinkers, be prepared to be converted by the affogato here, which is essentially a shot of espresso poured over a scoop of cold, creamy vanilla ice cream. Otherwise, spring for small-batch ice creams and homemade sandwiches.
#01-02, 55 Keong Saik Road 
Most of the wines are sourced from boutique wineries and include hard-to-find vintages.
BAR CICHETI
Dare we say that this is our favourite Italian restaurant at the moment? We love the stylish interior (it transports you to Milan's fashionable Via Montenapoleone district), the soulful music and, of course the neo-Italian dishes. Think: jalapeno pesto and Japanese uni.
Chef Lim Yew Aun is constantly experimenting with new ingredients and new spins on classics. The restaurant's signature dish, the spaghetti, is not your average pasta – instead of making pesto out of the usual leafy greens, Chef Lim switches it up with jalapeno for a pesto-based pasta with a kick, tailored to satisfy spice lovers.
The wine list is made up of offerings from artisanal producers (ask for the dry white Hungarian), and the bar does clever pairings.
10 Jiak Chuan Road
GASTON
Burgundy's reputation as one of France's major winemaking regions is well known. Geoffrey Daurelle, owner and manager of Gaston, a Burgundian bistro and wine bar, aims to dispel the stereotype of luxurious offerings from that region by creating affordable, laid-back food. Together with Singapore chef Julius Soo Thoo, whose illustrious career includes stints at Iggy's and L'Atelier de Joel Robuchon, Geoffrey brings his family recipes and wines from his native region to this cosy joint.
Gaston takes snooty French dining down a notch with a laid-back vibe and dishes adapted to local palates.
Having lived in Singapore for seven years, Geoffrey has an understanding of the local palate and works with Chef Julius to tweak the dishes. "French food tends to be rich in butter and cream. So we made our cream-based sauces lighter by reducing the butter and cream so that they're not too heavy for the local palate." 
The food might be traditional, but the wine cellar is anything but. Ask to have a look at the selection of boutique wines, which are great value for your dollar. 
25 Keong Saik Road
CLASSIC 
Well worth highlighting is one of the earliest entrants to Keong Saik whose no-fuss French dishes are still drawing a crowd.
"Taratata" is a colloquial French term meaning "nonsense, rubbish", akin to our English "la-di-da".
TARATATA
Old is truly gold at Taratata Brasserie. This stalwart French restaurant has been in business here since 2011. It was the conserved shophouses and vintage vibes here that spoke to owner and executive chef Bertrand Raguin when he was looking for a place to set up his business. 
Eight years later, it's still a staple for diners seeking French fare. Chef Bertrand has been sticking to his original recipes for items from the beef bourguignon to the pate. His pride in French cuisine is reflected in the traditional ingredients he uses, and the way the food is prepared at the restaurant. There's no central kitchen, which means that all the food is cooked and prepped "a la minute at the time of ordering". Say it like the French: mangez bien!
35A Keong Saik Road 
GLOBAL GRUB
If you're looking for something to satiate your gastronomic wanderlust, these restaurants should be your main(s) attraction.
CARIBBEAN
LIME HOUSE
This Caribbean restaurant and bar has made its home here since 2013. Its undisputed perennial favourite is still the jerk chicken with a homemade marinade. Other well-loved classics include the curry goat, oxtail, and doubles with curry chicken – with the curry made from scratch here.
Lime House has also developed a tapas menu and most recently added two new dishes: seafood cakes (a medley of salted fish, shrimp and crab), and Caribbean bruschetta (homemade coconut bake topped with a spiced mix of tomatoes and pepper). The music, service and decor really do bring home the "liming" (hanging out with friends) vibe of the Caribbean. Authentic.
2 Jiak Chuan Road
AFRICAN
KAFEUTU
This cafe serves a combo of East and West African brunch. It reminds us of the vibrant culture of the continent: Its decor is a mix of multiple portraits of men and women from countries in Africa, and it even has hand-blown water glasses imported from Kenya. 
Foodies, be prepared to indulge in a very different kind of brunch from the usual here. Think spicy Swahili fish curry made with house curry, and a rich Caribbean goat curry. 
If these dishes haven't piqued your interest yet, Kafe Utu's coffee is another unique thing about the cafe. Using a house blend of Uganda, Mexico and Brazil beans, the coffee has a robust fragrance but a light taste. 
12 Jiak Chuan Road
HAWAIIAN
LOLOKU/ DON HO – SOCIAL KITCHEN AND BAR
The trendy Loloku operates in the daytime, offering poke bowls and wraps, and Don Ho takes over in the evenings with its simple yet refined plates of fresh lobster, homemade wood oven-baked focaccia, and handcrafted cocktails.
Loloku is a chill hangout with tropical decor that meets your Insta needs. Pick from five basic poke bowls, or build your own bowl. It's perfect for the office crowd in the area looking to grab a quick lunch.
In the evenings, mellow out in the same spot as Don Ho transforms the place into a social kitchen and bar reminiscent of hot tropical nights on the beach. With its communal dining table, an open kitchen and the intimate setting, Don Ho's concept focuses on social interactions, making it easier for diners to strike up conversations with one another. 
Dishes come in small individual plates as well as big sharing platters, and the cocktails are wild and colourful.
The Working Capitol, 1 Keong Saik Road
THE GUILD
This was set up by the guys from Young Master Ales, a Hong Kong brewery. The Guild is their first step into Singapore's craft brewery scene. "The shophouses offer a lot of character, allowing us to truly create a uniquely convivial environment. As a brand coming into Singapore from Hong Kong, we also felt that establishing our base in Chinatown connected well to our roots," says their rep. They offer cocktails, highballs and loads of craft beers on tap: The Cha Chaan Teng Gose is sour beer modelled after alcohol served at tea restaurants, commonly found in Hong Kong. 
55 Keong Saik Road 
POTATO HEAD FOLK 
Studio 1939 on the third floor features an open bar as well as an extensive list of wines and other tipples. Go alfresco in the rooftop garden for even headier cocktails and a unique view of Chinatown. 
(Pssst… the Three Buns kitchen here now serves an Impossible burger as well.] 36 Keong Saik Road
PHOTOGRAPHY DARREN CHANG
ART DIRECTION SHAN