Explore new culinary frontiers with these attachments to your KitchenAid Stand Mixer.
Explore new culinary frontiers with these attachments to your KitchenAid Stand Mixer.

A multi-tasking appliance can make a huge difference to your culinary repertoire and foodie adventures. Fewer gadgets to deal with mean less clutter and cleaning up, leaving more time to get in touch with your inner Masterchef and try out some new recipes.
The KitchenAid KSM150 Stand Mixer boasts multiple speeds, functions and attachments to perform endless culinary tasks, from making fresh pasta and ice cream to slicing vegetables and grinding meat. And its sleek design means it will look fantastic on your countertop, too.
Slice and Dice
Get chopping with the new Food Processor attachment that easily attaches to the hub of your Stand Mixer to slice, dice, shred and julienne fruits, vegetables and cheeses like a pro.
Pasta Perfecto
This Pasta Sheet Roller and Cutter set includes a durable stainless steel roller, adjustable cutters and specially designed crimpers to roll out fresh pasta or stuffed ravioli with ease.
On The Grind
With the Food Grinder attachment, mincing meat, vegetables, nuts, fruits and hard cheeses is a cinch. It comes with a self-sharpening stainless steel knife, coarse and fine grinding plates and a food stomper/wrench.
The Ice-cream Maker
Be the envy of your party by churning out your own ice cream or sorbet. The innovative freeze bowl has double walls filled with liquid that constantly cools the creamy mixture to the consistency of your favourite icy treat.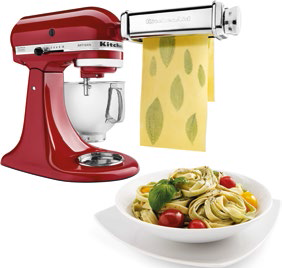 1. Food Processor attachment, $399 2. Pasta Sheet Roller and Cutter set, $399 3. Food Grinder attachment, $139 4. Ice Cream Maker attachment, $199
TheKitchenAid KSM150 Stand Mixer and its accessories are available at Mayer showrooms, department stores and authorised dealers. For more information, visit www.kitchenaid.com.sg or www.facebook.com/kitchenaidsingapore.