Sure, it's not considered the most important meal of the day, but that doesn't mean you shouldn't grant yourself a midday indulgence.
Sure, it's not considered the most important meal of the day, but that doesn't mean you shouldn't grant yourself a midday indulgence.

THE OCCASION:
A BUSINESS LUNCH WITH CLIENTS
The right restaurant can create the proper ambience and set the tone for an important business lunch. These chic restaurants with an appropriately professional vibe are our favourites for that midday powwow.
FROM $38 FOR TWO COURSES
CURE
(21 Keong Saik Road, tel: 6221-2189, www.curesingapore.com) The food at Cure is best experienced as a five-course meal ($70), but two- and three-course menus are also available for the time-pressed and good for a taste of chefowner Andrew Walsh's modern European-style cuisine. Menu items change seasonally, but what you can expect to remain constant are familiar ingredients prepared or paired in surprising ways for intriguing flavours and textures, like when he pairs crabmeat with coconut rice, green curry, lime gel and nashi pear – good for adventurous palates.

FROM $38 FOR TWO COURSES
EMPRESS (#01-03 Asian Civilisations Museum, 1 Empress Place, tel: 6238-8733, www.empress.com.sg) With its chinoiserie-chic decor and traditional Cantonese flavours, Empress is a good option for business lunches with new-to-town expat clients. The Executive Set Lunch gets you a dim sum starter, a soup, rice, a fish dish, a meat dish and dessert, while the Chef's Special Set Lunch ($58 for five courses) features signature dishes such as the Triple Roast Platter – crackling roast pork, pork ribs and char siew. By day, the restaurant is a gorgeous, sunlight-drenched space overlooking the Singapore River.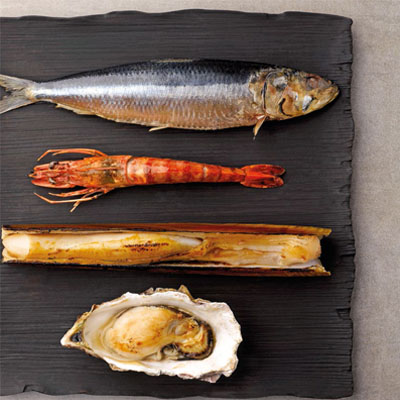 FROM $26 FOR THREE COURSES
UMI+VINO SEAFOOD WINE BAR (#01-18 Emporium Shokuhin, Marina Square, tel: 6224-3433, www.emporiumshokuhin.com.sg/dining/Umi-Vino) Umi+Vino may be located in Japanese food emporium Emporium Shokuhin, but it's not just a Japanese seafood bar. Instead, it serves up the freshest seafood possible, regardless of region and country. The set lunch offerings are fuss-free and impressively executed – the braised wagyu beef bourguignon, and Hokkaido scallop and konbu pasta, in particular, are excellent. If you're feeling fancy, the half Boston lobster ($38 to $48, depending on weight), prepared a la plancha (grilled on a hotplate), is great value for money.
DIGITAL EXCLUSIVE For more affordable lunch options, download the digital edition of Her World July from the Apple App Store or Google Play.

THE OCCASION:
A ROMANTIC LUNCH DATE
Whether you're a long-time couple or new lovebirds in that honeymoon phase, these restaurants are great spots for spending some quality couple time.

FROM $30 FOR TWO COURSES
1919 WATERBOAT HOUSE (#03-01 The Waterboathouse, 3 Fullerton Road, tel: 6538-9038, www.1919.com.sg) Hide away from the buzzing work drones at this blessedly quiet restaurant. The main dining hall, which seats 64, is situated in a colonial building that plays up its heritage – it was once occupied by the Port of Singapore Authority – with art-deco design and a hushed interior. Modern European cuisine with a heavy French slant and a focus on seafood is its calling card, and the two-course set lunch rolls out pleasant but unsurprising classics such as the Entrecote (rib-eye) and Canard (roasted duck breast). The surprising part is its good value: a two-course lunch costs $30, while three-course lunch goes for $35.

FROM $88 FOR FOUR COURSES
Odette Restaurant (#01-04 National Gallery Singapore, tel: 6385-0498, www.odetterestaurant.com) There's a long waiting list to get into chef Julien Royer's first solo effort, but it's much easier to get a weekday lunch slot than it is to secure a dinner reservation. Either way, you still get to enjoy chef Julien's signature modern French dishes that propelled him to celebrity chef status. Set-menu items change frequently, but signature creations – such as the mushroom tea with cep sabayon and buckwheat, and the 55-minute poached egg with root vegetables and truffle shavings (both a spin on his iconic dishes when he worked at Jaan) – will likely make regular appearances. The same heady romanticism that he infuses into his food is reflected in the soft colour palette of the restaurant – you'll find yourself wanting to linger after the meal.

FROM $58 FOR THREE COURSES
SAINT PIERRE (#02-02B One Fullerton, 6438-0887, www.saintpierre.com.sg) After a stint at Quayside Isle, Saint Pierre is now back in the city, this time occupying a second-level space in One Fullerton that overlooks Marina Bay. There's a decidedly more upmarket vibe, with a set-menu-only concept coupled with white-tablecloth service in the intimate 32-seater space. Foodwise, chef-owner Emmanuel Stroobant serves up finely crafted dishes featuring seasonal ingredients, clean flavours and elegant cooking techniques – like in the case of his signature pan-fried foie gras and the beautiful braised Atlantic cod in a king prawn bisque emulsion. Kudos to the restaurant's kid-friendly policy, which encourages parents to bring along their little ones to join in on the dining.

FROM $28 FOR TWO COURSES
HALIA (Ginger Garden, Singapore Botanic Gardens, 1 Cluny Road, tel: 8444-1148, www.thehalia.com) Admittedly, Halia is more romantic at night, but in the day, it still affords the lush greenery you'd be hard pressed to find elsewhere. Since its refresh earlier this year, the Asianinspired, European-style food has shown a marked uptick in spice and flavour intensity as a nod to the restaurant's heritage. The set lunch offers a soup or a salad as a starter and various main course choices, with the option of dessert with a cash top-up – all boast the liberal use of spices and ingredients such as coconut, lemongrass and ginger.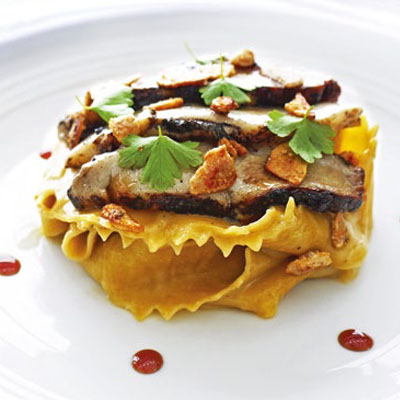 FROM $35 FOR THREE COURSES
IL LIDO AT THE CLIFF (Sofitel Singapore Sentosa Resort & Spa, 2 Bukit Manis Road, tel: 6708-8360, www.sofitel-singapore-sentosa.com/ dining_81-en.html) If you can spare a few hours for an extralong lunch (lucky you!), then drive out to Il Lido's new home at Sofitel Singapore Sentosa Resort & Spa. The Italian stalwart once overlooked the sprawling greens of Sentosa Golf Course, but now has a spectacular view of the South China Sea. The menu doesn't veer from its tried-and-tested formula of classic Northern and Southern Italian dishes (think Kurobuta Pork Milanese and grilled octopus) in hearty portions – why change a good thing when it's worked out well so far? Despite the restaurant's posh facelift, it still offers great value.

THE OCCASION:
A CASUAL LUNCH WITH COLLEAGUES
You should always make time for lunch away from the office – whether it's for a birthday celebration, a farewell meal, or simply because it's a Monday. These casual nosh places, most of which won't set you back more than $30 per person, will help you get through the week just that bit quicker.
NAUGHTY NURI'S (#01-84 Capitol Piazza, tel: 6384-7966, www.facebook.com/NurisSingapore) The first Singapore outpost of popular Bali-based restaurant Naughty Nuri's is great for those lunches where you can't decide on what to order because everything looks great – the small plates and main courses are best shared. Must-orders include the sumptuous signature St Louis ribs (from $18.80 for half rack), the excellent Nuri's Iberico Pork Chop ($20.50) and the souped-up Maggi Mee Goreng ($11.80) with charred pork, prawns, a sunny side up, keropok and achar.
TANUKI RAW (#04-01 Orchard Central, tel: 6636-5949, www.tanukibar.com) The hearty, reasonably priced donburi sets are the obvious crowd faves. We like the Foie Gras Truffle Yakiniku Don – a slab of pan-seared foie gras, US Black Angus short rib, an onsen egg, truffle soya sauce and black garlic brown butter over Tanuki's signature mixed rice – which costs only $19.90 during lunch (UP $23); top up $2 to make it a set. Since Tanuki's reopening in April, there has been more Japanese-inspired, American-streetfood- style options on its menu. Try the Fat Samurai ($11); this messy, delicious take on the Chicago-style deep-dish pizza has an unami charcoal crust and meat galore, topped with konbu mayo, balsamic okonomiyaki sauce and bonito flakes.
DISTRICT 10 BAR & GRILL (#01-514/515 Suntec City Mall, tel: 6822-2886, www.district10.com.sg/suntec) A Fiorentina steak for lunch? Why not? Grab two of your colleagues and head to District 10 Bar & Grill for its aptly named Great Lunch Steak Out. For roughly $45 each, you'll get to enjoy 700g of a stunning Fiorentina steak, prepared the traditional way – lightly seasoned with sea salt, pepper and extra virgin olive oil, and grilled over coal fire – for meat that's intensely flavourful and juicy, along with a choice of salad or soup of the day. Throw in a side or two – we say go for the Creamy Truffle Mash ($14) or Sauteed Mushrooms ($12) – if you're not afraid of the post-lunch food coma.
THE POPULUS COFFEE & FOOD CO. (146 Neil Road, tel: 6635-8420, www.thepopuluscafe.com) We make no secret of our disdain for cafes that serve generic, subpar and overpriced food, so the discovery of The Populus is like a breath of fresh air. There are crowd pleasers such as truffle fries, of course, but for jaded palates, items such as the crispy fried chicken on a spring-onion-and corn-pancake ($21), and the generously portioned Seafood Linguine ($24) with crabmeat, scallops and Boston lobster tail (+$10) will serve you well. The health-conscious can go for a rice or grain bowl (from $18.50) – a choice of protein atop Japanese rice or a bed of veggies. And while you're there, try the coffee – the cafe is owned by the very same group of people behind speciality coffee roaster 2degrees North Coffee Co., and showcases the latter's seasonal single origins and speciality coffee blends.
ANGELINA (#01-82 Capitol Piazza, tel: 6384-0481, www.facebook.com/AngelinaSingapore) Angelina may be known for its iconic luscious hot chocolate, but the savouries here hold their own against the sweets. Bestsellers such as the truffle ravioli with parmesan cream and rocket salad ($29), the pan-fried scallops with black venere rice and shellfish cream ($30), and the croque madame ($23) are the epitome of comfort food. Round up the meal with signature desserts such as Mont Blanc ($14), a meringue topped with light whipped cream and chestnut cream vermicelli, and Opera ($13) – chocolate cake interlaid with coffee-soaked almond and praline biscuits, and coffee-and-milk-chocolate mousse.
DIGITAL EXCLUSIVE For more affordable lunch options, download the digital edition of Her World July from the Apple App Store or Google Play.