Do these easy exercises and you'll see the change in four weeks! Who needs the gym?
Do these easy exercises and you'll see the change in four weeks! Who needs the gym?
WEEK 1
CAPTAIN'S CHAIR
Sitting on the floor with legs bent and hands behind your head, lean back slightly. Bring your knees up towards your chest and use your stomach muscles to slowly lower to the floor, without your back arching. Try 2 sets of 15 reps.
FROG PRESS
Lie with knees bent, legs turned out and heels pressed together, your arms by your sides. Lift your head and shoulders off the floor and extend legs out in front of you at 45 degrees. Return to starting position. Do 15 reps.
WEEK 2
THE PLANK
Lie face down, resting on forearms. Slowly push off the floor, rising on to balls of feet and forearms. Keep back flat, forming a straight line from head to heels, and tummy pulled in. Hold for 5 seconds, relax and repeat. Do 5 reps. Increase the time you hold your plank as you get stronger.
TIP: Three 20-minute blocks of higher intensity aerobic exercise burn more abdominal fat than double the amount of slower-paced exercise. So up your speed!
"DO THESE EXERCISES THREE TIMES A WEEK"
REVERSE CURL LIE
Lie with head and shoulders flat on a mat, legs bent at 90 degrees. With arms by your sides, curl knees towards your chest, lifting bottom and hips off the mat. Lower again. Do 15 reps, rest and repeat.
Correct poor posture, get a slimmer tum
Keep shoulders relaxed and pulled down, don't pull them back through.
Keep your tummy pulled in – draw navel back to spine as if trying on tight clothes; don't hold your breath.
Stand with hip-width apart and weight distributed evenly, arms by your sides.
Practise the no-crunch crunch
From a standing position, place your fingers on your hip bones and trace them inward.
Pull your tummy button back towards your spine. Don't hold your breath or hunch your shoulders – just pull in that lower part of your tummy.
Hold this pulling-in for 10 seconds and repeat. Do 5 to 10 at a time throughout the day.
HAVE FUN WHILE YOU FLATTEN
Hula hoop. According to May Lim of HulaHoop Singapore, hula hooping is a great aerobic exercise. The consistent twirling requires significant amount of energy, which forces your body to burn fat deposits in your abs and waist area. It works out most of your core muscles: Thighs, hips, legs and abdomen.
To master the art, position the hoop around your waist with knees slightly bent. Hold the hoop parallel to the floor, then, using your stomach and pelvic-floor muscles, twist the hoop in a circular motion, moving from side to side or from back to front to stop it from falling. Aim to build up to 10 minutes daily. Heavier hula hoops will increase resistance to these muscles and will intensify workout. To even out muscles on both sides of your waist, rotate each sides every 2 to 5 minutes (clockwise and anti-clockwise).
TIP: To reduce impact on your abdomen, wear thicker clothes during hula hooping. Always warm up first, as with any workout.
WEEK 3
MOUNTAIN CLIMBER
Assume a push-up position on hands and toes, with arms straight and body forming a straight line from head to heels. Bring your right knee towards your chest before returning to the starting position and repeating with left leg. Alternate "running" your knees into your chest like this for one minute.
PENDULUM
Lie on your back with your arms out to your sides so your upper body forms a T-shape and your legs are directly above you in the air. Make circles with your legs by lowering them towards the floor (don't take them all the way to the floor; bring them back up when they're halfway down). Repeat. Do 8 in a clockwise direction, then reverse. Repeat.
WEEK 4
PLANK LEG
Begin in plank position (see week 2), with feet hip-width apart and back straight. Keeping your right leg straight, sweep your left leg out to the side, tapping the floor with your big toe just below hip level. Return to start. Do 5 reps on each side. Repeat.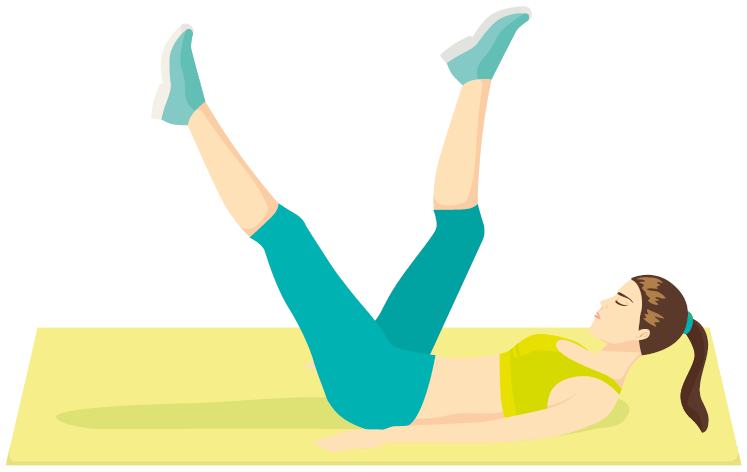 ABS FLUTTER
Lying on the floor on your back, with arms resting at your sides, raise both legs directly above your hips as high as you can. Bring your head up (but make sure you're not putting a strain on your neck). Now with your stomach pulled in tightly, "flutter kick" your legs down towards the floor until your back arches. To vary it, you can cross your ankles, alternating one in front of the other. Bring legs back to the starting position and repeat 10 times.
TEXT: BAUERSYNDICATION.COM.AU / ADDITIONAL REPORTING: SANDHYA MAHADEVAN / PHOTOS & ILLUSTRATIONS : 123RF.COM