In celebration of International Friendship Day on July 30, we asked besties how they inspire each other and keep their bond strong BY ELIZABETH LIEW
In celebration of International Friendship Day on July 30, we asked besties how they inspire each other and keep their bond strong BY ELIZABETH LIEW
LEFT: "There's an invisible bond that binds us" – Frances
RIGHT: "I would drop everything in a heartbeat for her" – Eunice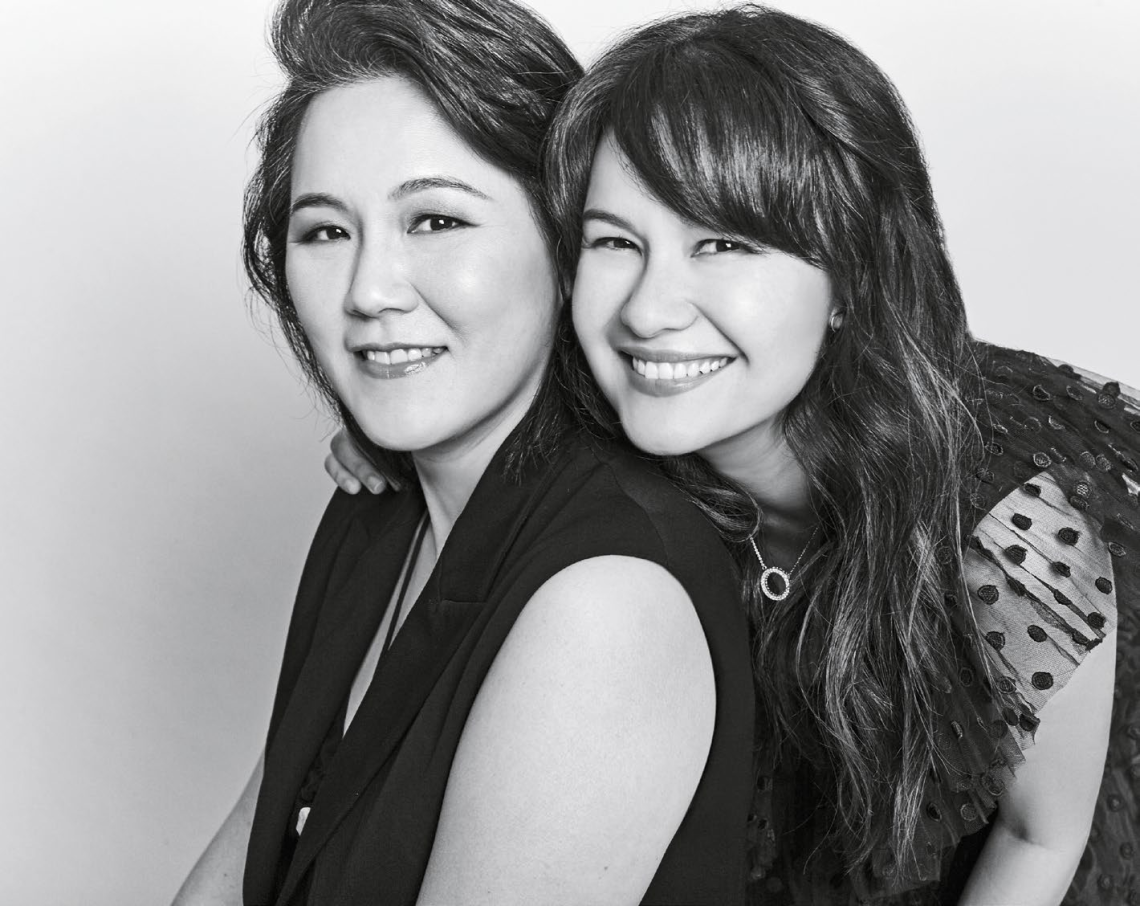 FRANCES WEARS JUMPSUIT FROM TOPSHOP, AND VEST, STYLIST'S OWN. EUNICE WEARS DRESS FROM KATE SPADE NEW YORK AND NECKLACE FROM PANDORA.
Eunice & Frances
BFFS: Eunice Olsen, 40, Founder, Eunice Olsen Media; and Frances Chong, 48, Operations Director, Eunice Olsen Media
How did you meet?
Eunice: "We first met at a business meeting in 2006. Frances's then-agency had called me down as they were looking for an event host. We sat in some shophouse and I remember a lot of hysterical laughter. She gave me a Motorola phone she was launching at the event and I was really shocked, like 'are you really giving me a free phone?'"
Frances: "I had never seen anyone so grateful and was actually appreciative of how receptive she was. We clicked instantly."
How would you describe your friendship?
Eunice: "It's like we were born to meet. There are just some people you meet in life that you're on the same wavelength with, so we just instinctively got along and it's clear that she's always going to be in my life. We complement each other. I wish we'd met earlier!"
Frances: "It's the same for me. When we met, I was in my 30s and knee deep in corporate people so it was very refreshing to meet somebody I could have a very open conversation with. I just felt comfortable with her. Our friendship is like superglue; there's an invisible bond that binds us through everything."
What do you bond over?
Eunice: "We bond over a constant craving for food and our sense of humour. It's just bad jokes and more bad jokes."
Frances: "We make fun of each other all the time, a lot of people may not understand our humour."
How do you navigate between friendship and business?
Eunice: "I've had a policy of not working with friends and family because relationships are important and when work is thrown into the mix, it can be very tough. But over the years, especially as an entrepreneur, I've realised that I'd rather work with someone I can trust, who will be honest with me and objective about the work. It's not easy but even when we get into fights and stuff, at the end of the day, we always find a way to work things out because our friendship supersedes everything else. Even if the company has to close down, we will still remain friends."
How has knowing each other changed your lives?
Frances: "Eunice is very tenacious; nothing stops her. And through everything, she remains very humble. Her compassion for others constantly teaches me new things and she's made me see a lot of things that I wasn't noticing – simple, everyday things that were right in front of me. It's like we both see the same thing but she sees something else, and she always opens my eyes to how important it is to care for other people, to always leave space in our lives to help others. I almost feel as though I was a little bit of a zombie before meeting her."
Eunice: "Frances is very modest about everything she's done. People happen to know my name because it's just the nature of my work, but what they don't know is that we do a lot of the work together. She's like the big sister I never had. She taught me to not let others take advantage of me and to not be afraid to say no. She is always looking out for me and is not only my best friend, but the best manager anyone could ever have; she always has my back. My work means a lot to me, but I would drop everything in a heartbeat for her, even WomenTalk. And we'll start WomenTalk 2!"
The key to a successful friendship is…
Eunice: "Not being afraid to have difficult conversations with each other. In the end, it's about remembering why you became friends in the first place."
Frances: "Consideration. If it's cold, Eunice always worries whether I'm warm enough, and I'm always worried whether she's hungry. I guess we look out for each other."
LEFT: "We have an easy, lowmaintenance friendship" - Jaime
RIGHT: "We can be our 100 per cent #nofilter selves with each other" – Jade
JAIME WEARS DRESS AND HEELS FROM SANDRO. JADE WEARS TOP, SKIRT AND BELT FROM MICHAEL MICHAEL KORS, AND SHOES, HER OWN. ALL JEWELLERY FROM SWAROVSKI.
Jaime & Jade
How did you meet?
Jaime: "We first met in 2006 when I was a guest on the variety show Sweets For My Sweet, which Jade was co-hosting with Michelle Chong. But we didn't really hang out until a decade later in 2016!"
Jade: "I could tell we were the kind who could potentially be on the same wavelength (maybe it's because we were both convent school girls). I actually can't remember how we started hanging out. It was quite organic."
How would you describe your friendship?
Jade: "Mother-daughter! (laughs) She feeds me vitamins, nags me about getting more rest or complains about how my things are all over the place. Seriously though, I would say our friendship is very real, which is hard to find in this industry. We're both really comfortable in our own skins, so we can be our 100 per cent #nofilter selves with each other, even when it comes to the not-so-attractive bits like my temper and her whining."
Jaime: "It's an easy friendship, low maintenance. We always hit it off when we meet up, but we don't need to be frequently texting each other to stay in touch. When you get to adulthood, it's nice to find a friendship like that."
What do you bond over?
Jade: "While we're both adventurous and quite curious cats, she likes staying in and follows quite a routine lifestyle whereas I love going out, meeting people and love when life is unpredictable and unplanned. I guess we bond over real stuff, like our relationships, work and challenges."
Jaime: "She has a crazy amount of energy to burn, so if I want to try something new or do something sporty, she's the first person I think of because she's always up for it (when her schedule permits). And she doesn't need to sleep.
Jade: "Whereas Jaime needs to sleep for like eight to nine hours. Oh, we also bond over throwing shade at each other a lot!"
How do you inspire each other?
Jaime: "I think she always shows me an alternative view on things. Sometimes I think I've become too safe and am always thinking about what could go wrong whereas she's like YOLO (you only live once)! It's fun to be around someone like that."
Jade: "Although I've played sports and have been running long distance for many years, she's the one who got me started on functional training and things like HIIT (high intensity interval training), and it has really improved my stamina and netball game. For that I am grateful, buddy!"
What is it that you like most about your friendship?
Jaime: "We can agree to differ and I can just tell her what I don't like and she will try to change. We argue all the time over everything because she's so fun to rib, doesn't take offence and gives as good as she gets. I think most people wouldn't think we are friends."
Jade: "I appreciate honesty and openness, and she is exactly that. Jaime is unapologetically herself, for better or worse. She says she is 'very boring' and competitive but she is a kind-hearted soul, always ready to help and give. She says it comes from being a mum (and I am inspired by her selflessness in her mum duties) but I think being caring and kind is just part of her nature. She always tries to find ways that will benefit as many people as possible."
The key to a good friendship is...
Jaime: "Being able to share without judging (but if you judge, just own up and that makes it okay, too)."
Jade: "Loyalty, trust and knowing the other person has your back."
LEFT: "He's not just my BFF, he is family" – Belinda
RIGHT: "We keep each other grounded" – Leon
BELINDA WEARS DRESS FROM TOPSHOP. LEON WEARS PANTS FROM SANDRO, AND SHIRT AND BELT, HIS OWN.
Belinda & Leon
BFFS: Belinda Lee, 40, actress, host and World Vision Ambassador; and Leon Jay Williams, 41, actor and singer
You've known each other for 23 years. How did you meet?
Belinda: "We were 18 years old and it was at a fashion show during the Christmas season. He was a model while I was just an angel mascot. I remember squatting by the wall looking at all these beautiful people walking past me. He was the only one who looked down and saw me."
Leon: "I was like why is this girl blocking the way? (both laugh) We started talking at the show and ended up keeping in touch for 23 years."
How would you describe your friendship?
Leon: "Deep, like family. It's nice to have someone who's been there and seen you from the start, before all this madness happened. We've been there for each other through many milestones. We keep each other grounded and rooted."
Belinda: "He's not just my BFF, he is family. I wasn't even in the entertainment industry when we met. When it comes to big life decisions, it's vital to go to somebody who really knows you right from the beginning. They know you from deep down, the fundamentals of your character."
How do you make a guy-girl friendship work?
Leon: "It depends on every individual. Our dynamics work and we don't want to ruin the friendship."
Belinda: "Yes, I'm so happy we've stayed as friends, because if we'd got into a relationship, I think we'd probably hate each other and would not be able to be friends now. I value the friendship more than anything else. Exes come and go but a best friend – regardless of whether it's a man or woman – is here to stay."
Have there been testing times?
Leon: "There was a period of time when we didn't speak for years when I started going away to China, and back then there was no such thing as social media."
Belinda: "Yeah, we lost touch for years but in my heart I knew this is a friend I truly want to stay connected with for as long as I can. I heard he was doing well in Taiwan, and I somehow managed to get his number when I was in Taipei. But on the day I called him, he was flying to Kaohsiung and we missed each other."
Leon: "I was so glad you called. When I went to Taiwan in 2004, everything was just overwhelming. Being an actor in a foreign country, I pretty much lost touch with everyone I knew. So when she called me, it hit me that I was neglecting friends and family."
Belinda: "When he came back to Singapore, we went for a kopi session and it was like nothing had changed."
How have you been inspired by each other?
Leon: "I'm always very inspired by the jobs Bel undertakes. She does a lot of charity and church stuff, and it's all based on empathy. Over in China and Taiwan, where the market is so big and unforgiving, you can become very businesslike to the point where you forget why you're in the business, the passion for acting, giving back to society and all that. So she's a reminder for me to do something as well. Because of her, I started doing more charity stuff in Taiwan and China – for example, visiting schools in the mountains in China and giving to charitable organisations."
Belinda: "My heart has always been soft, so I often get taken advantage of. That's when I'd call Leon and say I got bullied and ask for his advice. If I'm the heart, he's the brain. He would teach me very practical steps to try and rise above these circumstances and be more logical minded, whether it's making a work or personal decision. He advises me in such a different way because he truly knows me."
The key to a good friendship is…
Leon: "Time and effort."
Belinda: "Love and understanding. We both have our priorities and commitments, so we don't expect each other to be there 24/7."
PHOTOS: VERONICA TAY / STYLING: DEBBY KWONG / MAKEUP: HONG LING (NARS) AND SHAUN LEE (SHISEIDO) / HAIR: DEN NG AND GARY LOW