A rocky childhood, rehab and three divorces later, Drew Barrymore is stronger today than ever. The star shares how she's found that new spark in life as megastar and devoted mum.
A rocky childhood, rehab and three divorces later, Drew Barrymore is stronger today than ever. The star shares how she's found that new spark in life as megastar and devoted mum.
"I try to be that kind of mother who makes them feel loved and safe"
A mini-mogul, actress, producer, winemaker, beauty brand founder and mother – that's Drew Barrymore in a nutshell. From mischievous Gertie (in E.T.) to Sheila Hammond aka the zombie in Netflix series Santa Clarita Diet, her on-screen roles have run the gamut: Cute, funny and scared, to now, scary. All these pale in comparison to her toughest role yet – that of a single mother.
But the 43-year-old says she has adapted to her new role of active, single working parent in a way that has exceeded her own high expectations. She's happy, energised and upbeat about life and work, radiating pure positivity, and admits to having overcome the difficult period following her divorce to art dealer Will Kopelman in 2016.
"The end of my marriage was the biggest tragedy of my life," Drew admits. "I suffered through some very bad moments and it took me a long time to collect the pieces. But, you know how it is, things don't always go according to plan."
The offer to play the role of a flesh-eating suburban mum also landed in her lap unexpectedly. And oddly enough, it was the lifeline that Drew needed. The star reveals, "At first I thought the timing was the worst, but it turned out that it couldn't have been better timing for me. I thought I could never manage it because I felt like Sheila, kind of dead inside. But then I realised that going back to work was exactly what I needed to do."
It was the wake-up call Drew needed. She shares, "It made me reflect on so many things in my own life. I had left acting to focus on raising my kids and my life was very different from what I had been used to. So it took me a while to rethink what I wanted to do, and then I saw that I had missed acting and I felt really happy to be back on a set."
Drew ended up not only starring in the series, but is also executive producer of Santa Clarita Diet, which has just been renewed for a third season – no mean feat in a fickle Netflix world.
Timely Distraction
And while it might appear counter-intuitive that playing a wife and mum who feasts on human flesh would prove uplifting, in Drew's case the black humour proved therapeutic. "I was in a very dark period in my life when this series came along. My life felt like it was in ruins… but reading the script cheered me up and distracted me from all my problems.
"I thought it was a very empowering story about this woman's awakening and about a good marriage, and it was entertaining, but it felt gritty and current. It's funny and it transports me," she shares.
"I also liked the fact that it was about a family that grows closer together to face up to its difficulties. I love being able to play this kind of whip-ass, kick-ass character… I think this is the best job. I am so lucky. I love this job."
The kick-ass character she is gushing about is Sheila Hammond, a real estate broker who dies and then comes back to life as a flesh-eating zombie. Timothy Olyphant co-stars as her realtor husband, Joel, who helps Sheila satisfy her ravenous cravings for body parts without resorting to random murder. Australian actress Liv Hewson plays their teenage daughter.
"Sure, I have to eat people, but I feel good, I look good, I don't have to sleep – it's kind of an interesting dilemma: Would you give up something so wrong because you feel so right?" Drew laughs.
Shifting Priorities
While returning to acting represents a career reboot of sorts, playing Sheila has also inspired Drew to relook the way she treats her body. The star, who's shed 12 kg since she started work on the show, says, "I really am my tightest and best at being her. She is in this Oprah, live your best life, empowered, thin, healthy [way of being]. That is the way she feels on a permanent basis. So, I try to put myself into that and take really good care of myself and just be on this natural high of health and fitness. I'm trying to give it the full Oprah… live my best life."
And for her, living that best life means being the best mother she can be. Drew regards her two daughters, Olive, aged five, and Frankie, three, as her "greatest priority" in life. She says, "I think children need to be shown how much they are loved. So, I try to be that kind of mother who makes them feel loved and safe and be part of a very healthy home environment. I also would like to help them have a happy and positive outlook in life. Those are important things to have when you have to deal with a lot of the bad things that life throws at you sometimes."
BEAUTY MOGUL
A self-professed beauty junkie, regular contributor to the Instagram hashtag #BeautyJunkieWeek, and founder of FLOWER Beauty, Drew Barrymore is the girlfriend we wished we had. Dishing out beauty tips on the regular, from using aloe vera to calm insect bites, to reminding everyone that skincare products should be applied on both the neck and décolleté, Drew's recommendations are perfect for busy mums.
As one of the rare Hollywood stars who advocates "not messing with your face" and "turning to innovations in skin care instead", Drew loves her face masks, often turning to Korean and Japanese sheet masks like the Dr. Jart+ Rubber Mask Moist Lover, $18, and SK-II Facial Treatment Masks, $127 (6 pieces) to hydrate parched skin. To calm troubled skin, Drew turns to the GlamGlow Supermud Clearing Treatment, $88 (50 g), to treat blemishes and improve skin texture.
Drew's makeup routine is, as expected, minimal with just a touch of FLOWER Beauty Pore Perfect Instant Blur Stick Multi-Tasking Foundation, US$14, to mask skin imperfections. Then, she gives her eyelashes a good curl with her favourite shu uemura Eyelash Curler, $30, and two coats of the Diorshow Pump 'N' Volume in 090 Black Pump, $54, for amazing volume.
THE MANY FACES OF DREW
From wild child to devoted mum of two, the actress has been through the mill...
An early start
The star began her screen career with a cameo role in horror flick Altered States at the age of 5 before going on to play the role of Gertie in Steven Speilberg's epic hit E.T. – a role that moviegoers remember her fondly for till today.
As Gertie in E.T..
As Cinderella in Ever After: A Cinderella Story.
Multifarious roles
Drew's varied screen roles include…
The frightened teenager of Scream.
The flesheating zombie-mum of Santa Clarita Diet.
The murderous teen in Guncrazy.
Wild past
A troubled childhood, parents' divorce and bad company – Drew came to be known as the wild child of Hollywood. At the young age of 13, the star entered into rehab because she couldn't shake off her drug and alcohol addiction. Her battle with drugs and alcohol, the star claims, has helped her become a better mum to her two daughters, Olive and Frankie.
A blast from the past: Drew with daughters Olive and Frankie from two years ago.
Relationship statuses
The now-single mum has been in a few high profile relationships and was married three times. First to bar owner Jeremy Tomas in 1994, which ended within a few weeks; then, in 2000 to Canadian star Tom Green, which ended after six months. Her most recent and the one that affected the star the most was to art dealer Will Kopelman, who is also the father of her children. The couple married in 2012 and divorced in August 2016.
Tom Green and Drew married in 2000 and divorced six months later.
Drew and Will Kopelman in happier times.
Drew played the role of a girl who suffers from short-term memory loss in 50 First Dates.
Actor to Producer
In 1995, she launched her own production house Flower Films, which produced many of her hits including Never Been Kissed, Charlie's Angels, 50 First Dates and award-winning TV documentary film Grey Gardens.
Her role as Little Edie Bouvier Beale in Grey Gardens won her the Golden Globe for Best Actress in a Mini Series.
As one of the ass-kicking threesome of Charlie's Angels.
Wine maker
In 2012, Drew launched Barrymore Wines with Jackson Family Wines in Monterey, California.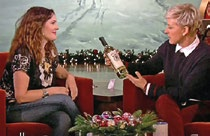 Drew shares about her debut Barrymore Pinot Grigio with Ellen DeGeneres in her show.
ADDITIONAL REPORTING: SANDHYA MAHADEVAN / PHOTOS: TPG NEWS, INSTAGRAM: @DREWBARRYMORE / WWW.CINEMAGIA.RO