How do you hold a full-time job, raise kids, pursue a passion (like travelling the world for a year) and look fabulous all at the same time? With Mother's Day coming up, ARETHA LOH & LEE XIN HUI ask five amazingly real mums about their balancing acts.
How do you hold a full-time job, raise kids, pursue a passion (like travelling the world for a year) and look fabulous all at the same time? With Mother's Day coming up, ARETHA LOH & LEE XIN HUI ask five amazingly real mums about their balancing acts.
AMBER YONG,32, head of marketing Married to PETER LOK, 40, CFO of a multinational company, for four years. They have a pair of nine-month-old twins, LEIA and LAUREN.
You have two babies, a full-time job and no helper – that must be tough!
"My husband and I are uncomfortable with the idea of having strangers in the house, so we decided from the start to do without domestic help. I didn't even have a confinement nanny! We ordered confinement food from Thomson Medical Centre. We learnt to let certain things go, because it's impossible to keep your house super-neat with two babies. While both of us hold full-time jobs, Peter mostly works from home; my company offers flexi-work arrangements, so I can take time offwhen he travels for work."
We can't get enough of Leia and Lauren's cute OOTD posts (@leialauren)! Tell us about their Instagram journey. 
"I started the account when they were two months old. They now have more than 192,000 followers! My husband and I have always enjoyed photography, and we have a lot of fun coming up with quirky ideas like dressing them as Cup Noodles or Wonder Women."
There was a big hoo-ha over blogger Xiaxue perming her toddler's hair. Have you been criticised for the way you style your daughters?"
I haven't, but I did receive comments accusing me of force-feeding them because they are so chubby. It's crazy, because babies eat what they want – they each have 150ml of milk a feed, five times a day, and stop when they've had enough. I just ignore haters." 
What advice would you give to other mums?
"Motherhood is life-changing, but it doesn't define you. It's okay to want to focus on your career and pursue other things that make you happy, like travelling. My husband and I recently took our twins on a 12-day trip to Iceland. People thought we were crazy, but the key is to do a lot of research and preparation, like packing extras of everything (clothes, antibacterial wipes, milk) in your hand luggage, reserving baby car seats, and working your itinerary around their feed and sleep breaks."
Is there pressure from your social circle to be a yummy mummy?
"Not really! But looking good is important to me because it gives me confidence. I go for manicures and pedicures, as well as massages once or twice a month to relieve backaches from carrying my babies. I also squeeze in aerial yoga classes twice a week during lunchtime."
CHANG LU-LYN, 46, chief marketing officer at full-service digital agency, Splash Interactive Group Married to ARA HAMPARTSOUMIAN, 47, managing director at TBWA, for 10 years.They have two daughters, eight-year-old AYLA TIEN and six-year-old AHNI LYN.
What's your morning beauty routine like?
 "I'm surprisingly low-maintenance and get ready faster than my hubby. Most days, I'm good to leave the house in under 15 minutes! I apply sunblock, then eyeliner and add a touch of blusher – the bare minimum it takes to make me look awake and alive. It's important for me to feel confident and comfortable, but I've never felt the need to look like a celebrity."
How much effort goes into styling your girls?
 "I give them the illusion of freedom by asking them to pick their own clothes. When they come back looking ridiculous, I'll fix their outfits. This gets a lot of eye-rolling from Ara and the girls ('Then why ask us to pick?'), but I'll do it anyway. However, they get to express their creative flair on weekends. They'll saunter into my room after waking up, ransack my wardrobe and parade around in their ensembles. Style-wise, Ayla is more of a tomboy who prefers T-shirts and shorts, while Ahni loves her frilly dresses and tutus." 
You go for yoga classes thrice a week, raise two girls with demanding schedules and co-lead a company with 80 staff . Where does your energy come from?
 "I firmly believe that what you think you can or cannot do is really a state of mind. When I look at women who helm companies, raise a family, volunteer or do charity work and/or homeschool their kids, what I do pales in comparison. In many ways, I want to show my girls that if they maintain a can-do attitude about life, and at least try to stick with what is important to them, they might surprise themselves with where they'll find the energy." 
What advice would you give to other mums?
"Think positive, prioritise what's truly important and don't be afraid to ask for help. Accept that sh*t will happen. There will be times where you'll disappoint your colleagues and times when your kids will hate you for missing an important event or milestone, but the world will still go on. It has to…"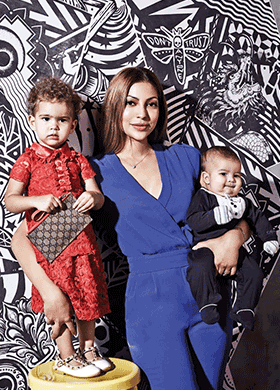 COLLEEN FRANCISCA,34, founder of multi-label e-boutique Francisca, and Francisca Dessert ParlourMarried to GUY MASON, in his 50s, a business coach. They have a 23-month-old daughter, ALUDRA, and a five-month-old son, ATLAS.
You were Miss Singapore World 2006 – surely there's pressure to be a yummy mummy?
"Definitely! I used to be a beauty queen, so people expect me to look good. But after giving birth to Atlas, I took things down a notch. My nails used to be perfectly manicured, but are now short and tidy. I used to experiment with diff erent hair colours, but have opted to keep my hair dark these days because I can't keep up with dyeing the roots. My makeup routine has also been simplified to lipstick and concealer. It's too much of a hassle to contour my face or apply mascara when I need to get my kids out of the house."
What's it like having girlfriends who are/were models and beauty queens?
"I'd be lying if I said there's no pressure to look as stylish as they do. What helps keep things in perspective is sharing my parenting journey with other mums. We chat about the joys and stresses of motherhood during playdates, bond over shared experiences and encourage one another to make the most of this period, no matter how imperfect or incapable we think we are."
Did your body change drastically after having two kids?
"I developed stretch marks and had loose skin after giving birth. I felt pretty depressed then and would stare at the mirror thinking: 'How am I going to get my old body back?' Thanks to the support of my hubby and family members, I've come to accept that my body will never be what it used to be. Guy and I waited six years before Aludra came along (we even tried procedures like in vitro fertilisation along the way), so I accept my stretch marks and loose skin as marks of motherhood." 
What's your take on women posting pictures of their svelte post-pregnancy figures online?
"I'm all for women looking good and posting pictures online, as long as they share tips on how to get there. It shouldn't be a way to make other women feel lousy about their bodies. Why can't we help each other by sharing useful tips on working out, eating well or even trying to get pregnant?"
How do you stay in shape?
"I never used to go to the gym, but I'm planning to start pilates in a month's time – I need to be fit in order to look after my young ones. I watch my diet and eat good foods, like beans and complex carbs." 
GRACE CHENG, 35, co-founder and editor-in-chief of lifestyle and personal-finance website, www.get.comMarried to PEDRO PLA, 34, co-founder and CEO of www.get.com.They have two sons, three-year-old RAMSES and one-year-old RANEFER.
You're very petite for a mother of two – what's your secret?
"Women might hate me for saying this, but I don't exercise at all (unless you count running after my boys a workout). Motherhood is the best fitness regime. I'm very hands-on and will do everything involving my kids, from showering them and taking them to the loo, to reading them bedtime stories. My weekends are also spent running after them, but at the beach or in the park."
How is it that you're so relaxed about not working out?
"My health became my top priority in 2009, after I was diagnosed with thyroid cancer. With hindsight, it's funny how I was fretting over my neck wrinkles one day before my diagnosis, when they should have been the least of my concerns. I went for an operation to remove the lump in my throat and received treatment for the next two years. I'm doing well now. As a cancer survivor, I've learnt not to sweat the small stuff . As long as I'm healthy, that's good enough."
What do you think about being labelled a "yummy mummy"?
"Personally, it's important for me to look good. I feel good when I look good, and those positive vibes rub off  on my kids and the people around me. Being a mum shouldn't be an excuse to look unkempt or unhygienic, but there's no need to succumb to social-media pressure to look fab. I shield myself from such pressure by not being glued to social media. I don't have a personal Instagram account and I rarely check my Facebook wall. I only monitor the www.get.com Facebook feed."              
No Instagram? You're quite unconventional for a millennial…
"My hubby and I lead pretty unconventional lives. In 2008, we travelled the world for a year, working on the go. We traversed 14 countries (yes, we covered all the continents and went just about everywhere except the North Pole and South Pole) while Skyping, e-mailing and Whatsapping our staff  to keep up with things. We value work flexibility a lot, which is why we allow our staff  to work from home if they meet their KPIs. We currently have 30 employees in the United States, Europe and Singapore, and we communicate via technology. This arrangement makes it possible for me to plan my schedule around my kids' activities, so I spend as much time with them as possible." 
If you had your way, how would you raise your boys?
"On a desert island so they get lots of sun, sea and sand time. They had a blast on our family trip to the Maldives last December. Pedro and I would like to do a round-the-world trip with them when they are older. I probably have a rebellious streak in me, and I suspect my boys have inherited it – they have their own minds and like to do things their way."
ADELINE KUEH,45, artist/designer and senior lecturer at Lasalle College of the ArtsMarried to TIMOTHY DAVID, 51, GP teacher at Hwa Chong Institution, for 21 years. They have an 11-year-old son, CHRISTOPHER.
How did you lose your post- pregnancy weight?
"I'd always been fit, so I knew I could quickly lose the 12kg I had gained. After Christopher was born, I went for walks with him in the stroller. Belly binding (using a cloth to compress the tummy), a tradition among the womenfolk in my Peranakan family, helped too. During my pregnancy, I made it a point not to overeat, but ate only good stuff  like fish, vegetables, fruit and DHA supplements meant to aid in the development of a baby's spine and brain."
Did you have to sacrifice your career after your son was born?
"I wanted to give him the best care that I could in his early years so he would become a well-grounded human being. That's why I chose to ground myself in Singapore for three years. I gave up speaking opportunities abroad and focused on my art so I could spend more time at home. In fact, motherhood helped hone my creativity. My son became a source of inspiration. And because I had less time, I focused on creating only meaningful art – in this way, I became a better critic of my work." 
Did you have to rely on your parents to help take care of your son?
"My parents live in Sarawak, my mother-in-law has passed on, and my father-in-law is unwell, so my husband is my pillar of strength. He's a feminist who believes in equal parenting, so he was hands-on from day one. I remember how one of us would read aloud from a parenting guide about how to bathe the baby, and the other would try their best to follow the instructions!"
How has life changed since you became a mum?
"Life didn't stop for my husband and me. When Christopher was a baby, we often took him on our dates! It helped that we became parents only in my 30s. We had time to build a solid foundation for our relationship, go on adventures and develop our sense of self, so it never felt like we were missing out."
What advice would you give to other mums?
"There is no perfection in motherhood. Every person's situation is different – you just have to do the best you can with the support that you have."