Take charge of life by recharging at these fitness boot camps.
Take charge of life by recharging at these fitness boot camps.
Some might escape to an idyllic island to prepare for the new year. Others make resolutions to eat clean and embark on a half-hearted juice cleanse. Wong Kar King does the other extreme – he disappears for seven to nine days. His destination: a boot camp at a beachside resort in Phuket. His stay there is spent alternating between muay thai sessions, endurance training, yoga, pilates and TRX suspension training exercises – and he even throws in a few rounds of early morning golf. 
It doesn't sound like much of a vacation but this is when the group managing director of mainboard-listed engineering company Advanced Holdings gets to "ponder and prioritise his life". Wong, who was EY Entrepreneur Of The Year 2014, says: "It's a time for me to regain fitness and be away from a busy schedule, to have some personal space to put life into perspective and ponder business strategy. I also enjoy the serenity and peace, because I don't really have to talk to anybody except my trainer. I feel great and energised, and ready for any challenge that life may throw at me after the boot camp. Problems just seem easier to solve."
These days, only a rigorous – some say brutal – physical training-focused getaway counts as restorative for the mind and body. Lounging by the pool is but a mere side activity. Yoga and meditation? Too sedate. 
But before the image of a gritty facility pops to mind, the following fi ve retreats are as breathtaking as their personalised training programmes cause shortness of breath. Everything is taken care of. Simply check in and focus on stretching the limits of your mind and body. 
NO WALK IN THE PARK
ALGARVE LUXURY BOOTCAMP
SPAIN & PORTUGAL
Portugal-born, Germany-trained fitness coach Marco Baioa believes that an upbeat, positive approach – as opposed to military-style training – is more effective in pushing individuals out of their comfort zones. Algarve Luxury Bootcamp focuses on functional training that relies on individual body weight, circuits and obstacle courses, instead of using machines. Training sessions take place outdoors to take full advantage of the Mediterranean's balmy climate and lush surroundings. Currently, four resorts are in rotation, with seven-day boot camps in May, June, July and September taking place at AMA Andalusia Resort. Three- and 14-day camps, as well as bespoke programmes, are also available. 
www.algarveluxurybootcamp.com/en/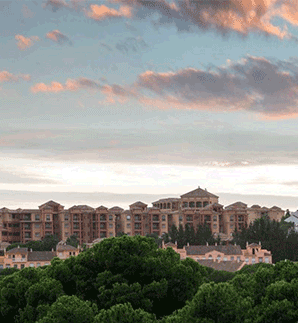 01, 02 GREAT OUTDOORS  
Algarve Luxury Bootcamp takes advantage of the pleasant Mediterranean weather in the Algarve region for its workout programme.
03, 04 CHALLENGE THE MIND AND BODY
Stretch your physical and mental abilities under the guidance of Olympians Andrew Lauterstein and Michael Klim at Chosen.
05, 06 SENSORY EXPERIENCE
Tune up your body and mind at pop-up boot camp 38N Luxe, while immersing yourself in the destination's culture.
07, 08 DIGITAL AND CHEMICAL DETOX
There's no room for distraction at The Ranch where a strict schedule is adhered to.
"I FEEL READY FOR ANY CHALLENGE LIFE MAY THROW AT ME AFTER THE BOOT CAMP."
WONG KAR KING,GROUP MD OF ADVANCED HOLDINGS
A TASTE FOR ADVENTURE
CHOSEN
VARIOUS DESTINATIONS
Chosen (derived from the Japanese word "sho-zen", which means to challenge) takes fitness up a notch by incorporating physically and mentally demanding adventure activities into the boot camp experience. These include canyoning, free diving, surfing and ice hiking, depending on the destinations, which include Iceland's wilderness, the mountains in New Zealand, a volcanic lakefront in Guatemala and Bali's padi fields. Fitness training sessions led by professional athletes and guest coaches focus on building strength, endurance, agility and mobility using elements of weightlifting, gymnastics and Crossfit. Yin yoga is also practised daily for its restorative benefits, while rest days for massages and bodywork sessions are scheduled to achieve balance.
www.chosenexperience.com
GO THE DISTANCE
THANYAPURA
PHUKET, THAILAND
F1 racer Jenson Button's been there. So has Australian triathlete Chris McCormack. Not for the faint-hearted, the Thanyapura 70.3 Certification Camp is for triathletes who are looking to compete for the first time or simply to improve race timings. At Thanyapura Phuket, expect group workouts, professional coaching and evaluation tests that help to determine if you're ready for your first triathlon. Touted as Asia's first sports hotel, the comfortable suites are second only to the comprehensive sports facilities, which include an Olympic-size pool with an electronic timing system, 500m cushioned athletics track, state-of-the-art fitness centre, spinning room and personal training room.
www.thanyapura.com/
TAKE IN THE SIGHTS
38N LUXE
VARIOUS DESTINATIONS
38 Degrees North's retreats at its Ibiza location have an established following and, now, taking the boot camp concept further, the brand has launched 38N Luxe. This series of "pop-up" boot camps will take place at upscale resorts around the globe as a one-off or for a limited period. The destination becomes a highlight as well, as guests can expect to experience the local cuisine, culture or natural surroundings, while they tune up their bodies. Numbers are capped at 14 guests, and workout protocols include high-intensity interval training, boxing, suspension training, kickboxing, pilates and activities that take advantage of the destination, such as hiking or stand up paddle boarding. It's not just the body that is fine-tuned; goal-setting workshops focus on training the mind for success too. The first retreat will take place at the end of the month at the Verdura Golf & Spa Resort in Sicily.
www.thirtyeightdegreesnorth.com/38n-luxe/
UNPLUG FROM THE EVERYDAY
THE RANCH
MALIBU, US
There'll be no business-as-usual at this boot camp. At The Ranch, Malibu, the point is to drop off the grid and focus on adopting a new, healthy lifestyle. Meals are vegetarian made with seasonal, organic produce grown on the premises. To aid detoxification, there will be no alcohol, caffeine or processed sugars. Smoking is prohibited. The daily fitness routine is non-optional and deliberately low-impact for sustainability, comprising weight training, core and ab work, daily yoga and group hiking along picturesque trails in the Santa Monica mountains. There is no Wi-Fi or mobile service, only a shared communication centre that can be accessed during breaks for a limited amount of time each day. Take a nap, get a massage and focus on recharging and recalibrating instead.
www.theranchmalibu.com/