An adjective which means using imagination or original ideas to create something. Also a noun used to describe a person whose job involves creative work.
An adjective which means using imagination or original ideas to create something. Also a noun used to describe a person whose job involves creative work. 
For the following people you're going to read about in the next few pages, their creativity is a commodity. CLEO finds out how they manage to make a living off their art, how real the struggle is, and more importantly – why? 
Maxine Ng, 19, Tattoo Artist @maxinengps
Some people wear their heart on their sleeves, but Maxine wears hers on the front of her neck, which is adorned with a tattoo of a heart pierced by seven swords.  
"It cuts me off from the corporate world because this is not a piece that can be covered up easily," she says. "I got it after my first year as a tattoo artist because I want to commit to this." Currently inking at Iron Fist Tattoo along Club Street, Maxine is best known for her botanical artworks that are unapologetically delicate and feminine. 
How she started: "I used to date someone who was an apprentice at a tattoo parlour. The wife of the owner complimented my artwork and told me that I should try tattooing them. When I graduated from secondary school, I was thinking about what I'd want to do in the future and decided to give it a shot. I started at Iron Fist Tattoo in December 2016 and it's where I've been ever since. I only have an O-level certificate but it doesn't bother me that much." 
Her signature style: "I specialise in botanicals, and I got the inspiration from my mum, who loves flowers. Every week, she'd go to a florist in City Hall and bring fresh flowers back home. I don't use thick lines in my tattoos. I want them to look like second skin; like pressed flowers on your body."
On being a female tattoo artist: "I think we offer a different kind of style. Male artists tend to produce more 'masculine' work, which might not necessarily be what women want on their bodies. Female artists also know where all your curves are, which helps with the placement, as well as the sensitive areas. When my clients tell me they're on their period [when their skin is extra sensitive], I'll do my best to make sure the process is as comfortable as possible." 
Why you should never ask your tattoo artist for a discount: "I understand why people ask, but I feel like this should be initiated by the artist. Because when they do this, they make the artist feel like their work is not worth the price [they've quoted]." 
Marina A, 25, Visual Artist @mrn.a
"I've always loved art, I just never thought I'd end up making a living off it," says Marina A, who's best known for her signature psychedelic illustrations that bear motifs of women and serpents. 
She remembers looking through some artwork with her brother years ago, and jokingly said she could do the same too. Soon after, she submitted an artwork to Noise Singapore, a platform dedicated to developing young artists, and was offered a mentorship and the opportunity for her work to be featured in an exhibition. She hasn't looked back since. 
On top of art exhibitions, her colourful works have also appeared on album covers for local bands. She's also provided art direction for the music videos of acts like Disco Hue and Jasmine Sokko. 
What she's inspired by: "I love reading about Greek mythology and goddesses, so I'm very much inspired by that. And I like the symbolism of women and serpents. There are so many things I can draw from that."
On being an artist in Singapore: "It's not easy! There were a lot of times when I look at my bank account and think 'I'm going to die this month.' It's very hard to make a living off your art if you don't have a market or a curator buying your stuff. You also really have to keep up with the scene here, and make sure that what you're doing is different. I know that [my brand will] die down if I don't evolve."
Facing her bullies: "I used to be bullied in school, and when they learnt that I wanted to be an artist… well, the comments I got weren't very kind. It put me in a really dark place then. I still get people saying some not so nice things about my work. But I realised that at the end of the day, there's always going to be such comments. You just need to remember that you'll also have a bunch of people who really love your artwork."
"I like the symbolism of women and serpents. There are so many things I can draw from that."
Alicia Wee, 28, Bubble Wrap Artist @aleeloulalei 
The beautiful thing about art is it encourages you to think out of the box. For Alicia, her eureka moment came when she was working on her final year project at LASALLE College of the Arts. She was creating an inspiration journal to help people overcome creative blocks by making them more aware of their surroundings. It was then that she realised she could use bubble wrap as her canvas. 
"There's another bubble wrap artist, Bradley Hart, who injects paint into bubble wrap. I paint on the flat side of the bubble wrap, within the circles," explains Alicia. "It's like pixel art!" 
How she juggles her art career and a full-time job: "I produced my first bubble wrap painting six years ago. It took me about two weeks – I'd come back home from a full day of work, and then pick up the brush at 10pm to start painting, usually a couple of hours at a time. It's easier and much faster now that I'm currently on a break."
Why she loves painting portraits: "Portraits are amazing, because every feature or expression is unique to each portrait. To me, this is one of the hardest things to master because every feature is so intricate and important. If you screw up even the slightest proportion, the entire portrait would look really weird."
On Singapore and its art scene: "I feel like over the years, we've become more open to art and artists. It must have been tougher for the older generation, because I'm sure growing up they'd have heard stuff like, 'Oh, you want to be an artist? How are you going to make a living?', but we're opening up and becoming more accepting of that now. People forget that Singapore doesn't have much of an art history compared to other countries."
"It must have been tougher for the older generation. I'm sure growing up they'd have heard stuff like, 'Oh, you want to be an artist? How are you going to make a living?'"
Sam Lo, 32, Visual Artist and Founder of Project XIV @skl0_
Images by: Sam Lo 
We all know her as "Sticker Lady" – the artist who spray painted "My Grandfather Road" at pedestrian crossings, and stuck stickers that said "Press Once Can Already" and "Anyhow Paste Kena Fine" on traffic light buttons. Now, six years after her arrest, Sam Lo has set up an artist management and content consultancy agency called Project XIV.
"As a freelancer, you have to do a whole bunch of stuff, like sort out paperwork, chase for payment, go to these meetings and sell yourself, all at the same time," explains Sam. "If we could free that up for artists, it would give them more time to focus on the creative work itself." 
The impact of her arrest: "The whole experience itself was so overwhelming. There was a petition to lessen my sentence that got more than 15,000 signatures. That was amazing, but it didn't register for me back then because I was in shock. I also became more visible after the arrest, and I found myself in this unique position where I'm an urban artist but I can't create art like how I used to. On the other hand, I get clients who give me a stream of work. I recognise that I'm lucky to be in this position, to actually still be able to keep doing what I want to do." 
Her notoriety: "For the first three years after the whole thing, I was struggling with my identity and what I was going to do. I mean, I have a diploma in Food Science and a degree in Business Management – I wasn't planning to be an artist. But after that happened, I started to learn how to paint and started sculpting. I never went to art school, so I had to play catch-up.
I hated the "Sticker Lady" label at that time, because I was so overwhelmed by what was happening. I didn't know how to address it, so I didn't want to be known as that anymore. It was only a couple of years later that I made peace with that, was kinder to myself, and embraced my past. That was when I could visit my old work without feeling resentment. That was when I painted that giant  [and legal] "My Grandfather Road" across Circular Road in 2016. It was a very big moment for me."
Why she's staying in Singapore: "My work is heavily inspired by the people here. I still feel like I have things to say. I'm not done yet. Plus, this is home, lah." 
Tulika Ahuja, 25, Curator @tu__lika @kult.gallery
Top row, from left: Note to Self No. 2 by Blaze (SG), Bridge by FONKi (CA), and Dubious Virtues by Tarini Sethi (IN). 
Bottom row, from left: Journey to the East by Daniel "Chaos" Ou (CA), Forbidden by SONG (RSCLS)(SG), Art Will Survive, Artists Won't by Tind Silkscreen (GR), Katipunan by JP Pining (PH), and Ain't That the Truth by Kid Acne (UK). 
Growing up, Tulika was surrounded by art, thanks to her artist mum. "When I was a child, I was forced to attend art lessons even though I couldn't really draw," she admits with a laugh. Years later, she went on to pursue a degree in mass communication and art history. She is now a curator at Kult Gallery, where she's in charge of putting exhibitions together.    
Why art doesn't have to be atas: "Maybe it's because there aren't many urban art galleries in Singapore – a lot of galleries here specialise in fine art – but there's this perception here that art is only for a certain type of people. It's not true. If you like it, you like it. If you don't, you don't. You don't need to be an intellectual to appreciate art – sometimes, you just find an image beautiful and that's perfectly OK." 
A day in the life of a curator: "It's a normal job: I have to come into work every day and it's hard to get out of bed on some days… (laughs). On days leading up to an exhibition, I'd be painting the walls and handling the shipments of artwork. On other days, I'd be liaising with artists and filling out excel sheets."
How she curates a show: "[Most are based on] issues I care about. Last year, we spoke to a lot of graffiti writers and that's where the inspiration for the exhibition 'WORD.' came from. The aim was to expand the definition of what it means to be a writer. A writer doesn't necessarily have to write a book or be a published poet; a writer can also be an artist who works in different mediums – a sculptor who works with words can also be considered a writer."
"You don't need to be an intellectual to appreciate art – sometimes, you just find an image beautiful and that's perfectly OK." 
Tan Yang Er, 25, Art Director, Photographer, Artist @yangermeister_ 
Remember the psychedelic Harajuku vibes from the "Keep Me Jealous" music video by The Sam Willows? You have Tan Yang Er, more commonly known as Yang, to thank for that. The 25-year-old served as the art director for the video, which bagged her a Best Visual & Art Director of the Year award at the 2017 Mnet Asian Music Awards. Oh, she also runs 21 Moonstone, an eclectic co-working space/ bar with Narelle Kheng, who just so happens to be her best friend. 
On being a jack of all trades: "I struggled with that so much, because people seem to think you're a master of none when you enjoy doing so many things. But then I read The Business of Fashion issue that talked about polymaths, and it taught me how all these things I'm doing shouldn't be divided by slashes in my title, but commas. [I do many things, but] it doesn't mean I'm lesser at anything." 
How she overcame imposter syndrome: "I'm not trained in art; I did communications in school. For the longest time, I didn't dare to call myself an artist. In my mind, it's like, 'OMG, I'm a fraud.' I didn't even think about going overseas to further my studies in art. You know how there are self- made millionaires? Well, I want to be a self-made, self-taught artist." 
What it means to be a millennial creative: "I fully embrace the millennial label, and that fact inspired the bare minimum KPI I have for the work I produce – it has to be Instagrammable, at the very least. I'm very unapologetic about that. Like it or not, this is how our generation consumes and interacts with art. If we see something beautiful, we'd want to take a photo with it. It is what it is. So when I work with brands, I'll do mock-ups of how the Instagram posts will look when the public sees it. I'm essentially saying to them, 'this is what will come up when you check your hashtag.'" 
Lenne Chai, 27, Photographer @lenneigh
Photo by: Adin Kindermann 
Model: Minji Money/Photogenics LA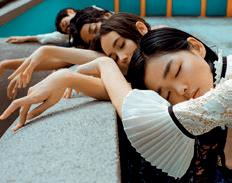 Models: Mei Yue, Xaxa/Basic Models, Nadia Rahmat/ Upfront Models, Jean Yong/Now Model Management. 
Her work has appeared in both local and international glossies, she's done work for brands like SK-II and H&M, and she's represented by ADB Agency, which has offices in New York, London and Paris. At 27, Lenne has racked up an impressive resume and picked up some accolades along the way – like the Fashion Game Changer title at the Zalora Style Awards last year. 
"When I was 21 years old, I naively thought that shooting Lily Cole would be my big break, but it was on that shoot that I realised how inadequate I was," she reflects. "It was that experience that inspired me to leave my comfort zone, to push myself to be a bit more worldly, so that my work can improve."  
On being an Asian photographer: "I used to only photograph Caucasian models (the byproduct of neo-colonialism, perhaps?), but since spending time in America, I've come to appreciate local models, and I want to feature them in all my work now. I think my photos can be quite divisive for commercial clients – I've encountered situations where women would love the work, while the men on the team would find the shots really ugly, or even scary." 
On tough times: "I was so broke for the first three or four years! I'd secretly juggle full-time jobs while still shooting, and my parents were kind enough to feed me when my bank balance was low. What people don't realise about my overseas shoots is that they're entirely self-funded and self-initiated, so I don't actually know anyone in the country I'm headed to. I count myself lucky to still be alive, and to have met so many wonderful people along the way." 
Her most memorable shoot to date: "I worked with actor Ross Butler recently, and the crew got to feast on oysters, explore the beautiful wilderness of Northern California, and he was really nice too! I was really shocked when he was willing to jump into a freezing lake without much prompting – props to you, Ross!"
"I've encountered situations where women would love the work, while the men on the team would find the shots really ugly, or even scary." 
Mary Bernadette Lee, 33, Artist @mrydette 
As an artist, Mary doesn't just produce artworks – she also guides other people towards producing something of their own via her workshops. Some are open to the public, while others are designed for children, people who struggle with mental health isses, or those from less privileged backgrounds. 
When she decided she wanted to be an artist: "When I was 13, I had this art teacher who was very nurturing. When, say, we'd have to draw tomatoes during art class, I'd pick colours that my friends wouldn't think of using like purple, green and blue to bring out the highlights of the tomato. My teacher would display my work in the classroom, and even asked me to stay back after school for additional art classes. She helped me find my light, and now I want to do the same for others." 
On art as a healing medium: "I want to make art accessible for people – especially for those who might not have access to the resources or processes that allow them to go a bit deeper into themselves. [When it comes to dealing with psychological issues], medicine doesn't do that. It covers the symptoms, but doesn't help you understand why you feel that way in the first place, and what are the steps you can take to move away from that." 
Her most meaningful work so far: "I'm currently working with Lien Foundation and Objectifs on a project about caregiving. There are eight artists involved in this, including myself. For my contribution, I'm guiding autistic children and their caregivers to create a piece of pottery together. Clay is a material that really requires your attention. It's very dependent on water. Too much or too little can cause the vessel to crack or collapse, and I think that's a beautiful metaphor for love." 
"I want to make art accessible for people – especially for those who might not have access to the resources or processes." 
Photography Darren Chang, Angela Guo
Locations Kult Gallery, 21 Moonstone, Iron Fist Tattoo, Thow Kwang Pottery Jungle