She creates stunning paper sculptures of all shapes and sizes.
She creates stunning paper sculptures of all shapes and sizes. 
Name: Rae Lim 
Age: 34
Job: Founder of Paper in my Attic 
Connect with Rae 
Instagram: @paperinmyattic 
How did Paper in my Attic come about?
At first, I was just making paper art as a favour for family and friends, but I realised it could be something more during my wedding. My husband and I had worked together to make paper centrepieces for the banquet tables and people went crazy over them. In fact, we held a lucky draw for them and a few fights broke out! Also, more opportunities started coming my way after my husband (who is a mural artist and graphic designer) collaborated on a wall mural for a restaurant. 
You're a self-taught paper artist. What's the process like? 
When I was a kid, my grandmother would make little origami toys for us to play with – they included paper sampan boats to race in the drain and paper balls to toss around. That sparked my interest in origami toys and as I got older, I wanted to try and do more with [paper]. I bought lots of books, watched lots of YouTube tutorials and just practised. I've never had art lessons or been to an art school. 
What has been your most challenging project so far? 
An art installation I did for the [now-defunct] New Majestic Hotel. The building was about to be torn down, so they allowed artists to come in and turn the interior of the building into their canvasses. I was allotted a space on the main staircase on the first floor, but I didn't realise that it was a glass staircase with nowhere to secure the flowers to. I had to try out so many ways to make it work. 
Get to know Rae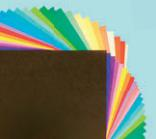 Five things that make her happy
"My family, coloured paper, flowers, sugar and architecture." 
She's a fan of anime
"I enjoy watching the occasional anime. It helps me relax and takes my mind to a fantasy land that's so different from day-to-day life."  
One of her favourite destinations is Melbourne
"The art scene there is so fun and rich. Plus, it was where my husband and I had our first date!"