Fashion juggernaut Louis Vuitton debuted fragrances for men earlier this year in an already competitive market, but its presence attests to the opportunities to be had.
Fashion juggernaut Louis Vuitton debuted fragrances for men earlier this year in an already competitive market, but its presence attests to the opportunities to be had. Men today are more willing to experiment with scents, in contrast to sticking to the same perfume for years.
Says Susan Tan from fragrance distributor Luxasia: "Men are now starting to own at least two fragrances with many owning multiples, providing variety to their scent library."
She observes that more are becoming adventurous with their choices, going for long lasting non-commercial, or "cult" scents.
Whether you're the daring or the brand-loyal sort, we present here a selected menu of the fragrances launched this year, plus our verdict of the product.
01 SENSUALITY IN THE AIR
MONTBLANC LEGEND NIGHT
Warm and sultry, this is the nocturnal version of Montblanc's previous two Legend scents aimed at the confident man (as if each part of this individual has to be olfactorily represented). But the concoction with a strong base of musk works. In short: Seductive. Wear for a date.
02 ENTRANCED YET?
AZZARO WANTED BY NIGHT
The name makes no bones about the purpose of this eau de parfum, which begs to be experimented with. We say, sure, it's got the makings of a suave exotic gentleman, but it settles down to be quite a sweet smell. Then again, this may be ideal for the morning after. In short: Take it for a spin.
03 A DIGNIFIED MASCULINITY
CREED VIKING
Drawing from the spirit of Norse seafarers, Viking is unappealing on first spritz, but settles into something quite special. Marrying contrasting characteristics, it's refreshing yet warm, modern and sensual. Produced by Creed, a family that has been creating rare fragrances for six generations. Ready your wallet. In short: An Idris Elba kind of scent.
04 WEAR THE WOODS BVLGARI MAN
WOOD ESSENCE
Created for the urban man who wants a reminder of nature in the concrete jungle, this fragrance evokes the smell of wood after rain with its piney, refreshing notes. In short: An olfactory escape.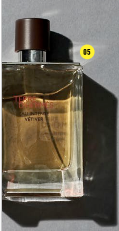 05 UNIQUE
HERMES TERRE D'HERMES EAU INTENSE VETIVER
Three members of our team had a go at this fragrance; none was able to define it, as typical of the scents from Hermes. The brand says it's a deconstruction and reconstruction of the earth, but to anyone but divinity, this description would be no help at all. Our best attempt – it's something we could imagine on Benedict Cumberbatch. In short: Unexpected, undefinable.
06 THE OLD NEW
SALVATORE FERRAGAMO UOMO SIGNATURE
With notes such as tonka beans, coffee, leather, cypress, cardamom, cinnamon, mandarin, and pink pepper, you can take a stab at the final product. Signature is reminiscent of the oldschool gent: freshfaced, courteous, with a faint trace of smoke. In short: Mature.
07 NEW SPIN
ACQUA DI PARMA COLONIA SANDALO
This is the latest addition to the Italian brand's famous Colonia family of perfumes, which at its heart is infused with refreshing citrus and warm woody notes. The rare Indian sandalwood here adds depth to the fresh scent. A smell you would associate with an exotic resort, post bath. In short: Relax in sophistication.
08 IT'S GOT ZING
DUNHILL CENTURY
This is Dunhill's take on a scent for the future. Sure, the bottle resembles one of those all-powerful infinity stones in recent superhero movies, but if a spritz lends efferverscent energy (top notes are grapefruit and mandarin), well, there is a power in that in today's frenetic world. In short: Sparkly.
09 AN EASY FRIEND
COACH PLATINUM
Word is that the scent was inspired by the freedom of the American road, but Jack Kerouac and company this whiff is not, unless the Beat gents exude easy to wear. If you can't decide among the more distinctive colognes, this would be a good option. In short: Don't mistake it for a whiskey flask.
TEXT JENNIFER CHEN