It doesn't promise glassy skin.
It doesn't promise glassy skin. It doesn't expect us to do a 10-step skincare routine. And so far, it doesn't have a ubiquitous K-drama face (male or female) as a spokesperson. What Huxley does is provide simple and straightforward solutions for city skin, to counter constantly hot-outside, cold- inside conditions. Its skincare is made with prickly pear from the prickly pear cactus, a desert plant that lives in extreme heat during the day and cold temperatures at night. How simple and straightforward is it? Double-cleanse, tone and moisturise. That's it. Regardless of your age, skin type, what time of day or year it is, and where you are. Huxley is exclusively at M Beauty @ Metro Centrepoint, www.metro.com.sg, and www.huxley.sg. – JE
Steps 1 & 2: Double-cleanse
FOR A LIGHT CLEANSE
Cleansing Water, Huxley's version of micellar water. Or wash with foaming Cleansing Gel. $45 each 
FOR A DEEP, MOIST CLEANSE
Cleansing Oil to remove makeup and/or sunscreen. Follow with Cleansing Foam (just a 1cm amount produces the richest foam that glides on like silk). $70 and $40 respectively 
Step 3: Toner
There is just one – for every type of skin. Use after cleansing with a cotton pad. $55
The scent of Huxley's products: a refreshing Moroccan herb garden.
Step 4: Serum + Moisturiser 
All Huxley moisturisers (the brand has three types) have complementary serums. Use them together to cut one skincare step: Add a couple of drops of serum to the moisturiser in your hand, mix, and apply.
FOR LIGHT HYDRATION WITH A WATERY/GEL-LIKE TEXTURE
Hydration routine: Essence; Grab Water + Cream; Fresh And More. $65 and $60 respectively
FOR HYDRATION WITH ANTIOXIDANTS & A CREAMIER TEXTURE
Antioxidant routine: Oil Essence; Essence-like, Oil-like + Cream;  Anti-gravity. $65 and $68 respectively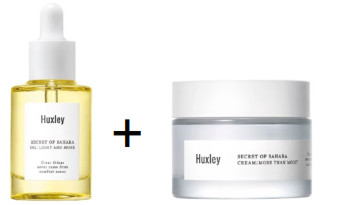 FOR VERY DEHYDRATED SKIN THAT NEEDS AN  OIL-LIKE SERUM & A DENSER MOISTURISER
Extra-moisture routine: Oil; Light And More + Cream; More Than Moist. $65 and $60 respectively