Forget wedding looks! These celebs are scoring perfect points with their post-breakup outfits
Most people know that getting over a breakup involves tears, drinks with the girlfriends and copious pints of ice-cream. And while splitting up with someone you love can be bitter, some celebs are lightening the mood with their post-breakup looks. Don't believe us? These freshly-single women are here to prove the power of a strong breakup look.
1 IRINA SHAYK
After ending her four-year relationship with actor Bradley Cooper, supermodel Irina Shayk was seen leaving her home wearing a chic khaki-coloured jumpsuit; and boy, we have never seen someone look this happy to leave a relationship! In the days after her breakup, Irina has stuck to her signature rock-inspired look. More recently, she was seen walking around New York City with a clutch printed to resemble Fyodor Dostoevsky's book, The Idiot. Cue side-eye emoji.
2 GIGI HADID
Another celeb couple we lost in 2019 was Gigi Hadid and Zayn Malik, but out of this breakup came a slew of stunning looks from Gigi. Fresh from splitting up with her singer beau, Gigi has since been spotted in plenty of tailored suits and bright colours, evidenced by her pink tie-dye dress from Prada or her top-to-toe orange look.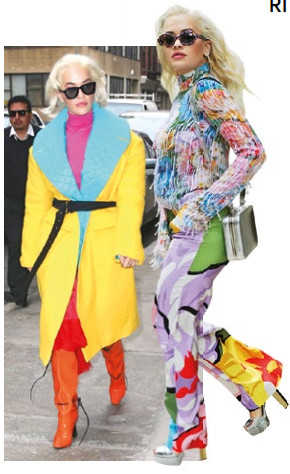 3 RITA ORA
Speaking of colour, singer Rita Ora is known for her love of campy, ostentatious looks. And since breaking up with her actor-boyfriend Andrew Garfield, she's been trooping out every colour she has in her closet. From a technicolour collage of blue, pink and yellow (all of which appear in the same look) to a gleefully illustrated pair of pants, Rita makes being single again look like a party.
4 KENDALL JENNER
Model Kendall Jenner is newly single again after she parted ways with her boyfriend, basketball player Ben Simmons. As the media started hearing of her breakup, Kendall showed up the next day in a frothy dress from the Giambattista Valli collaboration with H&M. In that effervescent shade of pink, it's hard to feel any tinge of sadness. She's since been spotted in sexy dresses and head-turning colours.
COMPILED BY: NATALYA MOLOK & AARON KOK / PHOTOS: TPG NEWS/123RF/ VERSACE/INSTAGRAM: @BINGBING_FAN/@CHOISAAAA/@YUNGCHOYEE