Runway makeup may seem impossible to recreate, but with our guide, you'll be working the stand-out SS18 looks with ease.
Runway makeup may seem impossible to recreate, but with our guide, you'll be working the stand-out SS18 looks with ease.
Let Clear Skin Shine Through
And even if you don't have flawless skin, you can camouflage pimples, hide redness and keep shine at bay with these clever products. Plus, they don't leave a cakey finish.
PRIMED FOR SUCCESS
Primers like the Yves Saint Laurent Beaute All Hours Primer, $82 (40 ml), prep the skin to be the perfect canvas for makeup to go on. This also means they help foundation stay crease-free for longer.
ERASE AWAY
Packed with pigments, just a dab of the Urban Decay All Nighter Concealer in Fair Warm, $40, goes a long way. The unique blend of polymers and humectants means it won't settle into lines as it provides matte coverage. Available in eight shades.
POWDER PUFF GIRL
Use the Make Up Store Wonder Powder in Kalahari, $69, to set your makeup and give skin a smooth, radiant glow. The velvety soft, lightweight mineral powder helps disguise any redness and fine lines. Sweep on with a large powder brush.
Bring Out Your Glitter Gun
If you have leftover embellishments from your crafting projects, save them for this trend. Unleash your creative side and use eyelash glue to stick glitter, rhinestones and sequins onto your face. Opt for subtle sparkly drops or a full lid of sequins, and if you're trying out glitter on your lips, first apply creamy lipstick as a base, then a thin layer of gloss, before pressing on the glitter with your fingers. It's best to do this over a sink, and lip-licking afterwards is not advisable.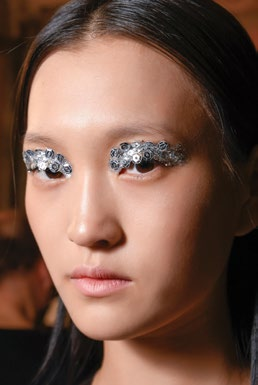 Go Red In The Face
When applied sparingly, red blushers can be very flattering. The trick is to go light-handed and layer on the pigments, as opposed to applying your regular amount and then trying to blend it out. When it comes to applying any red-based cosmetics, it is important to cover any unwanted redness with a concealer, as it will highlight skin conditions like acne, rosacea or skin sensitivity.
Luscious Lashes Like Hers
Genetics has often been blamed for not being able to create that wide-eyed doll look without the use of falsies or lash extensions. But fret not: Follow these simple steps to get your lashes longer, thicker and sexier.
1 START BY CURLING: It's not hard to imagine the eyelash curler as a medieval torture device, but wield it well, and it can do wonders for your eyelashes. Curl from the base of your lash line and work your way up. Remember: You are trying to curl gradually, and not end up with 90-degree lashes. Try the shu uemura Eyelash Curler, $30.
2 ADD LENGTH: Shorter lashes can benefit from the use of fibre extensions. Apply one thin coat of mascara, and while it is still wet, comb the fibres on to lengthen and thicken lashes. If it's all too confusing, use fibre mascara like the Marc Jacobs Beauty Velvet Noir Major Volume Mascara, $44.
3 GET VOLUMINOUS: Finish the job with a thickening mascara to really add the volume to your lashes. Don't forget your lower lashes, too. Try the Burberry Beauty Bold Lash Mascara, $44.
The Magic Of Silver
Most of us steer clear of metallic or shimmery tones, unless it's the festive season. But there is a stylish way to incorporate these into your everyday makeup. Simply dab shimmer on the inner corner of your eye, and you'll see how it instantly brightens your complexion and also helps eyes appear larger.
In The Pink Of Health
There isn't a more feminine or pretty colour than pastel pink. If you want to wear this colour all over the face, make sure all your pinks are complementary in tone and shade. Avoid brighter pinks like fuchsia, and stick to lighter pinks like the MAKE UP FOR EVER Artist Shadow in M-806 Antique Pink, $27.
An Eye For Colour
If you've always stuck to a nude palette, this is the season to experiment with brights. Here's how to take on bold hues…
1 START WITH EYELINERS Trade your usual black or brown eyeliner for something more vibrant. Navy and cobalt blue are super flattering on Asian skin tones.
2 STAY, DON'T STRAY Wearing eye shadow primer before applying any eye colour not only helps it stay put, but enhances the intensity of some eye colours as well.
3 LAYER THE COLOUR If you want your eye shadow colour to appear brighter, use a creambased shade, and then top it up with a powder eye shadow.
PLUS: Go Pink!
Did She Or Did She Not?
The Diorshow Bold Brow in 005 Pink, $39, gives darker brows an unconventional twist, giving them some colour without looking too crazy.
The Imperfect Pout
Tired of the precision lip? This season sees the rise of smudgy, lived-in lips and we're more than happy to welcome this time-saver. Apply lipstick as you normally would, then use a finger or Q-tip to lightly smudge the edges of your lips. You can also use your finger to dab on a lipstain such as the Mamonde Highlight Lip Tint, $18.
Drawing The (Tight) Line
Tight-lining is drawing your eyeliner on the inner edges of your eyeline to give it definition. Always make sure you sharpen your eyeliner pencil to prevent contamination. Then, pull your eyelids slightly upwards to reveal more of your lash line, and slowly pencil in the colour. Use waterproof eyeliner only if you're prone to tearing. To remove it, soak a Q-tip with micellar water or waterproof makeup remover and slowly dab on the lashline.
TEXT: ARISSA HA / PHOTOS: SHOWBIT, BAUERSYNDICATION .COM.AU