What we're all talking about this month
Rebel Royals
From a spare heir who's leaving his royal duties in the lurch to a ruler who once promoted his dog to a top- ranking position in the military, here are the most controversial royals ever.
Prince Harry of England
In an unprecedented move that caught the Queen by surprise, Prince Harry steps back as a senior royal earlier this year and plans to live the quiet life with Meghan and Archie in Canada.
King Maha Vajiralongkorn of Thailand
Before his elevation to the top of the Thai monarchy, he was a notorious party boy who even made his poodle an official Air Chief Marshal.
Sultan Muhammad V of Malaysia
He's the first Malaysian King to abdicate the throne. He did so after marrying a former Russian beauty queen, whom he then divorced after one year of marriage.
Princess Cristina of Spain
She's the first member of the Spanish royal family to ever appear in court and stand trial after being accused of fraud.
Princess Stephanie of Monaco
The daughter of American actress Grace Kelly, Princess Stephanie must have a thing for the circus because she's been married to both an elephant trainer and an acrobat.
Prince Jefri of Brunei
The Asian prince of a conservative Muslim country reportedly named his super-yacht, Tits, and its on-board vessels, Nipple 1 and Nipple 2.
Princess Hayfa of Saudi Arabia
The princess caused controversy when she was pictured behind the wheel of a car for a magazine cover. All while, the kingdom's ban on women driving was still in force.
Tiny Tempers
Royal kids can get all hot and bothered, too, judging from these outbursts from some monarchs-in-the-making 
Princess Charlotte of England:
The fourthin-line's royal tour to Germany ended in tears after she missed her afternoon snooze.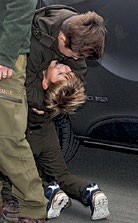 Prince Felix of Denmark:
Following your parents on their royal duties seem quite fun but this little prince looks like he's had enough.
Princess Leonore of Sweden:
Even her younger sister's christening wasn't enough to keep the princess's shoes on her feet.
Fertile Forties
Motherhood was worth the wait for these gorgeous celebs, some of whom only became proud mums after the age of 40
43
Five years after her marriage to Christopher Lee, Fann Wong, 49, gave birth to her only child Zed in 2014.
44
Choi Ji Woo is pregnant with her first child and reportedly due in May.

41
Japanese singing sensation Ayumi Hamasaki is pregnant and will be a first-time mum this year.
47
Cameron Diaz welcomed her baby girl, Raddix, into the world just before the new decade began.
49
53-year-old Janet Jackson was just two weeks shy of her 50th birthday when she announced her first pregnancy.
Who Is That Girl I See?
You will be seeing Liu Yifei, staring straight back at you from the big screen when Mulan hits theatres on March 26. She plays the feisty and honourable, titular character in Disney's live-action remake. Here, we've got some trivia on the Chinese actress ahead of the film's debut:
 Yifei may be 32 years old in real life, but she will step into the role of a 16-year-old girl.
 While she is one of China's most bankable actresses, Yifei is relatively unknown on the international stage.
 She beat 1,000 actresses to get the lead role in Mulan after casting directors auditioned candidates in at least five continents.
 The actress was born in the Chinese city of Wuhan, and stayed in Brooklyn, New York for four years in her teens.
 She loves cats! Yifei converted her home in Beijing into a cat sanctuary and even housed more than 30 kitties at one point.
Star Search
With our reputation as a foodie haven, it's no surprise celebs come to Singapore to try some delicacies. Here's where you can go to spot the stars!
Who will you spot there?
Jay Chou hit up the swanky spot when he was in town for his concert and even treated the fans he met during his visit.
Who will you spot there?
Brie Larson and Gemma Chan tucked into satay, sambal stingray and BBQ chicken wings when they visited the hawker centre.
Who will you spot there?
Everyone from Korean boy bands to Hollywood heavyweight Reese Witherspoon has eaten at this famed eatery.
Who will you spot there?
Stars who have dined here over the years include HK celebs Donnie Yen, Ekin Cheng and Raymond Lam.
Who will you spot there?
Stars who have dined here over the years include HK celebs Donnie Yen, Ekin Cheng and Raymond Lam.
COMPILED BY: NATALYA MOLOK / PHOTOS: TPG NEWS / SHUTTERSTOCK