01 SEASON OF CHANGE
In troubled times, luxury brands are pivoting to make medical supplies.
Since the Covid-19 pandemic lockdowns and the freezing of economic and social activity across the globe, many have pondered if luxury fashion has a role to play in a world in crisis. Whether or not you believe the way people consume fashion will change after the pandemic, there is no denying that the industry has responded very strongly to the crisis.
Aside from making generous donations, brands such as Hermès, Burberry and the Zegna Group are retooling their factories to produce much-needed supplies such as face masks.
Recently, Zegna announced that it would also be reopening part of its production facilities in Italy and Switzerland to manufacture 280,000 protective hospital suits for medical staff in the Piedmont region in Italy and the Ticino canton in Switzerland.
Bulgari and its French parent company LVMH have also tweaked their perfume production facilities to create hand sanitiser for hospitals in Italy, one of the countries hardest hit by Covid-19. Aside from the fact that these initiatives will go some way to helping medical personnel on the frontline and keeping these brands' employees meaningfully employed, it is also worth noting that the actions companies take now will set the stage for their post-pandemic recovery, when a greater number of luxury consumers than before may turn to labels that stand for a lot more than simply beautiful clothes.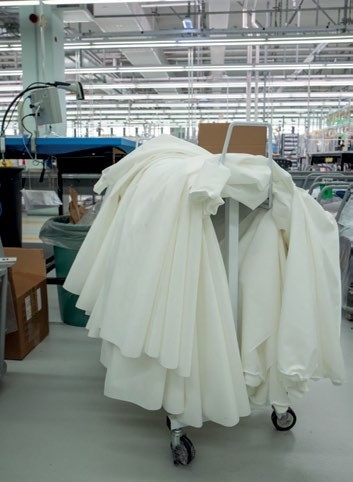 HOSPITAL SUITS
Parts of Zegna's plants are now manufacturing hospital gowns.
02 BRIGHTER DAYS
Think of the Cartier Santos and the first thing that comes to mind is probably the brand's iconic square watch. It is, however, also the name of a line of sunglasses. Taking cues from aircraft rivets, the latest Santos eyewear features screws along the top bar, the bridge and on the hinges. There are also new additions to the Panthere de Cartier eyewear range, which is distinguished by the panther head motif. This year, the head features accents in hand-lacquered green and black that were inspired by onyx and emeralds.
03 BULGARI 24/7
We hope that the circuit breaker measures would have been lifted by the time you are reading this. Either way, those who prefer to shop from home will be pleased to know that Bulgari Singapore's online boutique is offering e-concierge services and free delivery. This means you can, at any time of the day, check out fresh selections such as the new Serpenti bags (pictured) by fashion designer Alexander Wang or the latest Bulgari Bulgari casual-chic jewellery pieces. bulgari.com
04 SHINE ON
If you're a shoe fan who has always wanted to learn how to properly shine your footwear, now may be the time to start. Singapore's only artisanal shoe shine and leather care store Mason & Smith has launched its Home Shoe Shine Kit. It contains everything – brushes, lotion, cream and wax – that you will need to achieve a mirror polish. It comes with a printed full shoeshine guide as well as a link to a video tutorial. Delivery is free. masonandsmith.com
TEXT LYNETTE KOH