HOW TO REFRESH FAMILIAR LOOKS AND UPDATE YOUR STYLE STANDBYS – PLUS, FOUR NEW TRENDS TO TRY FOR FALL/ WINTER 2018.
HOW TO REFRESH FAMILIAR LOOKS AND UPDATE YOUR STYLE STANDBYS – PLUS, FOUR NEW TRENDS TO TRY FOR FALL/ WINTER 2018.
#01
TREND TO TRY NOW
A TASTEFUL LOGO
'90s-style logomania is back. Here's how to don a brand motif without looking like a boor.
LOOK FOR DESIGN VALUE
Instead of a simply spelt-out brand name that suggests that the only intention is showing off, opt for a logo that is more design element. Bally (pictured) pays tribute to its Swiss roots and adds vintage flair to a vermilion sweater with a stylised gold logo referencing Suvretta, a hotel in St Moritz. At Ermenegildo Zegna, the XXX mark brands the exclusive pieces of the Couture collection, from pullovers to leather high-tops.
KEEP IT DISCREET
It's no secret that women's fashion has long received more attention than its masculine counterpart. To bring attention to Dior's menswear atelier – lesser-known than, say, its women's haute couture division – the brand's last creative director, Kris Van Assche, decorated the edge of jacket sleeves with labels displaying the atelier's Rue de Marignan address. This kind of transparency we like.
HAVE A SENSE OF HUMOUR
These days, brands like subverting their own logos to prove that they, too, have a sense of humour – consider, for instance, the deliberate misspellings of their own names by Gucci ("Guccy") or Rodarte ("Radarte") in recent years. Using a preppy sweater as a backdrop, Kenzo turned its own name into part of the kitschy programme for its movie-themed Fall collection.
TEXT LYNETTE KOH, KAREN TEE & BEN CHIN PHOTOGRAPHY TAN WEI TE, VEE CHIN & ZAPHS ZHANG
STYLISTS BEN CHIN & C.K.KOO GROOMING ZOEL TEE, USING 3INA & HANZ DE FUKO MODEL UROS P
BLACK  TIE
There's definitely more than one way to do formal right now.
Blurring dress codes has led to greater flexibility in doing black tie. But because rules should be broken only after they have been mastered, here is a refresher on the essentials of this traditional dress code.
THE JACKET
A key feature that sets a tuxedo jacket apart from its workhorse brethren is the dressy material of its lapels – usually satin or silk. Lapels can be – in ascending order of formality – notched, peaked or shawl style.
THE BOW TIE
To some traditionalists, what we are going to say might sound sacrilegious, but here it is: While it's great if you have mastered putting on a traditional bow tie, there is nothing wrong with wearing a pre-tied one. One has better things to do than trying to wrestle a strip of irregularly shaped silk into submission.
THE CUMMERBUND
From seams to buttons, the working elements of a black-tie ensemble are often concealed for maximum sleekness. Smooth any lumps and bumps – whether they are a result of fabric or your flesh – with a cummerbund, worn at the waist and with the pleats facing upwards.
THE SHOES
Sleek and shiny to match the other dressy accents on a formal suit, laceup shoes in black patent leather is the traditionalists' choice. That, or lace-up shoes in a highly polished smooth leather – or even, for those with continental swagger, velvet smoking slippers.
BETWEEN BLACK AND WHITE
Alternative ways to do formalwear.
CROWNING GLORY
Three-piece jacquard suit and shirt, from Dolce & Gabbana. Silk bow tie, from Kiton. Metal cufflinks, from Ermenegildo Zegna.
You can always count on Italian fashion powerhouse Dolce & Gabbana for unabashed opulence. This peak-lapel threepiece from its Fall/ Winter 2018 collection titled "King's Angels" features repeating crown motifs all over the suit but balances out the busy design by keeping the palette black (albeit with a slight dressy sheen). With a suit this regal, not much else needs to be done. Just keep it simple with a black bow tie and matching dress shoes.
VELVET REVOLUTION
Velvet blazer, wool trousers and cotton shirt, from Kiton. Metal cufflinks, from Ermenegildo Zegna.
Another way to switch it up with the black-tie dress code is with a velvet smoking jacket. The naturally lush texture of velvet lends a richness to the deep jewel hues of emerald, navy or even maroon. You can keep it relatively understated by grounding the jacket with a pair of black trousers, or go the whole hog and do head-to-toe velvet.
BLOOM TIME
Acrylic, polyester and cotton blend suit, from Off-White. Cotton shirt, from Brunello Cucinelli. Silk bow tie, from Kiton.
Virgil Abloh's choice to present the Off-White collection at Pitti Uomo, the biannual trade event where aggressively dapper gentlemen gather, is almost as unexpected as this floral jacquard double-breasted suit. Abloh – polymath, streetwear savant and now Louis Vuitton menswear creative head – is known more for his highly coveted graphic T-shirts and sneakers. But that's exactly the appeal of this decidedly offbeat option, which will stand out with its weighty, retro feel.
#02
TREND TO TRY NOW
NEXT-LEVEL UNDIES
Tom Ford is here to make sure you're perfectly dressed underneath his clothes.
We're not saying this is you, but, if anyone needed an excuse to toss those old skivvies with the waistbands that have just about lost all elasticity, Tom Ford – designer and purveyor of all things glamorous – now gives him plenty of good reasons to do so.
This month, Ford's new underwear line hits stores, and it's a full collection comprising more than 40 pieces. Available in four cuts (briefs, trunks, and short or classic boxers), the collection includes prints such as leopard and zebra, metallic cottons, and a seven-piece collection of nude shades that are designed to closely match a variety of skin tones. (Offering seven shades of nude underwear might sound a tad excessive for gentlemen with more austere leanings, but those with a soft spot for white linen trousers will appreciate this thoughtful colour-matching.)
Lastly, the collection is made from fabrics such as jersey, cotton or silk. And because it wouldn't do for such undies to be secured by simple cheap elastic, Tom Ford's smalls are held in place by velvet waistbands (but of course).
HOT SHADES
Three new styles – and one cool classic – to view the world through.
With sunglasses, as with everything else, there's a reason why something becomes a classic. A flattering standard that ful fils all childhood Top Gun fantasies, the aviator style almost always gives its wearer extra cool points. More so if they are this sleek pair by Tom Ford. The designer's style hallmarks are out in full force in the vintage-inflected gold metal rims, gradient lenses and subtle Ts on the temple.
For Lennon-esque elegance, circular frames are coming back in the big roundabout that is fashion. With slightly angular edges, these pale gold Giorgio Armani frames are easier to wear than two perfect circles. (Note: Best for square face shapes with strong jawlines.) For those with active lifestyles or aspire to one, sporty eyewear completes the look. Among the new releases following the recent relaunch of Linea Rossa, Prada's sport sinspired line recognisable by its iconic "red stripe" logo, single-lens gunmetal frames are a functional way to dive into the athluxury trend.
Prefer a look that's more off-the-wall? Try one of the irregular-shaped styles making the rounds right now. The classic-with-a-twist aviators from Gentle Monster in a gold finish aren't an easy shape to pull off, but, then again, no one has ever accused the innovative South Korean eyewear label of being an everyman brand. With flat apricot-coloured mirrored lenses and a unique brow-bridge, they're a surefire notice-me choice.
SPORTY PRADA
IRREGULAR GENTLE MONSTER
ROUND GIORGIO ARMANI
WET WEATHER GEAR
Salient points to bear in mind for looking good in bad weather.
Aside from the late Gene Kelly, one would be hard-pressed to find a well-dressed man gleefully singing in the rain as it pours down on his (probably dry cleanonly) workday best. However, considering the fact that the way most of us deal with inclement weather is to duck from sheltered building to sheltered building, there is obviously little need to load up on heavy-duty rain gear. But that doesn't mean you can't make smarter choices when it comes to what you're wearing, come monsoon season. Almost every luxury brand worth its salt has a solid selection of technical-fabric jackets these days, offering outerwear that shields you (or rather, your suit) from the elements, while looking stylish and weighing almost nothing. We break down some easy style points to remember when the storm clouds gather.
01 KEEP A BROLLY HANDY
When you drive everywhere, an umbrella might seem unnecessary. But on those occasions where you simply have to cross between two unsheltered points, it can make all the difference in getting to your destination on time and in a relatively dry state, instead of having to wait in a covered corner for a downpour to diminish. Leather-handle umbrella, from Dunhill.
02 COVER UP STYLISHLY
This Z Zegna jacket represents what we like about many performance pieces created by our favourite brands these days: Firstly, it has style chops – just check out how its rich light brown shade contrasts handsomely with the crinkled finish of its technical material. Secondly, it is versatile, thanks to a removable quilted inner layer that adds an extra layer of warmth when you travel to cooler climes.
Polyamide jacket, from Z Zegna.
03 RETHINK WOOL
Cotton is a popular material for basics in the tropics, but wool – despite seeming to be a cool-weather staple – can also be a smart choice. Performance wools such as that of this Techmerino top by Z Zegna are lightweight, breathable and, most importantly, temperatureregulating – minimising that "warm outdoors but freezing in the office" feeling on rainy days.
Techmerino top, from Z Zegna.
04 FOOTWEAR THAT CAN HANDLE PUDDLES
There is only some footwear that is truly water-resistant, and most of them are not suitable for the office – think rubber rain boots or, worse, Crocs. As far as office-appropriate shoes go, we recommend boots such as this smooth-leather pair by Hermes, which has a higher shaft that lets less water splash into socked feet. And, while they are smart enough for formal occasions, they come with rubber soles instead of leather ones, a feature that will keep you steady when you're hurrying over wet ground.
Cashmere jogger pants, from Brunello Cucinelli. Leather boots, from Hermes.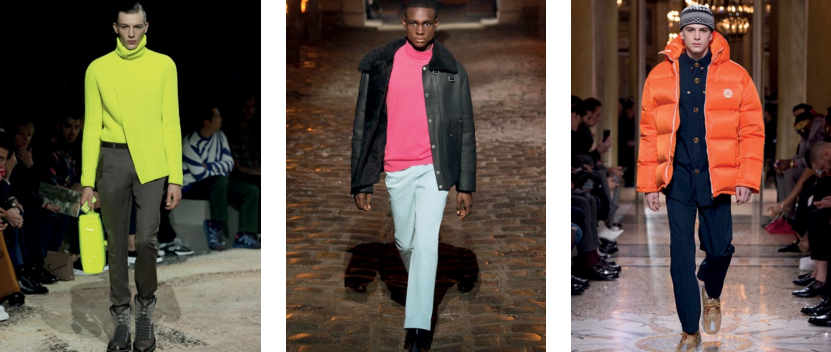 #03
TREND TO TRY NOW
A TOUCH OF NEON
Highlighter shades turn up your visibility, day or night.
Call it the athleisure effect, or perhaps the fact that many of us could do with a few good jolts of energy in our lives. The bright shades on steroids known as neons are currently lighting up many of the latest collections, offering an array of ways to introduce them into your daily look.
Accessories, of course, offer an easy way to brighten up your wardrobe. Depending on how much attention you can bear, Louis Vuitton's latest accessory collection includes neon accents both small (think animal-shaped leather charms) and large (bags in an aptly named Monogram Fluoro finish).
Sportswear offers another way to inject some high-octane colour into a look – Versace's oversized puffer, for instance, makes sure the wearer will be the brightest spot on a cold, dreary landscape. But for a real style master stroke, incorporate your dose of Day-Glo into a dressy ensemble, and mix colours in an unexpected way: Hermes demonstrates how it's done with a vibrant pink turtleneck and a pair of powder blue cuffed trousers.
PHOTOS (FROM LEFT) LOUIS VUITTON, HERMES & VERSACE
THE WHITE TEE
A comparison of three versions of the wardrobe essential with wildly varying prices.
01 UNIQLO SUPIMA COTTON $14.90
When it comes to quality, affordable basics, Uniqlo is quite possibly without peer. Case in point: its signature Supima cotton T-shirt. Supima is the brand name for American-grown Pima cotton, which accounts for less than one per cent of all cotton produced worldwide. With its extra-long, fine fibres, the fabric produced from it is stronger and hence more durable. Pretty impressive for an item that will get you change from a twenty.
02 JOSEPH MERCERISED JERSEY $135
Award-winning British fashion label Joseph's take on the classic white T-shirt utilises mercerised jersey cotton. Mercerisation involves treating the cotton fibres in chemical baths, imparting more tensile strength and lustre to the fabric. The result is a T-shirt that holds its shape better after multiple washings and has a smoother, more luxurious feel on skin.
03 ERMENEGILDO ZEGNA COTTON $590
On the higher end of the spectrum lies Ermenegildo Zegna. By reviving a heritage logo, the Italian couture house was able to refresh the wardrobe staple. Embroidered in black, it adds a subtle touch that invigorates an otherwise plain garment. A not-that-scientific fitting test quickly confirmed that not all cotton T-shirts are created equal. The weave felt denser, and the fabric the smoothest out of the three. And with that price tag, frankly, we would expect nothing less.
WORKOUT WEAR
As with the digital world, the medium has become the message.
Once upon a time, people worked out to look good in their outside clothes. Today, half the battle – maybe more – is won if they look good while flinging their kettlebells about in the gym or dashing about doing shuttle sprints. In fact, with wellness being the trillion-dollar industry it is, fitness gear these days is often stylish and comfortable enough to take its wearer beyond the gym (hopefully not directly after a heavy sweatinducing workout). Here's what to look for in multi-tasking gym gear:
TECHNICAL QUALITIES
If you're expecting to perspire in an outfit and then sit around in it for a while longer thereafter, it should be made to combat the bouquet that accompanies sweat. The Drysense mesh of the top on the model is designed to wick sweat, be quick-drying, and in fitness-gear retailer Lululemon's own words – "anti-stink". Good to know.
STYLISH ACCENTS
Now that gym clothes can also double as going-out pieces, it's time to round out form and function with some fashion. Mix those serious pieces with small flashy accents (not too much, you are at the gym to exercise, after all) – think the camo print on these Nike Air Huarache Drift Premium sneakers, for instance, or a right-now brand logo down the length of your workout tights.
MADE FOR MOVEMENT
Four pieces to stuff in your gym bag now.
01 A STATEMENT JACKET
Christian Dada is rather a left-field inclusion in a list of performance sportswear. Then again, so is the edgy Japanese label's capsule collection with nostalgic Italian sportswear label Kappa – as well as its decision to use Nishijin-ori, a labour-intensive premium fabric traditionally reserved for making kimonos, on a '90s-style track jacket. But Dada designer Masanori Morikawa has always been interested in juxtaposition and combining seemingly disparate elements in a single garment. An unconventional postwor kout cover-up that won't go unnoticed as its wearer sits around sipping a smoothie.
02 A PERFORMANCE TOP
Techmerino, as the name suggests, is a high-performance natural fabric, made from pure Australia merino wool. It's specially treated for maximum softness and comfort, whilst utilising merino wool's unique hygroscopic properties to regulate body temperature and humidity in response to changing climates. Ermenegildo Zegna's Techmerino shirt retains the wool's natural breathability and lightness, and its versatile design means that it's just as stylish during a high-intensity workout as it is when one is crossing continents 40,000 feet in the air.
03 COMFY SHORTS
It might be tempting to dismiss Lululemon as "yogawear for hipster moms" but these shorts are engineered for peak performance. Made of what the brand calls "Swift Ultra" fabric, it is sweat wicking, lightweight and features a "four-way" stretch so the garment always keeps its shape, no matter how many washes it undergoes. Built "with sweat in mind", the Canadian athletic wear company has designed the quick-drying linerless shorts to stay comfy through all that stretching and lunging.
04 TIGHTS WITH A PURPOSE
Compression tights are designed to hold and support muscles during a workout, improve blood circulation, enhance performance and efficiency, and reduce recovery time. Under Armour's new Perpetual Superbase tights are constructed to do even more with their strategically placed Power Print strips, which aim to increase the wearer's awareness of the muscles being worked. Stretchy strips aside, these leggings are made of smooth fabric with sweat-wicking qualities.
#04
TREND TO TRY NOW
DIFFERENT SHADES OF BROWN
Donning the preferred colour of the geography professor without looking like a '70s throwback.
All actions will have an opposite reaction. This might explain why, even as global trends keep nudging us towards evercrazier looks, there's a certain countercurrent favouring a return to smart, sensible menswear choices that have nothing to do with oversized shoulders or brick-like sneakers. And the most classic and no-nonsense colour in the menswear palette must surely be brown – one of the It colours of the season.
There's no need to fear looking like an academic from the Humanities department in the '70s. Make brown look right now with these styling tricks from our favourite designer runways:
• Pair classic tan tailored pieces with crisp basics such as jeans and a white T-shirt.
• Alternatively, pair modern utilitarian separates – such as an outdoorsy jacket – in taupe with a navy pinstripe suit.
• Play with proportions: Cropped and boxy, and finished with clean hems, a tobacco-coloured leather jacket at Berluti looks modern, not Marlboro Man.
• Pick an item with an unusual fabric treatment that is light years away from old-fashioned, like a two-tone quilted coat by Hermes, made from the brand's exclusive lightweight and water-resistant Toilbright fabric.
PHOTOS (CLOCKWISE FROM TOP LEFT) BERLUTI, BALLY, BOTTEGA VENETA & BRUNELLO CUCINELLI 
THE  IT SNEAKERS
These are the best-looking version of the season's ugly sneakers.
2018 is the year of the ugly sneaker. Dad shoes, chunky soles and '90s sportswear have been trending in the last few years, thanks to clunky It sneakers like the seemingly ubiquitous, impossibly trendy Triple S from Balenciaga and Louis Vuitton's retro-futuristic Archlights, but it has hit a high this year with more luxury companies dropping kicks almost faster than fans can snap them up.
Italian luxury label Salvatore Ferragamo now gives the competition a run for their money with its own take on bulky footwear. Typically, the house is well-known for its elegant, expertly crafted footwear; its late founder was known as "the shoemaker to the stars". This time, the brand is turning its attention to a decidedly modern silhouette – the sports trainer with a sole-centric design – and keeps things tasteful with a sedate black-and-white palette instead of the loud clashing colours favoured by other brands. Bonus: A nod to another trend, logomania, comes from the iconic Gancino chain motif on the shoes' intricate upper, made of calf leather and suede. Pretty sharp-looking for supposedly ugly sneakers.
CUSTOM CASUALS
Unusual items that can be tailor-made for those who demand a perfect fit even when they're just gadding about.
CLASSIC SHORTS
When the weather gets unbearably hot, wear your Panama hat with classic Gurkha shorts and a short-sleeved shirt to keep cool. While vintage designs dating back to the 1930s are almost impossible to track down these days, Dylan Chong of bespoke suitmakers Dylan & Son has recently launched made-to-order Gurkha shorts. These smart-casual shorts feature a streamlined cut to suit modern tastes, come with sleek button closures on the waistband and can be made in a variety of fabrics, including machine washable medium to heavyweight cottons or summery seersucker.
SEAMLESS LOUNGEWEAR
Why settle for generic boxers when bespoke tailor Kevin Seah can make boxers that fit like a dream? Discerning sartorialists can decide how fitted or relaxed they like their boxers to be and also opt for luxe details such as mother of-pearl buttons. Each pair is made with 100 per cent Egyptian cotton spun in Italian mills and cut in a single piece to give a seamless back to prevent uncomfortable chafing when seated.
ROGUISH SHIRTS
Unlike leather jackets, leather shirts may not necessarily be seen as a wardrobe staple but hear us out. This season, Ermenegildo Zegna is offering made-to-measure shirts in buttery soft leather that include perks such as customisable buttons, cuffs, collars and labels. We say leather shirts are more versatile compared to jackets when it comes to oozing a touch of rugged charm. Why? Like outerwear, it can be thrown over a white crew neck or a button-up for dress down Fridays or worn on its own (preferably at night) when one wants to stand out from the crowd.
STYLISH HATS
It's rare for a man to find the perfect hat that does not look camp. Thankfully, Hat of Cain offers customised Panama hats which are made to order in Ecuador. Customers may - with the masterful guidance of founder Bill Cain - choose the type of crown, size of the brim, weave grade and colour as well as accessories such as feathers and flowers. The finest superfino weave grades, which can have between 28 and 35 knots per square inch, are handmade by a master hat weaver in Montecristi, Ecuador, the town that is said to produce the creme de la creme of Panama hats.