Denim djellaba, anyone? New silhouettes and treatments such as tie-dye update denim this season.
HUE ARE YOU
Channel your inner Jackson Pollock – or child – with this exuberantly coloured, paint splatter-print denim jumpsuit.
Denim jumpsuit and polyester tee, from Moschino. Metal sunglasses, from Emporio Armani. Leather sneakers, from Louis Vuitton. Socks, stylist's own. 
CLASSIC UPDATE
Dark denim might look dressier, but mid-blue just looks pleasingly timeless. Keep it fresh with Givenchy's streamlined take on the double-breasted jacket.
Wool jacket, cotton shirt, denim jeans, gold-finished brass bracelet, and leather boots, from Givenchy. Metal sunglasses, from Dolce & Gabbana. 
SIGN LANGUAGE
Even those who don't usually like designer logos may find this take on the Louis Vuitton monogram with a spray-painted, stencilled effect playfully artistic.
Denim jacket and cotton trousers, from Louis Vuitton. Metal sunglasses, from Ray-Ban. 
KING OF ALL THINGS
Only Dolce & Gabbana could take a utilitarian fabric once associated with blue-collar workers and transform it into a maximalist statement bedecked with regal imagery.
Denim jacket and jeans, from Dolce & Gabbana. 
SOMETHING NEW
The easiest way to evolve your look is to try pieces that are familiar – but only on first sight: This ribbed-knit sweater is accented with a loosely draped panel while those jeans are spliced with leather.
Polyester-cotton sweater, leather and denim jeans, and leather bag and boots, from Bottega Veneta.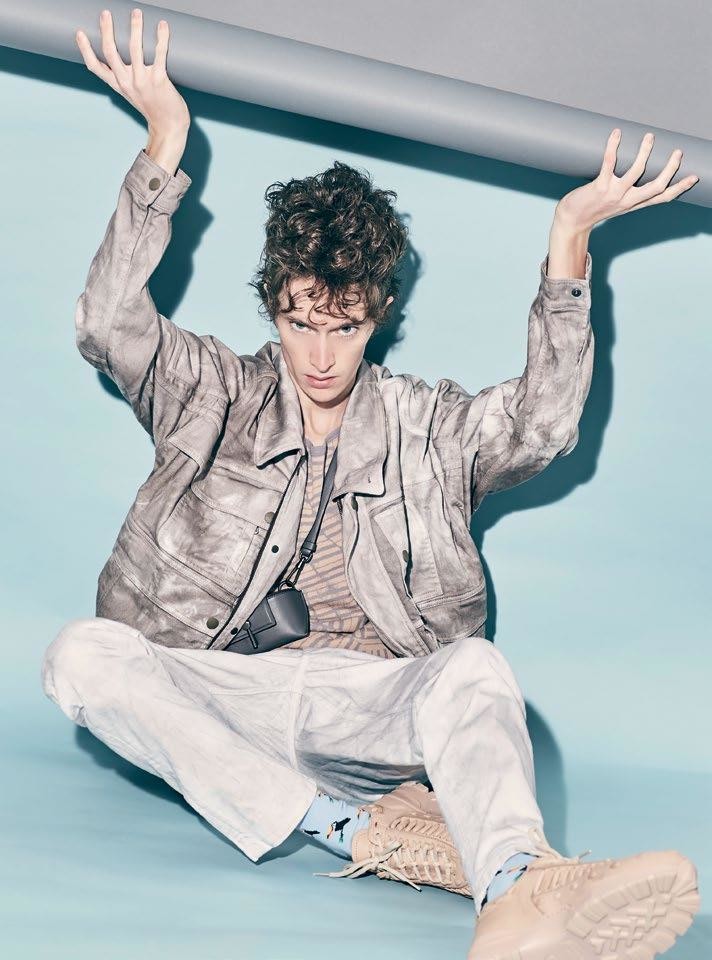 IN A SWIRL
Say "tie-dye" and some people might think of multi-coloured DIY horrors. Leave it to Ermenegildo Zegna to show that tie-dye can communicate "luxe", not "dirty hippie".
Ermenegildo Zegna Couture denim jacket and jeans, cotton top, and leather pouch and sneakers, from Ermenegildo Zegna. Socks, stylist's own. 
BRIGHT IDEAS
There are two ways to wear brightly coloured jeans: Either tone them down with solid neutrals or go out with guns blazing by wearing them with other bold hues and prints.
Viscose jacket, cotton tee and denim jeans, from Etro. Technical fabric sneakers, from Tod's. Acetate glasses, from Emporio Armani. 
MIXED INFLUENCES
There's nothing like a good mash-up when you craft a traditional djellaba-ish shirt from timelessly cool denim.
Denim shirt and jeans, from Loewe. 
TEXT LYNETTE KOH PHOTOGRAPHY VERONICA TAY STYLING DOLPHIN YEO ART DIRECTION ASHRUDDIN SANI STYLING ASSISTANT THOMAS HONG GROOMING EILEEN KOH, USING KEVIN.MURPHY AND NUDE MODEL BERTIE JONES/AVE