Sensitive renovation to a pre-war terrace house preserves its old-world charm while injecting modern touches.
Sensitive renovation to a pre-war terrace house preserves its old-world charm while injecting modern touches.
WHO
A Belgian couple and their young son
HOME
Conservation terrace house in Kim Yam Road 
SIZE
2,842sqf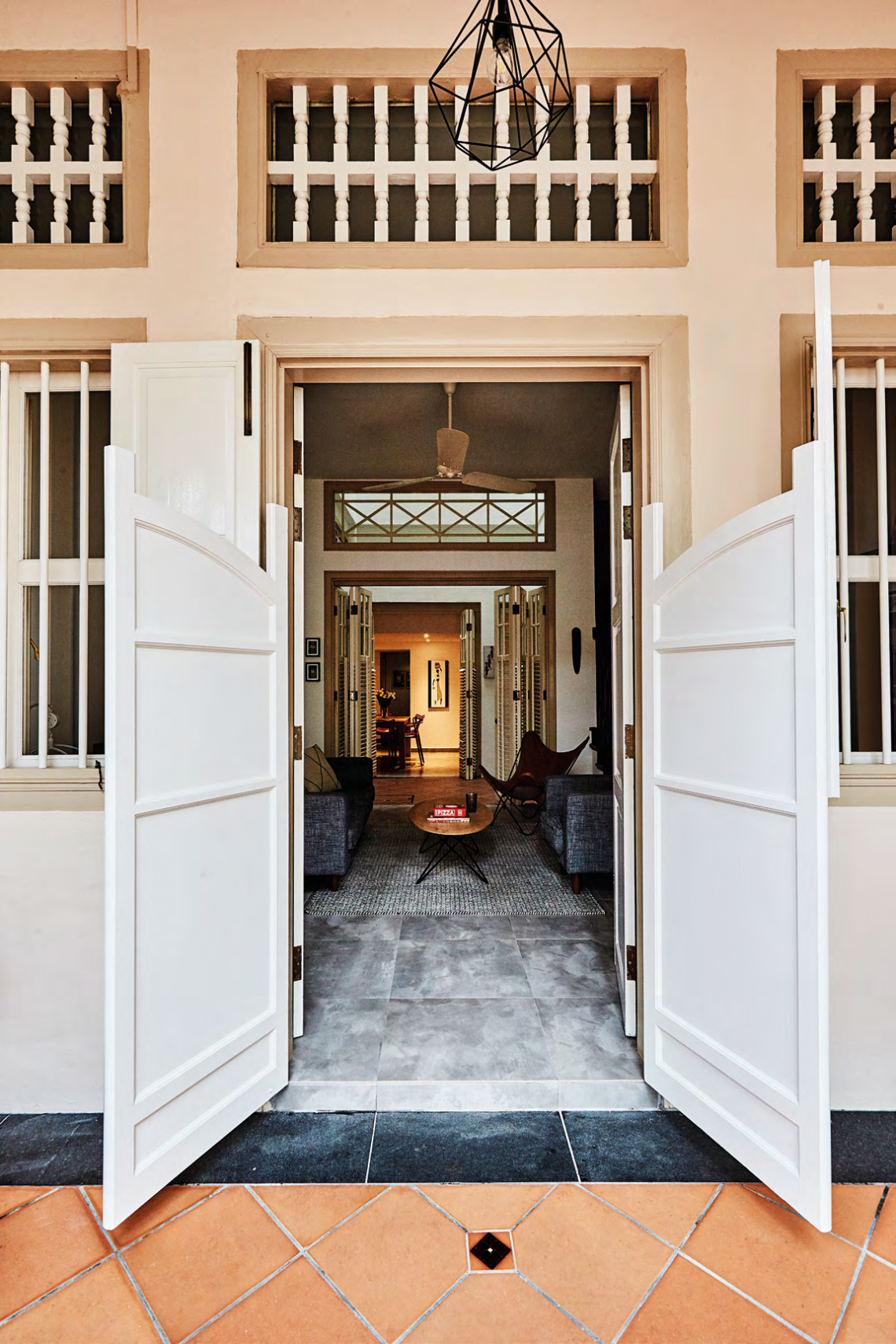 Jonathan Roelandts and Katrien Bollen moved to Singapore in 2010 – Katrien, to pursue her MBA, and Jonathan, on a posting as the business development manager of international furniture brand Ethnicraft. They used to frequent the River Valley area and were thrilled when the opportunity to purchase this conservation shophouse in Kim Yam Road arose 2½ years ago. 
The shophouse is part of a development comprising three pre-war terrace houses and a new 10-storey condominium extension, which explains why the Belgian couple was able to own it despite being foreigners. "We love the contrasting beauty of the conservation shophouse against the modern and bustling neighbourhood. We knew at once that this is where we will begin building our dream home," recalls Katrien, who is currently the Performance Marketing Lead for Asia-Pacific at Google. 
Restoration works had been carried out between 1998 and 1999, so the shophouse was still in relatively good condition. The interior however, looked dated, so the homeowners decided to renovate it before moving in after their tenant's two-year lease had expired. They opted for a colonial-style interior with a modern touch. "We wanted the charm of a black-and-white bungalow, but with a fresh look," says Jonathan, who is now Ethnicraft's sales director for Asia-Pacific. To achieve this effect, they introduced natural elements and kept the styling to a minimum.  
The original layout was retained, together with the original air well – a feature that, in addition to its architectural style and structure, gives the home a lot of its character. Working directly with contractor Heavenly Homespace, they hacked and revamped the kitchen and three bathrooms. Minimal intervention was done to the rest of the house, with some repainting of walls, polishing of the timber staircase, changing of the air-conditioning system, and replacement of the flooring on the first storey. 
Why did you decide not to engage an interior designer, but to work directly with a contractor?
Primarily, it was because we wanted to be hands-on and very involved in this home-building journey. We also had a clear vision of how our dream home should be, which eased communication with the contractor. It helped that Katrien has a real passion in interior design and her various industry contacts shared their experience and professional advice with us.
Having had a few years to ponder over what you wanted to do with the home while you were serving out the tenancy, what was your thought process like?
We had the luxury of time and we started off with a more exploratory approach. We laid the foundation first, shortlisting the styles and brands which appealed to us, as well as deciding which areas of the home had to go. Once the groundwork was done, we sought inspiration through social media. Pinterest and Etsy helped the shaping of our dream home immensely, and we understood better our yays and nays. 
How did you go about selecting furniture, fittings and materials?
We appreciate well-designed, quality furniture that comes with a fair price tag. Being in the furniture industry made furniture shopping a breeze as we are no strangers to brands. We are wood lovers and want our furniture to last. Thus, we went for brands such as Ethnicraft, Universo Positivo, Mr. Marius and Kartel, which met our likes and tied in with our modern colonial theme. Bloomingville was another go-to brand to accessorise the home, and the look was completed with handwoven rugs and cushions from The Grey House.
What are the advantages of being so hands-on with the whole project?
You definitely have much more control over the home journey, from design to budget and spending.
What advice would you give other homeowners who are tempted to take on their home project themselves and work directly with a contractor?
Communication and direction is key. Homeowners must be able to communicate the ideas they have for their home to their contractor. They are the captains of this journey and must provide a clear direction for the contractor to follow.  
What is it about conservation shophouses that appeal to you?
We have always been big fans of old, rustic colonial architecture and are intrigued when we delve deeper into their beautiful and rich history. Aside from the aesthetic charm, we are also proud to own a piece of Singapore's history, a place that we have grown attached to and now fondly call our home.
Tell us more about Ethnicraft Online.
The concept of an online furniture store was sparked when we found it challenging to find great-looking, high-end yet affordable furniture in Singapore that was immediately available when we moved here. It was brought to fruition with Ethnicraft, a reputed solid wood furniture manufacturer that produces sustainable, contemporary and high-quality furniture pieces.
In 2012, Ethnicraft Online made its entrance into Singapore, as the first online branch of the international furniture brand. Since then, we have expanded into Kuala Lumpur and Shanghai. We offer functional, beautiful and eco-friendly solid wood furnishings, such as the contemporary teak or oak collection, the playful Universo Positivo series, vintage-inspired Mr. Marius range or the sophisticated Notre Monde collection. 
Quality customer service and convenient shopping form our DNA, so whatever our customers choose, they will be guaranteed a one-of-a-kind piece with a lifetime warranty and complimentary maintenance. 
WHERE TO GO
Ethnicraft, www.ethnicraft-online.com.sg
text LYNN TAN photography FRENCHESCAR LIM art direction YEW XIN YI