NY-born, Stockholm based label Toteme offers a wardrobe of elevated basics for every woman.
"Toteme's latest Prespring 2020 collection will last you through several seasons."
In these times of fast fashion and consumerism, there's now a push towards owning timeless classics.
And that's the benchmark for Toteme, the label started by fashion multi-hyphenate Elin Kling and her husband, model-turned-art-director Karl Lindman. Founded in New York in 2014, the brand is now based in Stockholm, and goes by the motto of  creating everyday basics that you can mix and match to form a functional, pragmatic wardrobe.
The designers' Scandinavian sensibilities are evident in the brand's permanent core collection. Featuring clean lines and relaxed silhouettes, it comprises 45 essentials that range from tailored tops and jackets to denim jeans and even swimwear.
There are also seasonal collections (four a year) of the same minimalist designs but with a twist, like ruched details for added texture. These come in different fabrics – like cotton or wool – based on the seasons.
The couple have also launched a shoe range in March this year that only drops a new design once a month, instead of having a full collection. The reason, according to Lindman, is "to focus on each style". The footwear boasts the same understated look and is meant to complete your core wardrobe. – ST 
"Toteme is available at www.totemestudio.com and several stockists like Net-a-porter, Farfetch and Browns."
1 Polyester blouse, €390 (S$593.42).
2 Cotton shirt, €370 (S$562.96).
3 Viscose dress, €390 (S$593.42).
4 Polyester blouse, €380 (S$578.07), and polyester pants, €260 (S$395.52).
Karl Lindman and Elin Kling, the power couple behind the brand.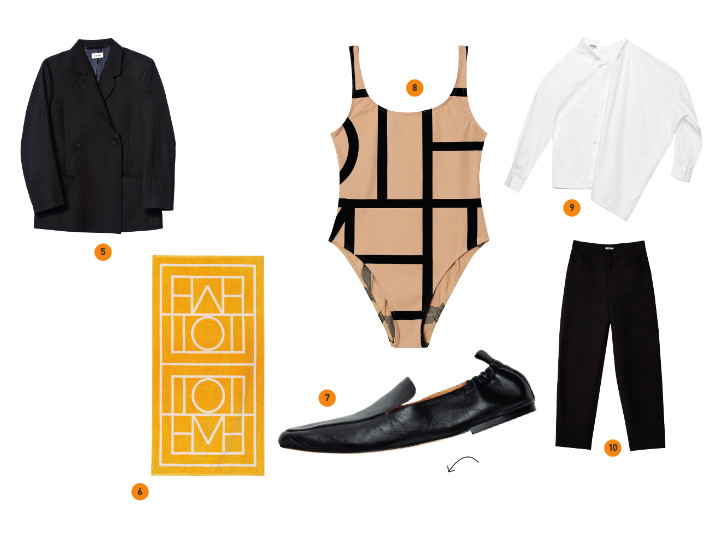 5 Polyamide and wool jacket, €408 (S$620.40).
6 Cotton towel, €96 (S$146.01).
7 Calf leather loafers, €336 (S$511.14).
8 Rayon swimsuit, €100 (S$152.10).
9 Cotton shirt, €184 (S$279.79).
10 Polyester pants, €160 (S$243.29).
11 Straight-leg denim jeans, €168 (S$255.46).
12 Flared denim jeans, €176 (S$267.62).
The brand's debut shoe is this pair of squaretoed, crocembossed mules. It is also available in smooth black leather. €304 (S$462.41).
TOTEME'S ONE-ANDONLY BRICK AND MORTAR STORE
Located at Biblioteksgatan No. 5 in central Stockholm, the store is the brand's first standalone and was opened in early 2019. It is designed by Swedish architect Christian Hallerod, with the interior inspired by the Big Apple's townhouses.
PHOTO OF KARL LINDMAN & ELIN KLING INSTAGRAM/@ELINKLING