A LEAGUE OF THEIR OWN
NO 1
CLARENCE CHAN
33, FOUNDER of  BANDWAGON
He grew his music website into a powerhouse.
He went from coldcalling nightspots to list their live music gigs for his music website, to spectacularly growing Bandwagon into one of Singapore's most popular music platforms. This is where music lovers go to for the latest gig listings, nightlife guides and more.
Behind it is die-hard music fan Clarence Chan. With him at the helm, Bandwagon is set to grow bigger with a new festival brand, Greener Pastures, at Fort Canning Green in January, following a new podcast series launched in October.
"We've also ventured into tech, creating a kineticpowered music station where people cycle to amplify the live music from buskers performing at the DBS Marina Regatta," adds Clarence. The music portal has much to celebrate this year, as the music project (Hear65) it created with the National Arts Council clinched the Best PR campaign at the PR Awards Southeast Asia in the public sector category.
"It was an enriching experience working on Hear65 as it features a diverse catalogue of local music and musicians from different generations, genres and languages," he says.
"Blazer and pants, H&M. Sweater, Sandro Homme. Styling, Evon Chng, assisted by Hiro Ye. Hair, Ash Loi/ Sonder, using Keune Haircosmetics Singapore."
NO 2
FEDERICO FOLCIA
40, FOUNDER of  CRANE
He's the social matchmaker. 
What do you do to solve the modern epidemic of loneliness? Entrepreneur Federico Folcia opened social club Crane at Kim Yam Road this year. It's a space where people want to hang out, and activities are curated for members, who each pay a yearly subscription of between $540 and $1,800.
Federico says: "When my dad retired, he struggled to meet new friends and find new passions to kill time, as his social circle centred around his workspace." After more research, Crane was born. Open to men and women, Crane sees members of all ages, especially professionals in their 40s and 50s. About 60 per cent of members are locals. They use the trendy space to work, share skills or learn new ones, and take part in various fitness and wellness activities such as sound bath meditation and entrepreneur breakfast series.
Frederico, who has been living in Singapore for seven years, says: "We started the club not knowing what to expect, but we've been blown away by how people have embraced the concept, and are willing to share their skills and experiences." 
"Clothes, Federico's own. Location, Crane."
ENTREPRENEURIAL SKILLS SHOULD NOT JUST BE RESERVED FOR THE TOP YOUTHS.
NO 3
ANDEE CHUA
29, HEAD (SINGAPORE) of YOUNG FOUNDERS SCHOOL
He organises tech boot camps for teens.
He went from being a fashion model to a role model for teens who want to develop their entrepreneurial skills through technology-focused education. This year, Andee Chua took on a full-time role as country head of Young Founders School (YFS).
YFS is a charity that offers entrepreneurial lessons to students aged between 11 and 18 years old. "It's very much community education," says Andee, who has a degree in arts management from Goldsmiths, University of London.
"This is my dream job, where I can connect students to entrepreneurs in our local community, and inspire them with creativity."
Andee is focusing on the entrepreneurial workshops for students in technical colleges such as Institute of Technical Education and polytechnics. Students attend a weekend-long boot camp to learn the latest start-up techniques such as product market fit, and sit with mentors to create a pitch deck.
"I don't think these skills should just be reserved for the top percentile of youth in Singapore," says Andee who also runs Kampung Collective, a network for community builders in Asia.
Of his new role, he says: "It's a joy working with youth, inspiring them to think bigger, deeper."
"Coat, sweater, pants and boots, H&M. Styling, Evon Chng, assisted by Hiro Ye. Hair, Ash Loi/Sonder, using Keune Haircosmetics Singapore."
NO 4
JOEL LEONG
NO 5
HENRY CHAN 34, CO-FOUNDERS of SHOPBACK
They gave US$40 million back to shoppers.
They're rising stars in the cashback-focused e-commerce service, and it has been a sterling year for both Shopback and its shoppers. This year, Shopback has given back a total of US$40 million (S$55 million) to its five million registered users in Asia-Pacific, just as it made a record US$1 billion in sales for more than 1,300 brands on the platform last year.
The enterprising duo behind Shopback – Joel Leong and Henry Chan – aren't resting on their laurels. In the bag:  the highly anticipated Shopfest, Shopback's digital yearend shopping festival that started in October.
Joel says: "We bring all our merchants together and get the best deals for users during the gifting season." Henry shares that the company's main focus is user priority, adding: "We're focused on reinventing our platform to help our users beyond cashback."
Shoppers can expect upsized cashback deals, exclusive coupons, flash sale discounts, and games to win rewards.
"Clothes, Ermenegildo Zegna. Styling, CK. Hair, Ash Loi/ Sonder, using Keune Haircosmetics Singapore."
NO 6
DESMOND QUEK
42, EYE SURGEON
He advocates public education on ophthalmology.
You've seen and heard him on TV, radio and at public talks, educating the audience on glaucoma, cataract and refractive surgery. A firm believer in eye health education, the eye surgeon once initiated and led a project to upgrade the skills of local eye doctors in Hainan's rural communities.
"We taught them how to perform modern cataract surgery. By upskilling the medical staff, we hoped that there would be sustainable benefits," says Dr Quek, a key speaker at the 2019 World Glaucoma Awareness Week in Singapore, where he spoke about the importance of prevention and early detection of glaucoma.
The bachelor left the Singapore National Eye Centre after 13 years to go into private practice this year to join Eagle Eye Centre. Dr Quek, who had a health scare two years ago, recalls: "I felt breathless while working. Although I cleared the tests, I had a (second) reality check after reading the book When Breath Becomes Air by the late neurosurgeon Paul Kalanithi, who detailed his battle with cancer.
"It made me think hard about what's really meaningful in life. If health isn't important, what is? Certainly not money." 
"Sweater, Brunello Cucinelli. Shades, Gentle Monster. Styling, Evon Chng, assisted by Hiro Ye. Hair, Ash Loi/ Sonder, using Keune Haircosmetics Singapore."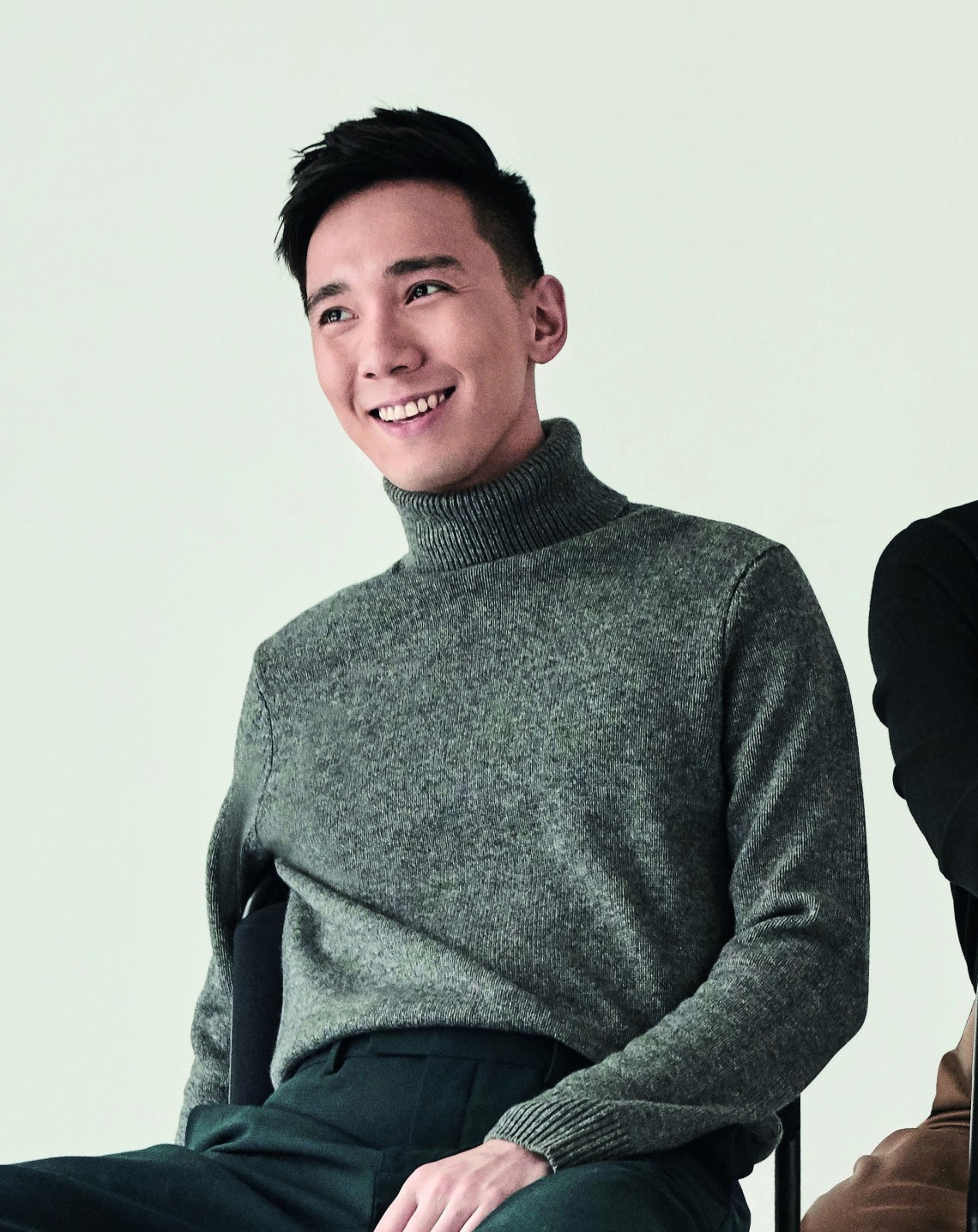 NO 7
JASON GELCHEN
25, CO-OWNER of HOMEGROUND
They are making Singapore music a global phenomenon.
MY BIGGEST DREAM IS TO MAKE SINGAPORE THE MUSIC HUB OF SOUTH-EAST ASIA.
NO 8
TAN MING JIE
26, CO-OWNER of HOMEGROUND
Homeground Studios was founded in 2016, as a physical space where music could be created. They produced Thursday by homegrown rapper Axel Brizzy and singersongwriter Marian Carmel, and the song was awarded "Best Song To Sing Along To" in the Youth Music Awards 2019.
Fuelled by their passion for music, co-owners Jason Gelchen and Tan Ming Jie of Homeground Studios spend their time working tirelessly with the new up-andcoming artistes in the local music scene such as Linying and Gentle Bones.
"I wanted to help artistes to achieve their musical goals," says Ming Jie.
The duo are also currently working on hosting a panel with the collective, Cosmic Children, about navigating the music industry in Singapore.
The goal of the panel is to create and have a conversation with professionals across all the different parts of the music industry, so as to educate the audience on how to approach getting your music released to a wider audience.
"My biggest dream is to make Singapore the music hub of South-east Asia by elevating the production quality for our artistes to the best," says Jason.
"Clothes, Sandro Homme. Styling, CK. Hair, Ash Loi/Sonder, using Keune Haircosmetics Singapore."
I WANTED TO CREATE SOMETHING FOR YOUNG PEOPLE.
NO 9
DANIEL O'CONNOR
27,  FOUNDER of  ICE CREAM SUNDAYS
He transforms public spaces into fun zones.
Who says you can't party in the day? Well, you can do so from 3pm to 10:30pm, and the events are usually held at unique locations, such as Haw Par Villa and the rooftop at Golden Mile Tower.
Event organiser Daniel O'Connor is behind these daytime Ice Cream Sundays parties, which happen once every two months. Partygoers can expect music, installations, food and drink stalls – and of course, ice cream.
Daniel, who read philosophy and politics at the University of Exeter, says: "I wanted to create something for young people, and add some vibrancy to Singapore. Increasingly, we see people of all ages and demographics coming to our parties though, even families and doggies!"
Ice Cream Sundays grew from a series of house parties for friends in 2016.
Born in Liverpool and raised in Singapore, Daniel adds: "I grew up in a very hospitable home. My parents live a busy life, but they always make time for those who matter to them. They inspired my passion for community building."
"Blazer, Zara. Shirt, Sandro Homme. Styling, Evon Chng, assisted by Hiro Ye."
NO 10
AARON WONG
42, UNDERWATER PHOTOGRAPHER
He campaigns against shark fin consumption.
The vibrant underwater images of marine life earned photographer Aaron Wong the 10-year recognition award at the 2019 Asia Dive Expo (Adex) Singapore. His arresting images of sharks and underwater fashion were published in the Scuba Diver Australasia, and BBC Wildlife magazines.
Aaron, who's been an underwater photographer for 17 years, says: "It isn't always about finding financial success in life. A professional recognition is more important than money."
And he's an advocate against shark fin consumption. Aaron, who co-founded the "I'm Finished With Fins" campaign with Shark Savers Singapore, gives talks in local secondary schools like Raffles Institution, and Parkview Museum Singapore, about saving sharks.
This year, the photographer spoke about the devastating impact of single-use plastic at the Adex Beijing Ocean Fiesta 2019.
He says: "The crisis is blighting the oceans and marine animals are paying with their lives. We need to do more as a global community to protect marine life."
"Coat and sweater, Cos. Jeans, Hugo. Styling, CK. Location, Maduro."
NO 11
MARCUS "MARZIPAN" TAN
34, MOVEMENT ARTIST
He's a prominent movement artist in the lion city, as well as one half of the robotic dancing duo, Scrach Marcs (say "scratch marks"). On Nov 2 and 3, Marcus Tan will be showing off his artistic moves at the upcoming Street Superior Festival at *Scape.
On the abstract art form, he explains: "I add elements like media projection, sound and sculptures to the movements of dance."
Marcus is also devoting much of his time to teaching dance, and his students range from as young as four to their 70s.
"My oldest student is very enthusiastic, he can do some serious popping and locking!" he says with a laugh. "Teaching gives me much satisfaction. Having been in the scene for over a decade, I want to give back and help grow the community."
From workshops and talks to organising events and providing mentorship to aspiring dancers, Marcus' biggest dream is to make street dance a part of every Singaporean's life.
"I hope to create a change for everyone to see that street dance is a viable profession to make a living in."
"Sweater, Cos. Pants, Sandro Homme. Shoes, Marcus' own. Styling, CK. Location, Crane."
He teaches street dance, even to seniors.
NO. 12
ANTHONY CHEN 35, FILMMAKER
He puts Singapore films on the world map
The stars are shining bright for Anthony Chen. His latest feature film Wet Season, which made T its world premiere at the Toronto International Film Festival, is up for six nominations at the Golden Horse Awards in November, including Best Narrative Feature and Best Director.
It's also the opening title for the Singapore International Film Festival on Nov 21 at the Capitol Theatre. This is Anthony's second feature film, following his award-winning 2013 debut Ilo Ilo. Wet Season centres around the illicit relationship between a school teacher and her male student.
Anthony shines in the narrative, approaching it with sense and sensibility, with the emotionally turbulent scenes juxtaposed skilfully against the backdrop of 2 the torrential monsoon.
"I take my inspiration from the facets of everyday life," he says. "I watch and observe people's mannerisms and interactions."
We can expect more from Anthony. He's working on two other projects – a TV miniseries with the British Broadcasting Corporation, and another film that will start filming next year.
Coat, shirt, pants and boots, Hermes. Styling, CK. Location, Maduro.
NO.13
MOHAMMAD AMIN AB SAMAT
35, SENIOR MANAGER (LEARNING AND DEVELOPMENT) at PRICEWATERHOUSECOOPERS
He's leading a US$10- million upskill program.
I magine the pressure of leading a mammoth US$10-million digital upskilling global program for more than 3,500 I people. Senior manager Amin Ab Samat is undaunted, instead describing it as a "fun and fulfilling project".
The corporate highflier of PricewaterhouseCooper (PWC) Singapore says: "It will bring everyone up a notch to at least a basic level in data analytics, data visualisation and robotics process automation." Amin, who is single, sees himself as more of a people-developer in the areas of training and development, after having spent nine years as an IT auditor in PWC.
"I love my job, especially the 'aha!' moments," he says with a laugh. "It brightens up my day when I'm able to pass on a complex knowledge, and I see the look of enlightenment on faces."
Amin is equally big on sports. The avid athlete has completed China's Great Wall Marathon, Dubai Marathon, Tokyo Marathon, and Singapore's Sundown Marathon.
IT BRIGHTENS UP MY DAY WHEN I'M ABLE TO PASS ON A COMPLEX KNOWLEDGE.
Jacket, Ermenegildo Zegna Couture XXX. Shirt, Z Zegna. Styling, CK. Hair, Ash Loi/Sonder, using Keune Haircosmetics Singapore.
NO. 14
DR SANJEEV SHANKER
34, EMERGENCY MEDICINE SPECIALIST
He's bringing the ER to developing countries.
Not content with just saving lives, Dr Sanjeev Shanker wanted to do more for those living in N developing countries.
The emergency medicine specialist at Woodlands Health Campus is now putting together a team of 20 local medical professionals to set up emergency care facilities. That is, using repurposed shipping containers as makeshift clinics to carry out procedures from stitching to casts for fractures and minor surgeries.
"I started doing humanitarian work last year as it keeps me grounded and reminds me of my original purpose as a professional," says Dr Sanjeev, who set up Shanker Medical Group for this purpose. "What humbles me is to heal and comfort people who are most vulnerable."
His team will travel to rural areas in developing countries like Bangladesh, Myanmar and Aceh, where he aims to set up a makeshift clinic by December.
The expenses and medical supplies are paid for by the government who run the healthcare services in these countries.
Dr Sanjeev, who was recognised as a Singhealth Medical Educator this year, says: "During my medical evacuation flights of patients from Aceh to Singapore, I realised that the basic level of healthcare there was almost nonexistent, which inspired me to step forward."
Coat and pants, Sandro Homme. Shirt, Cos. Shoes, Jimmy Choo. Styling, CK. Hair, Ash Loi/ Sonder, using Keune Haircosmetics Singapore.
NO. 15
XAVIER YAP
35, MANAGING DIRECTOR of JOLLYSWIM
He set up swimming lessons for aspiring triathletes.
After hearing all the trouble his friends went through to secure slots for their children's swimming A classes, Xavier Yap spotted an opportunity to start his own business, Jollyswim, providing private swimming lessons conducted at private pools, this year.
Not just one for toddlers and children. It also offers women-only private swimming lessons, and even training for aspiring or beginner triathletes. Students can progress to an affiliated triathlon training squad to be coached by excompetitive swimmers and Ironman finishers.
Xavier, who's also a financial director in an insurance firm, says: "I wanted the service to be all-encompassing, including those who aspire to get on a competitive level such as triathlons, which is fast gaining popularity today."
Setting up Jollyswim took a few months, including training two millennial staff and roping in talent for the triathlete classes. Jollyswim has a pool of four certified instructors, including former competitive swimmers.
"I'm a hands-on boss, and someone who walks the talk," he says. "The most rewarding part is mentoring and grooming the younger ones," he adds.
THE MOST REWARDING PART IS MENTORING THE YOUNG ONES.
Shirt, Brunello Cucinelli. Styling, CK. Hair, Ash Loi/ Sonder, using Keune Haircosmetics Singapore.
NO. 16
KEITH TNEE
34, PARTNER at TAN KOK QUAN PARTNERSHIP
He fights for the rights of migrant workers.
The opportunity to represent migrant workers was what inspired lawyer Keith Tnee to do work for Justice Without Borders (JWB) this year. JWB, an independent organisation, helps victims of labour exploitation and human trafficking to claim compensation.
"The work is meaningful because this segment of society is often under-represented when it comes to legal recourse. Here is where I can use my skills to help these workers," says Keith, who is the youngest junior partner in law firm Tan Kok Quan Partnership.
The cases involve migrant workers who have claims to be made in Singapore against former employers or employment agencies. Keith handles up to two monthly cases, taking six hours a week via e-mail correspondences. He also provides free legal advice to the underprivileged at the Community Legal Clinic organised by the Law Society of Singapore, Pro Bono Services.
"I'm busy, but it's still important to find metime," Keith adds. "I head to the gym or go out for drinks with my friends."
I'M BUSY, BUT IT'S STILL IMPORTANT TO FIND ME-TIME.
Suit, sweater and pants, Boss. Shoes, Keith's own Styling, CK. Hair, Ash Loi/ Sonder, using Keune Haircosmetics Singapore. Location, Maduro.
NO. 17
YU JIN LIM
40, PARTNERSHIP DIRECTOR IN THE LIFESTYLE SECTOR
He's the suit who spins.
In the day, he's the suit in the boardroom. On weekends, Yu Jin Lim is dishing out the groovy house and disco tunes at the hottest parties at the trendiest venues such as Tanjong Beach Club, Straits Clan, Lucha Loco and The Bar at 15 Stamford.
In July, he became the first Singaporean to play at the UK's quintessential Standon Calling  – a 14-year-old music and arts festival in Hertfordshire that featured global acts such as American funk band Nile Rodgers & Chic, and British alt-rock band Wolf Alice. Yu Jin was invited to perform by the festival organisers.
"I was pleasantly surprised to see not only music fans, but families with their kids and dogs camping at the four-day festival," says Yu Jin, who performed for two hours in the DJ arena. "This is a music festival concept that one won't find in Asia."
Yu Jin, who took up DJing more than two decades ago, has no problems wearing two hats.
"I'm able to distinguish between work and passion," he says.
Jacket and T-shirt, H&M. Styling, Evon Chng, assisted by Hiro Ye. Hair, Ash Loi/ Sonder, using Keune Haircosmetics Singapore.
NO. 18
VARIAN MONTEIRO
35, COUNSELLING CONSULTANT at THE RELATIONAL COUNSELLING STUDIO
He provides therapy for the low income.
He has a resolute passion for psychology – and providing therapeutic assistance to low income earners. Varian Monteiro, a counsellor who specialises in relationship issues and behavioural addictions, sees at least 20 cases a month.
"I feel that those who may not be able to afford therapy shouldn't be left out," says Varian, who spearheaded the Eurasian Association's (EA) World Mental Health Day event last month.
He adds: "I envision this humble event evolving into a festival on a much bigger scale to reach more people to educate them, and promote awareness of mental wellness." With an outgoing persona, Varian – who is the son of Singapore's jazz great Jeremy Monteiro – is a popular face at the EA, where he has been an active volunteer for the youth committee, conducting wellness talks and hosting trivia nights.
"It's a fulfilling experience to engage with the young community and cultivate a sense of universality," he adds.
THOSE WHO MAY NOT BE ABLE TO AFFORD THERAPY SHOULDN'T BE LEFT OUT.
Suit, sweater, pants and shoes, Boss Styling, CK. Location, Crane.
NO. 19
ANDREW LEE
35, DIRECTOR at PETER DORAISAMY LLC
He's the lawyer representing Singapore in Touch Rugby.
He's not just a winner H in the courtroom, but on the field too.
This year, lawyer Andrew Lee represented Singapore in the Touch World Cup – a tournament that sees teams from different countries competing for the title once every four years.
Although the Singapore 14-men team that Andrew was in didn't win the title, they beat Fiji in an exciting face-off in Singapore at the Touch World Cup.
"In touch rugby, players touch their opponents using their hands on any part of the body," explains Andrew, who sits on the judiciary panel of the Singapore Rugby Union. "It's a formal, competitive variety developed from the rugby league, and it is a sport in its own right."
Andrew, who has been practicing law for 10 years, is the co-founder of twoyear-old law firm Peter Doraisamy LLC Advocates and Solicitors.
This year, the firm was listed as one of the Notable Firms in Shipping by Asialaw Profiles. "It's great to be acknowledged for the work we do for the shipping sector," says the father of two, who is expanding his team of lawyers this year.
TOUCH RUGBY IS A SPORT IN ITS OWN RIGHT.
Jacket and pants, Sandro Homme. Styling, CK. Hair, Ash Loi/ Sonder, using Keune Haircosmetics Singapore.
NO. 21
JOSHUA WOO TSUNG-KEN
27, INTELLECTUAL PROPERTY AND TECHNOLOGY LAWYER at DENTONS RODYK & DAVIDSON
He's the muscle in the courtroom and fitness competitions.
He's the lawyer who isn't afraid to display his brains – and brawn. He did so this year on the competitive stage – and impressed the judges to emerge as the champion (Singapore Elite Category) for Under Armour's Test Of Will 2019.
The competition is one of Asia's most advanced fitness challenges, where athletes perform the most number of repetitions in four exercises within 60 seconds each. The motivation behind Joshua's drive to stay fit and strong: He was an "overweight kid" in his teens. "I even failed the National Physical Fitness Award in secondary school," chuckles Joshua, who takes part in up to three fitness competitions each year.
The IP and tech lawyer, who is also a certified personal trainer, splits his time at work, the gym and working on pro bono cases under the Law Society's Criminal Legal Aid Scheme.
"It's an avenue to give back to society for those who can't afford legal representation, and I can make a difference in their lives."
IT'S AN AVENUE TO GIVE BACK TO SOCIETY. I CAN MAKE A DIFFERENCE.
Jacket, Hugo. Pants, Sandro Homme. Styling, CK.
NO. 22
HAIZAD IMRAN
40, COMMUNITY PSYCHIATRIC NURSE
He's the showbiz nurse.
He's the co-host on Suria's highly popular Sihat Oh Sihat (SOS) health talk show, and Haizad Imran will return to the screen for season 2, which will begin filming in December.
In real life, the actorhost-singer isn't too far from what he does full-time in the medical field. Haizad is a community psychiatric nurse at the Institute of Mental Health.
"People are surprised when I tell them what I do in the day," quips Haizad, who holds a Bachelor of Science (Nursing) from Curtin University. "My job as a nurse helps me with my role on SOS when medical experts on the show discuss about health issues."
The father of two boys says his work is challenging yet rewarding. He adds: "I give patients practical advice and support. My work can make a difference in someone's life, and I'm fortunate to be able to do that."
In November, the talented nurse will sing on Suria's game show Sabotaj.
Sweater Bottega Veneta. Styling, Evon Chng, assisted by Hiro Ye. Hair, Ash Loi/ Sonder, using Keune Haircosmetics Singapore.
NO. 23
ZANDER NG
32, WINNER of  MASTERCHEF SINGAPORE 2018
He went from cooking budget meals to Masterchef.
He has come a long way from cooking budget meals for himself in university to becoming Singapore's first Masterchef with his winning five-dish meal in October 2018.
What we know about Zander Ng's cooking: He loves Italian cuisine.
The Singaporean says: "From university, my passion for food quickly grew, and I was hosting weekly dinner parties and conducting cooking lessons." The oldest of six siblings put his career in tech sales on hold in 2018 to pursue his hobby, which is now looking like a very promising profession.
Prior to his title win, the bachelor has collaborated with a few pop-up and private dining events. It's no surprise that the newly crowned Masterchef has been inundated with offers to collaborate. Zander is just getting used to being in the spotlight.
"I make a point to make time for people who matter to me," he says. "They are those who extend a helping hand without asking for anything in return. I cherish those who are genuine, my close friends and family."
I MAKE A POINT TO MAKE TIME FOR PEOPLE WHO MATTER TO ME.
Suit and shirt, Hugo. Styling, CK. Location, Maduro
NO. 24
LEON QIU
33, FOUNDER of DAUNG CAPITAL
He provides loans with social benefits for the poor.
I magine giving up a more-than- comfortable life – and an annual salary of $500,000. Former private banker Leon Qiu did just that, and he launched a microfinancing company Daung Capital this year to help the poor in Myanmar. After eight years as a private banker, the job became "rather meaningless, helping the rich stay rich".
Leon's outfit helps those who are financially excluded. Daung Capital offers loans between $100 and $600 to the poor who may face sudden cash flow problems to buy essentials such as medicine and household appliances.
He says: "We use our profits to upgrade our employees with English language lessons and supplementary courses for career advancement.
The money also goes into improving the communities that we operate in. For example, we worked with non-profit Less Walk to sponsor 250 bicycles for children in the village to cycle to school, instead of walking for two hours." The father of a fouryear-old boy adds: "I wanted to do something purposeful. We make money through a profitable business, yet our loans have a social impact for borrowers."
Shuttling between Singapore and Myanmar for work, Leon also found time to pen his first book Be More, Little Ice Cube!, which will be launched at the Singapore Writers Festival on Nov 10. The children's title is about motivation and resilience, and 100 per cent of the proceeds on this day will go to social enterprise, Dignity Mama and Homeless Hearts volunteer group.
Blazer, shirt, pants and shoes, H&M. Styling, Evon Chng, assisted by Hiro Ye.