Fashion designer Silvia Teh is on a mission to empower women through fashion.
Fashion designer Silvia Teh is on a mission to empower women through fashion.
Warriors walk among us today, only in different "armour". For fashion designer Silvia Teh, hers consists of a vintage acrylic floral necklace and a pair of weathered Alexander Wang black boots. They were bought as a reward to herself for obtaining a partial scholarship to study fashion merchandising and marketing at the Nanyang Academy of Fine Arts, and remain in her closet today as good-luck charms. 
This goes beyond superstition. To Teh, the essence of fashion is that it's a tool of empowerment, and this belief permeates her life. The Harper's Bazaar Asia New Gen 2015 winner's latest collection is called #unbreakable, and it's a tribute to passionate women who are relentless in pursuing their dreams. 
The necklace that's part of Teh's "warrior suit".
"I styled the title as a hashtag because I wanted it to trend. Women should recognise and celebrate the things that make them unbreakable," Teh says.
The designer proudly operates on a made-to-order basis, which not only enables her to work eco-consciously, but also gives her the opportunity to connect with her clients beyond a transactional level.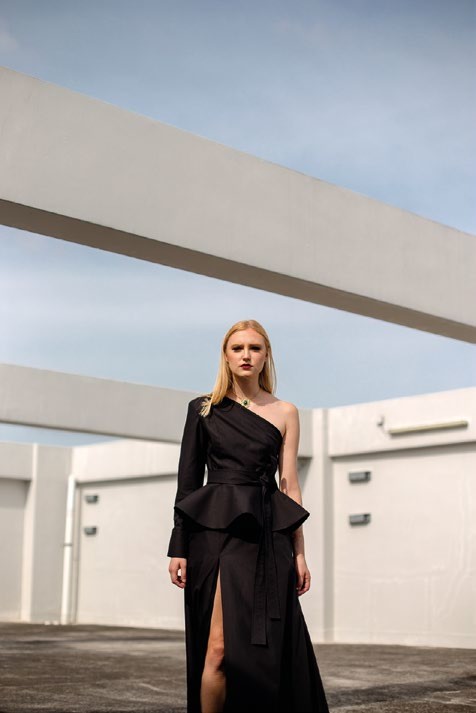 Asymmetry is one of Teh's design quirks.
"I like to understand what kind of person they are, and think about what I can do for them. It's all worth it when they tell me how good they feel wearing my designs and how often they wear them," she says.
Her inspiration comes from many sources, including big names in the industry (she recalls being moved to tears by fashion documentary Dior and I), and music (she loves English electronic duo Honne and says that their sultry tunes have much to do with the minimalist style she enjoys wearing and designing). 
By focusing on a monochromatic palette, Teh zeroes in on quality and precision.
MY ADVICE FOR YOUNG DESIGNERS? NEVER GIVE UP, ACCEPT CRITICISM, AND REFLECT ON WHAT YOU'VE DONE.
However, Teh will be stepping out of her monochromatic comfort zone in her upcoming limited-edition collection for Breast Cancer Awareness Month. According to Teh, one can expect a barrage of pink in the ready-to-wear collection. It will not only be a tribute to the women in her life who have had encounters with the illness, but yet another war cry for all the unyielding women out there. – VW
PHOTOGRAPHY VEE CHIN
STYLING WINDY AULIA, ASSISTED BY VALERIE WONG
HAIR & MAKEUP AUDREY WEE, USING URBAN DECAY 
PHOTOS OF MODELS SILVIA TEH