Net-a-Porter's senior fashion market editor Libby Page tells us what this season's key colour is, the must-know brands, and why the jumpsuit is the new power suit.
This Proenza Schouler number is a power suit and jumpsuit rolled into one.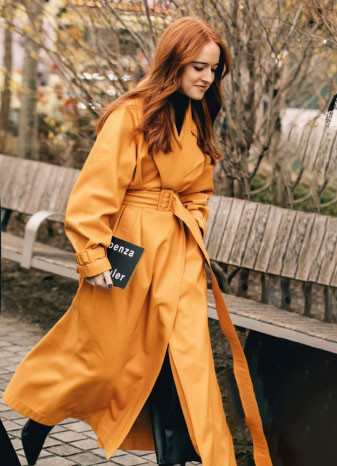 Her role at Net-a-Porter requires her to travel to the four cities during Fashion Week, so it's important for her to pack optimally during these trips. Her travel wardrobe must-haves: a trench coat, a suit, a T-shirt, sneakers and vintage mules. 
Invest in a set of the versatile Canadian Tux – it works both as a head-to-toe look, or separately. 
The key colour of this season
Anything monochromatic. It should be something that's visually dominant, whether you classify it as a colour, or black and white.
One tricky trend every woman should try
The short suit. That's if you can get a pair of shorts fashioned in the right length. For petite Asian women in particular, she can do the shorts a little bit above the knee and wear it with a pair of flats or sneakers for the weekend.
The new way to do power dressing
Wear a jumpsuit. There's an amazing white piece from Proenza Schouler that has black lapels. It felt as though [the model] was wearing a tuxedo – strong yet feminine.
This season's must-have bag
Khaite's Croissant bag – you can even remove the strap and use it as an oversized clutch.
A great investment piece
The Canadian Tuxedo. Coordinated separates are coming back, and this suit is a great off-duty version of that. You can wear it as a two-piece, or separately – you'll have a great pair of jeans and denim jacket that you can wear with other clothes in your closet.
This season's jean style
A high-waisted straight-leg – one that hits slightly below the ankle and graces your heel.
The comeback fashion item
Thong sandals from the '90s. While some are really "naked", some come with different types of straps, like a back strap, that give a sense of security – and can be worn to work. 
'90s minimalism at Gauchere, a French RTW label established in 2013. 
Libby's pick for this season's must-have bag is the Croissant from New York-based brand Khaite. 
This Gianvito Rossi thong sandal is one of Net-a-porter's bestsellers. 
What you should wear on Valentine's Day
An evening jacket. We've just launched a new brand called Martin Martin. It does very sleek and simple evening jackets inspired by vintage pieces from the '80s – similar to those worn by Princess Diana. That's a chic way to do V-Day dressing.
How to transform a look from day to night
Wear a lace camisole under a suit. You can button up the suit for work, then open up the jacket after to showcase the lace. Stella McCartney did that with her skirt-suit on the runway.
Three new contemporary brands you should know
Gauchere, Ioannes and Lauren Manoogian. Gauchere taps into the '90s minimalism trend, and does everyday items in new and interesting ways – think high-waisted pants with corset detailing around the waist, and longline bermudas with pockets at the back. For Ioannes, its lurex knits have a very luxurious feel. Lauren Manoogian does head-to-toe knits, which are perfect for travelling and for those who love tonal dressing.
Jewellery brands worth the investment
Completedworks and Lauren Rubinski. Completedworks offers minimalist jewellery designed with sculptural elements. Lauren Rubinski is known for its beautiful gold chains – though it costs about $7,000 per piece. 
Brand-to-watch Ioannes' creative director Johannes Boehl loves mixing sensuality and edginess. 
Lauren Manoogian's pieces are perfect for travel, like this alpaca dress, (US$707.87 or S$955.24, from Net-a-porter). 
TEXT SEAN THAM INTERVIEW DEBBY KWONG PROENZA SCHOULER PHOTO SHOWBIT.COM CANADIAN TUX PHOTO SHUTTERSTOCK