The rainbow of Crayola colours, shimmering Swarovski crystals, and cheery floral prints… Marc Jacobs kicks off 2020 with an uplifting Runway Marc Jacobs collection.
you might be more familiar with Marc Jacobs' Snapshot bag (that's the must-have item at the brand's store in Takashimaya), but the American designer's ready-to-wear makes up a major part of his appeal too. A month after receiving the inaugural MTV Fashion Trailblazer Award 2019, Jacobs presented his SS '20 collection, which was all about celebrating life and indulgence. On show were 61 positively happy looks of brilliant colour, dazzling sparkle and larger-than-life floral prints.
The collection is meant to remind us of "the joy in dressing up (and) our unadulterated love of fashion", shared Jacobs in the show notes.
Of course, there were the voluminous tiered mini dresses and dramatic gowns that we've come to love from the boundary-pushing Jacobs, but overall, the runway looks were made of wearable and versatile separates. Think Victorian collar blouse, tweed jacket, tuxedo pants and A-line skirt in joyful hues like orange, yellow and pink – just what every modern woman needs to add a pop of colour to her wardrobe.
Drawing inspiration from an eclectic range of sources, the collection paid tribute to designers such as Yves Saint Laurent and Karl Lagerfeld, as well as stylish women like Doris Day and Lee Radziwill – icons who continue to endure "a half century later among the endless sea of digital influencers". "We continue to learn from our past and the history of fashion – exploring iconic images of the designers we love," the 56-year-old added.
There's certainly lots to love, from the oversized ruffles that bounce with every step you take and the beautiful cut of a wide lapel pantsuit, to exquisite details like applique and embroidery that beg to be seen up close in the boutique (the nearest ones are in Hong Kong and Tokyo). There's truly something for everyone – and it instantly brings a smile to one's face. From US$250 (S$340) for a pair of jeans to US$8,500 (S$11,500) for a dress. – DK 
Famous faces spotted in the front row of the SS '20 show at Park Avenue Armory, New York City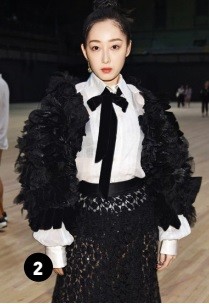 1 Model Anwar Hadid (left) with singer Dua Lipa
2 Actress Jiang Mengjie
3 Models Lauren Tsai (left) and Yuka Mizuhara
4 Leandra Medine of website Man Repeller
5 Singer-Actress Stephy Tang 
Photos Courtesy of Marc Jacobs