M-sized, embroidered canvas Baguette, $9,600. All Baguettes have a card slot.
To say Fendi's Baguette has staying power is an understatement. Since the bag's introduction in '97, the Italian brand hasn't been able to keep up with the demand – despite having more than 1,000 variations of it. With Baguette love on the rise and rise, even luxury vintage/preloved fashion e-tailers can't stock it fast enough. If you can get your hands on it, note that from S/S '19, it will come in two extra sizes: L and S, with the latter being a crossbody. – BG
Go to our digital edition for mmore Baguettes from S/S '19.
Gherardo Felloni: Roger Vivier's New CD
Long before he designed shoes, the Italian Felloni channelled his creative talents in multiple ways: He decorated houses (his own and friends'), and studied at a music conservatory in Paris for six years.
But when your father is the owner of a luxury shoe factory in Arezzo, Italy, which produces shoes for Hermes and Gucci, you'd naturally turn your focus to shoe design. So after stints at Helmut Lang and Prada, Felloni became the head of footwear at Dior, then accessories at Miu Miu. And he told Forbes that as a shoe designer, he found inspiration in Roger Vivier throughout his career.
Last March, succeeding Bruno Frisoni, he became creative director of the brand he admired most. Felloni dug into Roger Vivier's archives, designed new styles, reworked some (like the Tres Vivier, a squareheeled pump with the house's signature large buckle that resembled the original 1960s Belle Vivier that Catherine Deneuve wore in the film Belle de Jour), and left some as they were. They debut this season.
Other highlights: Flyknit sneakers with rubber buckles, and elegant satin mules, clutches, sandals and booties accessorised with diamante, pearls, satin roses or, of course, Roger Vivier's signature buckle. - RT
1. New creative director, Gherardo Felloni.
2. Rose Bracelet Soft Clutch, $1,960.
3. Bow Pearl Buckle Soft Clutch (price unavailable).
4. Flower Strass Buckle Net Pumps (price unavailable).
5. Tres Vivier Bag, $4,080.
6. Lavalliere Strass Heel Booties, $2,970.
7. Broche Vivier Ballerina flats, $2,520.
"There are two styles for men: 502 Regular Taper and 512 Slim Taper."
Levi's Engineered Jeans Are 20
When the US brand launched the line of progressive jeans with twisted side seams and a darted yoke to maximise movement and give a better fit in 1999, it wasn't just a game changer. It became something of a legend for the brand. It's back for its 20th anniversary – albeit with a look for the 21st century. There are two styles for women: Loose Jean (cropped culottes) and Slouchy Taper (more hip and thigh room). The collection also has a Reissue Trucker Jacket with four-way stretch for added comfort. $139.90-$169.90. - RT 
"Have your Gelato in pastel blue, too. $395"
"The Ananas also comes in pink. $270"
Something Practical, Something Pretty
Bonia covers both aspects for S/S '19. The Ananas cross-body has embroidered pineapples, and the Gelato bag comes in pastel colours inspired by… well, gelato. - BG 
Japanese Label: Motherhouse
In 2003, Eriko Yamaguchi (pictured below), then a development studies undergraduate and intern at the Inter-American Development Bank in Washington, searched the web for "Asia" and "poorest". Bangladesh popped up first. That led to a two-week trip there, her enrolment in Dhaka's BRAC University after, and the launch of Motherhouse in 2004, the label Yamaguchi founded to help a Third World country. It started with leather bags made by Bangladeshi workers (she pays them twice the average local wage and offers benefits like medical check-ups, lunches, meals for working overtime, and company trips).
Today, Motherhouse offers more products – jewellery from Sri Lanka and Indonesia, stoles from Nepal, and apparel from India. The brand uses materials and techniques sourced from each country it manufactures in.
Its first pop-up at Takashimaya will run until Feb 17. Its permanent store will open at Jewel Changi Airport in March. - RT 
H&M x Eytys
The latter, also Swedish, is a cult label known for its gender-neutral chunky-soled shoes. The two brands' first collab is a capsule of unisex shoes (even chunkier sneakers and boots), clothes (boxy tops, raw denim jeans) and accessories. Each pair of shoes comes with a custom-designed box featuring unique art by painter Zoe Barcza. The collection is available only at H&M Orchard Building and Ion Orchard, and at www.hm.com. From $6.95 for a pair of socks. - RT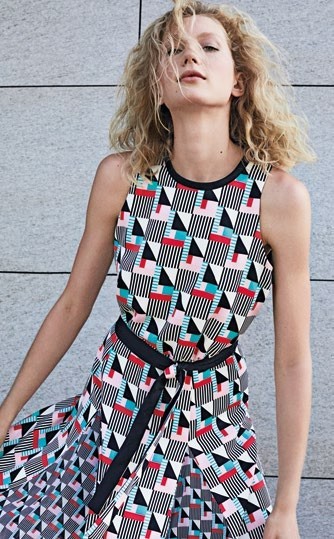 "The capsule of dresses, separates, a tee, hobo bag and clutch has two print variations."
Marella x Camille Walala
For the Italian brand's S/S '19 Art.365 collection, it replaces its usual monochromatic prints with Londonbased French digital pop artist Camille Walala's vibrant style. The latter is known for projects involving pedestrian crossings and nightclub interiors. Two of her vibrant prints cover the capsule of dresses, separates, a T-shirt, a hobo bag and a clutch. - RT