The ultimate list of everything you need to buy before your child arrives
The ultimate list of everything you need to buy before your child arrives
JUDGING PANEL
Charmaine Ho
Executive Editor of Harper's BAZAAR Singapore, mother of one
Dr. Jade Kua
Pediatrician, mother of six
Shivani Mahtani
Communications Manager of Yves Saint Laurent, mother of one
Marilyn Lum
Co-founder of Crib, mother of two
Michelle Eng
Director of E-Lume, mother of three
TINY ESSENTIALS
BEST BABY WIPES
Baby Wipes – Moisturizing, $8.95, Kodomo
Containing aloe vera and camomile extracts, these alcohol-, fragrance- and paraben-free wipes thoroughly cleanse baby's skin without stripping it of moisture. The high quality, tear-resistant material has a cloth-like feel, and can be used on both babies and adults. 
BEST BOOTIES
Handmade Baby Shoes (Pre-Walker), $25, Hiro & Jack
This is where your tot's shoe addiction will begin. Made of 100 percent cotton and non-slip cushioned soles, you can choose from minimalist two-tone designs to quirky dinosaur and strawberry prints.  
BEST BABY MILESTONE CARDS
Baby Cards, $24.90, Milestone at Sophie & Friends
Mark all those special moments in your baby's life by adding one of these illustrated cards to your photos. From the time your bub slept through the night to when they said "mama" for the first time, you'll have an instant keepsake for every moment. You don't have to worry about your baby chewing them either, as each one of these cards is printed in vegetable ink. 
BEST GIFT FOR A BABY SHOWER
Mummy's Little Star Hamper, $108, My Baby Gift
Nothing says welcome to the world more than a box full of goodies with your name on it. On top of a blanket, burp cloth, bunny rattle and socks, you can also choose to add on mittens, a bib, and even a bottle of champagne. It all comes presented in a gift box and each fabric item is embroidered with the little one's name. 
BEST LAUNDRY DETERGENT FOR BABY CLOTHES
Baby Laundry Detergent, $8.90 for 600ml, Pigeon
This phosphate-free detergent made from natural plant extracts helps remove stubborn stains while remaining gentle on baby's clothes. Thanks to its concentrated formula, a little goes a long way.
BEST PYJAMAS
Footie Pyjamas, $34.90, Kalila Organics
Our mummy judges were won over by these colourful footie pyjamas that come in fun printed designs. With snap buttons on the front and at the inseam, dressing baby will be a breeze.  
BEST PACIFIER 
Miss Denti, $12.90, Nip at Sophie & Friends  
The patented wings of this wide pacifi er help distribute biting pressure, and avoid any tooth and jaw misalignment. 
BEST HAT
2 Knots Hat, $12.90, Kalila Organics
The knotted hats from this French and Singaporean brand are super-soft, making them perfect for protecting babies and keeping them looking adorably stylish at the same time. 
BEST SOCKS
Stay-on Socks, $6.90, Plush at Sophie & Friends
If you want to make it back from the mall without leaving a trail of clothing behind you, make sure you snap up a pair of these stay-on socks. Knitted using an advanced technology, the socks are designed to stay on your bub's feet without pinching or leaving marks on their delicate skin. 
BEST ONESIE
Baby Romper with animal print, $20, Le Petit Society
These 100 percent cotton onesies come with whimsical animal designs. The rabbit print, for example, comes with a carrot print on the back. Each onesie comes with press studs fitted between the legs for quick changes.    
BEST BABY HANGERS
Baby Hangers in rose gold, $2.50 each, Le Petit Society  
Add some glamour to your tot's wardrobe with these metallic hangers, which are specially sized to fit baby clothes. 
BEST BABY FEVER PATCH
Cooling Adhesive, $6.60, Kodomo
Designed to fit a baby's forehead perfectly, this provides safe, fast, cooling relief as she or he sleeps. It's also free from fragrance and colouring. As one mummy judge said, it's both innovative and effective. 
BEST POST-PREGNANCY BAND
Bamboo Belly Wrap, $109.90, Belly Bandit at Bloom & Grow  
Made of a soft viscose material and with 12 inches of adjustability, support your back and belly with this band, which can also help to relieve bladder discomfort and increase blood flow.
"Jo Lauren's Miracle Balm is very moisturising, and easy to use as it comes in a stick form." — Michelle Eng
BATHING
BEST BATH TUB
TOP Bath Tub, $59.80, Rotho Babydesign at Assisted Living
Make bath time a lot easier with this bath tub, which comes with a newborn seat insert, non-slip base and spout for draining. 
BEST BODY WASH FOR BABIES
Newborn Pure Purifying Body Wash, $18.90, Pigeon
This mild-smelling body wash moisturises and protects baby's skin, while being easy to rinse off  at the same time. 
BEST BATH TOWEL
The Original Cuddledry Baby Bath Towel, $69, Cuddledry at Bloom & Grow
Simple but effective, this towel comes with a hood that hooks over baby's head, so you can safely lift your baby out of the water. The soft cotton robe is great for cuddle time too.
BEST MOISTURISER FOR BABIES 
Miracle Balm, $16.90, Jo Lauren
Containing ingredients such as organic calendula, elderberry and plantain leaf, this moisturiser is designed for bubs with sensitive skin or suffering from eczema. It gently helps heal damaged skin.
BEST DIAPER BIN 
Diaper Pail, $119, Ubbi at Bloom & Grow
Keep pesky odours tightly trapped with this sleek diaper pail, which is made of powder-coated steel, and has rubber seals and a sliding door to reduce the amount of time it's open. 
BEST NAIL CLIPPERS FOR BABIES
Baby Grooming Set, $19.90, Mothercare  
From the nail clippers to the brush that comes with soft bristles and the scissors that have rounded edges for safety, each item in this set has been designed with babies in mind. 
BEST DIAPERS
Eco-Friendly Diapers, from $14.30, Bambo Nature at Assisted Living
With a unique three-layer design to cope with multiple wettings, these absorbent diapers are free from harmful chemicals and all known allergens. They also feature a wetness colour indicator so you know when it's time for a quick change. 
BEST MASSAGE OIL FOR BABIES
Newborn Pure Calming Oil, $25.90, Pigeon
Our mummy judges loved this massage oil thanks to its non-greasy formula, and the fact that the bottle only releases one drop at a time, allowing them to control the application. 
BEST RASH CREAM
Love Balm Soothing Cream, $14.90, Bambo Nature at Assisted Living
Free of dyes, fragrances and parabens, this organic cream provides a breathable protective layer on your baby's skin to help keep it soft, smooth and nourished. It also shields your baby's skin from excessive moisture when they're wearing diapers.
BEST WASH MITT
Bamboo Cloth Wipes, $26 for four, Moo Moo Kow  
Free of any chemicals, these cloth wipes are soft on baby's skin, and super-absorbent.  
BEST SHAMPOO FOR BABIES 

Newborn Pure Nourishing Shampoo, $18.90, Pigeon
A delicate shampoo that can even be used on babies with cradle cap, it gently cleanses the scalp and nourishes hair at the roots.  
BEST BULB NASAL ASPIRATOR
Nose Cleaner, $4.90, Pigeon
The soft silicon nozzle is gentle on baby's mucous membranes while the squeezable silicon pump makes it easy for you to use.
OUT AND ABOUT

BEST STROLLER ACCESSORY
Universal Parent Console, $69, Baby Jogger at Amazing Baby Company
With two storage pouches, a pocket for personal items and a cup holder for either your baby's bottle or your coffee, you won't want to leave the house without this console that clips onto your stroller.  
BEST BABY CARRIER
Four Position 360 Carrier, $269, Ergobaby at Bloom & Grow
This carrier offers four different ways of carrying your baby safely (front-inward, front-outward, hip and back). The seat width and back panel can be adjusted as your baby grows, and the structured bucket seat provides extra support.
BEST CAR SEAT
Baby Safe i-Size, $533; Baby Safe i-Size Flex Base, $459, Britax at Infantree
Trying to fit your child into an inclined car seat can be a struggle. Britax's new seat can be adjusted to suit your baby, whether it is more reclined for newborns or more upright for older babies, and also comes with an adjustable support leg for stability.
BEST DIAPER BAG
Glam Rosie Bag, $219, Lassig at Motherswork
Our mummy judges loved the look of this stylish bag, and they especially loved that it came with four different carrying options and an attachment to help fit it to a stroller. They also liked the chic accessories, such as the changing mat, insulated bottle holder and compartment for your mobile phone.
BEST MATERNITY WEAR 
Mothercot, from $25 to $55, Jump Eat Cry
Stylish mums should seek out Jump Eat Cry's in-house label, Mothercot. Designed for breastfeeding mothers who don't want to sacrifice on style, each item comes with discreet access for easy breastfeeding, with items added to the collection each week.
BEST THERMAL BOTTLE CARRIER
Avent Bottle Warmer On the Go, $49, Philips
It warms milk in just two-and-a-half minutes, and stays warm for up to six hours. Our mummy judges also liked it for its easy pour lid, plus the fact that you can heat multiple feeds on the go. 
BEST STROLLER TOY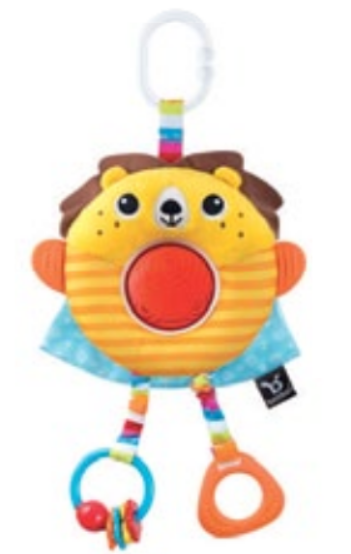 Dazzle Friends Travel Toy, $24.90, Benbat at Bloom & Grow
Not only is this toy cute, it is clever too. It improves gross motor skills by encouraging hand-eye coordination, and increases fine motor skills thanks to the rings; vision thanks to the dazzling effect; and bub's sense of touch with its crinkly fabric. 
BEST STROLLER
Bee5, $1,149, Bugaboo
For a ride around town, Bugaboo's Bee5 is hard to beat. Tots will love the comfy seat and smooth ride thanks to the chunky wheels and all-wheel suspension, while parents will love the reversible seat, adjustable handlebar and the fact that they can customise the stroller with almost 800 colour options. 
BEST NURSING COVER
Nursing Cover, $69.90, Belly Armor at SMT Distribution
On top of the vibrant and chic printed fabric, this is also the only product on the market that can boast the claim of being 99.9 percent effective at protecting baby from radiation. 
FEEDING

BEST NURSING BRA
Blooming Marvellous Maternity Nursing Sleep Bra, $65.90 for two, Mothercare
Wire- and seam-free, slip on this bra for gentle support while you sleep. And when baby needs to feed in the night, the wrap-front design makes for easy nursing. 
BEST NURSING PILLOW
Comfi-Mum Memory Foam Nursing Support Pillow, $88.90, Cuddleco at Bloom & Grow
From pregnant mums who can use it to help support aching backs to postnatal mums during feeding time, this star-print pillow filled with memory foam is a true multitasker.  
BEST BOTTLE WARMER
Avent Fast Bottle Warmer, $76, Philips  
This helps warm milk in just three minutes. Our mummy judges also liked the fact it comes with a defrost setting, which means you can also use it to warm baby food. 
BEST BOTTLE STERILISER
Avent 3-in-1 Electric Steam Steriliser, $159, Philips
Within six minutes, you can clean up to six bottles. It also gives you the choice to do full or half loads. If you keep the lid shut, the items will remain sterilised for up to 24 hours.
BEST BOTTLE DRYING RACK
Drying Rack, $22.90, B.Box at Little Baby
The slimmest drying rack on the market, this portable drying rack contains up to six bottles, and folds down to the size of an iPad, making it perfect for travelling.  
BEST NEWBORN BIB
Neckerbibs, from $24.90, Cheeky Chompers at Sophie & Friends
Made of soft jersey, this is the perfect dribble bib. The two poppers allow for continued use as your little one grows and its chewy bit lets teething babies soothe tender gums. 
BEST NURSING PADS
Breast Pads Honeycomb, from $8.90 for 36 pieces, Pigeon
The absorbent honeycomb lining of this pad draws excess breast milk, leaving your skin and clothing dry. 
BEST TEETHER 
Trinity Teether, $28, Annie + Alex
Created from maple/beech wood and food-grade silicon beads, the chic chew-ellery from local brand Annie + Alex are the perfect buy for any stylish tot who's teething.
"It's so assuring to be able to see and hear your baby at all times with Philips' Avent Digital Video Baby Monitor." — Charmaine Ho
STAYING IN

BEST BREAST THERMO PADS
Avent Breastcare Thermo Pads, $33, Philips
This two-in-one buy helps stimulate milk flow when warm, and soothe sore nipples and engorged breasts when cold.
BEST BREAST PUMP
Avent Breastfeeding Support Set, $422.70, Philips
From the breast pump to the storage cups to the nipple cream, this all-encompassing starter kit includes everything you need to start breastfeeding. There's even a Guide to Breastfeeding DVD to help answer any confusing questions.  
BEST NIPPLE CREAM
Avent Moisturising Nipple Cream, $22, Philips
Filled with goodies such as coconut oil and aloe vera, this soothing cream penetrates the skin's outer layer to moisturise it and make it supple. It's also baby-friendly, so you don't have to remove it prior to breastfeeding. 
BEST BABY BOTTLE
Avent Natural Baby Bottle, $17.90, Philips
The natural latex nipple makes it easy to swap between breastfeeding and bottle feeding, and the ergonomic shape of the bottle makes it easy for baby to hold onto. 
BEST BABY BOTTLE TEAT
Avent Natural Nipple (0m+), $8.50, Philips
The wide spiral design of this natural nipple mimics the mother's breast, while a smaller hole size ensures that the flow of milk is slower for newborn babies. It also has an anti-colic valve to vent air away from baby's tummy.
BEST BREAST MILK STORAGE ACCESSORY
Avent Breast Milk Storage Cups, $31.50, Philips
These reusable cups can be placed in the freezer, microwave, dishwasher or steriliser. They come with different fittings for expressing or feeding, and a secure seal to make sure that the contents stay safe when being transported. 
BEST BOTTLE CLEANING BRUSH
Avent Bottle and Nipple Brush, $11.50, Philips
The curved design and moulded tip of this brush enable you to clean all those hard-to-reach places. The BPA-free bristles also let you clean your baby's bottles without scratching them.
BEST BOTTLE CLEANING LIQUID
Antibacterial Baby Accessories & Vegetable Liquid Cleanser, $10.50 for 900ml, Tollyjoy
This liquid is mild enough to clean vegetables, and tough enough to remove milk and household germs. You can also use it to clean toys. 
BEST COT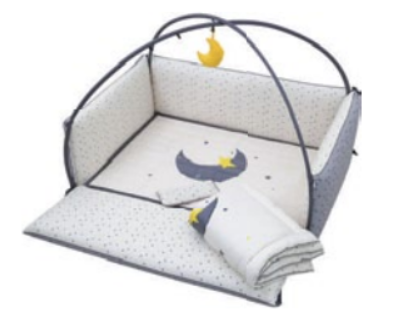 Convertible Microfiber Bumper Bed, $629, LOLBaby at Petite Hearts
A bumper bed that converts into a playpen and play mat, you won't have to worry about bub banging his or her body against any sharp corners, thanks to the soft yet strong and flexible material. 
BEST COT MATTRESS
Airflow Pocket Spring Cot Bed Mattress, $486, Mothercare  
The individual pocketed springs help support baby's head, back and neck, while the Spacetec and COOLMAX freshFX technologies keep baby cool and bugs at bay.
BEST SHEETS
Crib Sheets, from $79.90 for two, Little by Little
Your tot can drift off  to sleep on a bed of clouds or daisies. Made of 100 percent organic cotton jersey, each breathable sheet comes with a matching solid sheet to add a blast of colour to the nursery. 
BEST NURSERY GADGET
Avent Digital Video Baby Monitor, $299, Philips  
No longer do you need to jump out of your seat at every squeak, shuffl e or snuffle. Thanks to this monitor, you can see and hear your baby at all times. There's also a host of bonus features, including automatic infra-red night vision. 
BEST BABY COMFORTER
Comfortchew Comforter, from $37.90, Cheeky Chompers at Sophie & Friends
The soft, chewy end helps soothe tender gums, while the jersey fabric acts as a comforter. It's sure to be a fast-friend with your tot during teething, so you'll be pleased to know you can attach it to their cot, car seat or buggy.
BEST SWADDLE
Organic Muslin Swaddle, $28 each, Le Petit Society
These muslin cotton swaddles help keep your baby snug and secure while he or she sleeps. The lightweight fabric is perfect for our tropical climate, and each swaddle can also be used as a nursing cover.
BEST BLANKET
Personalised Star Blanket, $60, My Baby Gift
There'll be no mix-ups with this customisable blanket, made of a soft fabric that only gets softer with each wash. 
BEST ACTIVITY GYM
Silver Lining Cloud Activity Gym, $179, Skip Hop at Bloom & Grow
There's no such thing as a bored bub with this mat. The plush, puffy cloud mat is perfect for tummy time, while five hanging fabric toys, including a bird rattle and squeaky cloud, work to stimulate baby. 
BY CLAIRE TURRELL. PHOTOGRAPHY: 123RF.COM
BEST MATERNITY WEAR
MOTHERCOT, FROM $25 TO $55, JUMP EAT CRY
Who says you need to sacrifice on style while nursing? Mothercot, the maternity line by Jump Eat Cry, is filled with thoughtful designs that help young mums look good, and feel good, at the same time. From an empire waist dress made from tough-yet-lightweight denim that won't trap the heat, to a kimono-style nursing wrap dress that doubles up as an LBD, there are over 100 pieces in the collection, with new items added every week. The best part? If you have a last-minute event to attend, or are just simply in need of a fashion fix, the team promises fast delivery within Singapore.
IT'S ALL IN THE DETAILS
The in-house team works hard to ensure that the designs are not just chic, but practical too. Each item comes with discreet nursing access—all you need to do is lift up the material, so you don't have to worry about packing a nursing cover.
VISIT JUMPEATCRY.COM
BEST MATTRESS
AIRFLOW POCKET SPRING COT BED MATTRESS, $486, MOTHERCARE
A good night's sleep for your bub means a better night's sleep for you too. Enter Mothercare's Airflow Pocket Spring Cot Bed Mattress: Individual pocketed springs are cushioned by layers of foam, which work to support your child's head and neck while they sleep in utter comfort. The wipeable, waterproof layer helps protect the foam core, while a removable cotton cover featuring Spacetec and COOLMAX freshFX technologies helps air to move freely around the mattress and keep bugs at bay, so your baby will be drifting off  to la-la- land in no time. 
MORE FROM MOTHERCARE
CELLULAR COTTON BLANKET, $36, MOTHERCARE
The cellular design of this 100 percent cotton blanket helps keep baby warm. It also comes in a range of colourways so you can coordinate your blanket with your nursery.  
LULWORTH COT BED, $899, MOTHERCARE
This chic cot isn't just pretty, it's clever too. Not only does it convert from a cot to a toddler bed, the mattress base can also be lowered so that when your baby grows into an adventurous toddler, it can also be used to stop him or her from climbing out.
SLEEPSUIT, $39.90 FOR THREE, MOTHERCARE
These soft cotton sleepsuits come with Mothercare's "toe-safe design" to keep little feet warm, scratch mitts to prevent sharp nails from scratching sensitive skin and a popper opening to make dressing a breeze.
BEST STROLLER
BEE5, $1,149, BUGABOO
Take the term "on-the-go" to the next level with Bugaboo's Bee5, the perfect stroller for urban explorers. The upgraded suspension makes navigating busy streets a breeze, so you can manoeuvre through crowds without breaking a sweat. What's more, the stroller folds up in a flash and is perfect for hopping in and out of taxis. The ultimate lightweight stroller, the Bee5 comes with everything you love about your stroller and more—the four-wheel suspension means a smoother ride and more manoeuverability, an adjustable backrest and seat makes it more comfortable when your baby grows, and the chassis has built-in attachments so you can add on accessories. The new Bee5 is also completely customisable. Can you imagine almost 800 looks for one stroller? 
MORE FROM BUGABOO
CAMELEON3ATELIER, $2,099, BUGABOO
If you have a stylish wardrobe and you want a slick stroller to match, choose the newly launched Atelier Collection, which is a limited edition design for the Cameleon3. With stone mélange fabric and black faux leather details, it's sure to be a fashion-favourite with design addicts.
BUFFALO CLASSIC, $2,179, BUGABOO
This all-terrain stroller is designed with adventurous families in mind. Whether you're blazing a trail through the urban jungle or the vast countryside, this robust, spacious stroller will help provide the smoothest ride for bub.
DONKEY2, $2,149, BUGABOO
Taking two kids out for a stroll can be hard. Bugaboo Donkey2 is a stroller that is designed specifically to grow with your family, and can be converted from a mono to a duo/twin stroller with ease. This means you can use it for one kid, two kids of different ages, or twins.
AVAILABLE AT MOTHERSWORK, FIRST FEW YEARS AND MOTHERCARE. VISIT WWW.BUGABOO.COM/SG