French film noir meets Italian la dolce vita for Chanel's latest pre-fall fashion collection in Rome.
French film noir meets Italian la dolce vita for Chanel's latest pre-fall fashion collection in Rome.
From top: French chic and Italian glamour at Chanel's "Paris in Rome" 2016 Métiers d'Art show. Rooney Mara at "Paris in Rome." Coco Chanel fitting Romy Schneider at the Rue Cambon studio in the '60s. Tiers of pastel lace and appliqué florals by Maison Lemarié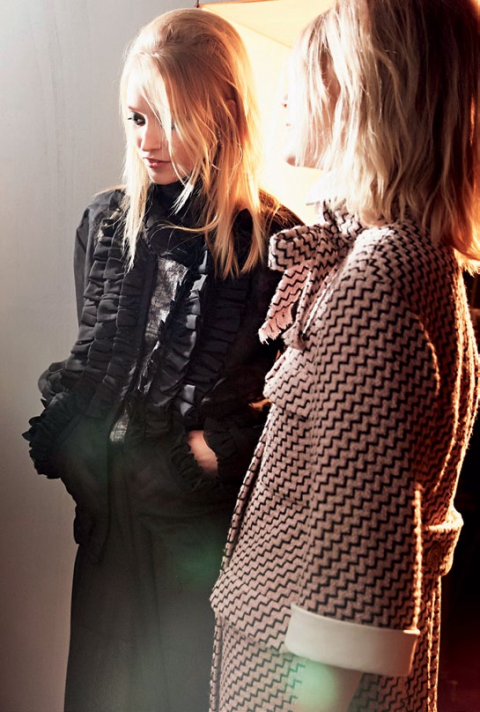 Clockwise from left: Teatro N°5 turned into a film noir set of Paris at dawn. The statement bag—the "camera." Dark 3D blooms by Maison Lemarié
It was the era of dramatically changing times, particularly social and cultural mores, which director Luchino Visconti captured in the 1962 satirical anthology Boccaccio '70, starring Romy Schneider. In an episode, "Il Lavoro," an aristocratic couple attempt to revive their marriage after the husband makes headlines for visiting prostitutes; Schneider plays the wife seeking her independence by finding work. The Chanel suits, slingbacks, and stacks of pearls she wears are symbolic; as much as the final scene, where at her dressing table she turns to him in her negligée, and utters "Chanel" as a bottle of N°5 stands as the backdrop. With that, she had found her worth.
Reel to real life, the stories connect. "There are three people who transformed my life," once said the Austrian-born French actress. "Alain [Delon, her first husband], Visconti, and Coco Chanel." Schneider was once cast as muse to mademoiselle Chanel, who helped her evolve into an elegant Parisienne, echoing her desires as a young ingénue in Paris in the '50s: "I want to be completely French in the way I live, love, sleep, and dress."
Karl Lagerfeld often takes his creative cues from Coco Chanel, whose maison he advanced in the last 32 years almost biographically from her private life and feminist fashion—he extracts these vignettes as framework for every Chanel collection he creates. Chanel's "Paris in Rome" 2016 Métiers d'Art collection is inspired by French actresses of the '50s and '60s who starred in Italian films, and were dressed by Coco Chanel: Jeanne Moreau, Romy Schneider, Anouk Aimée, and Delphine Seyrig. They were muses—style influencers, in nowspeak— to Coco Chanel, who flourished on her involvement with dance, theatre, and film, forging friendships with Italian directors Franco Zeffirelli and Luchino Visconti—rumoured to be a lover. The world of arts elevated Chanel's status, and Italian cinema was where her fashion could capture a wider audience while imbuing it with her French chic.
Chanel's latest Italian saga was staged by Lagerfeld at the famed Cinecittà Studios in Rome, built in 1937 under the directive of Mussolini and known globally as "Hollywood on the Tiber." It was here that epic films like Cleopatra and La Dolce Vita were set; and in present time, Gangs of New York, The Life Aquatic with Steve Zissou, TV series Rome.
"Paris in Rome" opened at Teatro N°5—Federico Fellini's favourite—in a black-and-white miseen scène reminiscent of romantic Paris, the Eiffel Tower twinkling in the background. In a dream-like classic arrondisement of bistros, boulangeries, icecream parlours, and other little shops, "French girls" teetered out of the Métro Line 5 into the twilight, wearing lace stockings and pearl slingbacks or two-tone mules. In the midst of this film noir, French musician Christophe Chassol performed his enthralling jazz piano number in a wrought-iron gazebo, as the models sauntered down the streets in their dishevelled beehives, smokey eyes, and glamorous ensembles of tweed and chiffon, or leather and lace, alluding to the morning after a night of passion.
The aesthetic was chicly French, sensually woven in with Italian glamour, showcasing the fine artisanship of the 10 Métiers d'Art workshops under Chanel's subsidiary company Parrafection. The ready-to-wear collection, staged every December in enchanting cities—from Moscow to Dallas—always opens with the iconic tweed suit in myriad new versions. For "Paris in Rome," Lagerfeld fashioned it into a three-piece: A Sixtiescentric jacket, skirt, and cigarette pants (worn with gamine appeal by both female and male models), finished with jewelled buttons by Desrues and a "film reel" braid by embroiderers Lesage.
With nary a novelty accessory in tow—bags were understatedly, luxuriously vintage, save for the "camera" bag in black resin with rhinestone lens and an unwinding film" strap—the highlight was on the fine artisanship of the ateliers. Midi dresses were gorgeously embellished with glossy black feathers or cascading 3D flowers by Lemarié; some completely adorned with pink petals as a nod to Italian couturier Roberto Capucci's sculpted floral dresses.
There were Roman ecclesiastical references with papal capes—beautifully embroidered or embellished, of course—Byzantine sleeves and tunics; cleverly played out against erotic twists of metal ring belts. That said, there was plenty of and sensuality, seen in delicate silk slip dresses, lurex knits and pyjama detailing. Scottish knitwear Barrie dreamed up embellished Fair Isle sweaters ones, accessorised with delicate chain-link jewellery by Desrues.
Of course, Lagerfeld is no stranger to Rome; he has been the Creative Director of Fendi for the last 50 years. Industry insiders were interested in how he would interpret that fine Roman aesthetic by way of Chanel—and were surprised to see him keep his creative hats as diverse as the cities. After all, it was the spirit of Italian theatre and that insouciant French style that set the leitmotif for the collection of some 88 sophisticated looks.
The magic of Italian cinema continued as the show closed with a classic black lace dress worn by Freja Beha Erichsen, Lagerfeld's favourite model-muse. All 800 guests were invited onto the film set, and the many "shops" opened to serve a sumptuous feast as joyful street music lingered in the air. "One Night in Paris" and "Rendez-vous à Rome," read the movie posters on the wall of "Cinema Le Paris"—fashion blockbusters premiering this season at a Chanel boutique near you.