Social media wunderkind and Pomellato for Women ambassador Chiara Ferragni preaches a very millennial message of self-empowerment.
Social media wunderkind and Pomellato for Women ambassador Chiara Ferragni preaches a very millennial message of self-empowerment.
Coat; scarf; bag; boots, Fendi. Earrings; bracelets; rings, Pomellato
A vision in fluttery pink Dior, Chiara Ferragni wafts through Milan's glass-domed Galleria Vittorio Emanuele II shopping arcade like a character in a Fellini film. Today Ferragni is shooting for BAZAAR, and she's all smiles for the camera. Teenagers in velvet puffer coats swarm around Italy's most famous influencer like moths to a social media flame, reflexively extending their arms into the universal selfie pose. "Chiara! Chiara!" they scream, as they frantically adjust their positioning to catch her in the background of their photos. "I think we got it," Ferragni says to our camera crew, turning decisively on her heel as two burly security guards swoop in to escort her through a secret passageway to escape the verklempt fans slowly closing in on her.
Dress; boots, Dior. Earrings; necklace; bracelets, Pomellato 
Graciously enduring mass hysteria is all in a day's work for the OG of fashion bloggers, who is accustomed to sharing every minute of her glam-packed life with more than 16 million Instagram followers (to put her in perspective, Man Repeller has a following of 2.1 million, and Bryanboy is just shy of 700,000). In September, she's poised to become even more of a household name when Italian director Elisa Amoruso's documentary about her hits theatres. The film charts the meteoric rise of this dentist's daughter from the bedroom community of Cremona, Italy, to number one in the fashion category on the 2017 Forbes Top Influencers list. Ferragni was also recently tapped to be an ambassador of Pomellato for Women, the Milanese jewellery brand's campaign celebrating female leadership. "Chiara's drive and resilience are remarkable," says Pomellato CEO Sabina Belli. "She invented a job that didn't exist, and her message is powerful: It is up to each of us to break the glass ceiling to live the life that we imagine." The 31-year-old new mother is happy to return the compliment, "Pomellato's values really resonate with me," says Ferragni, whose son, Leo, just turned one. "I believe it's possible to be both a boss and a mom—just keep working toward everything you dreamed you'd do."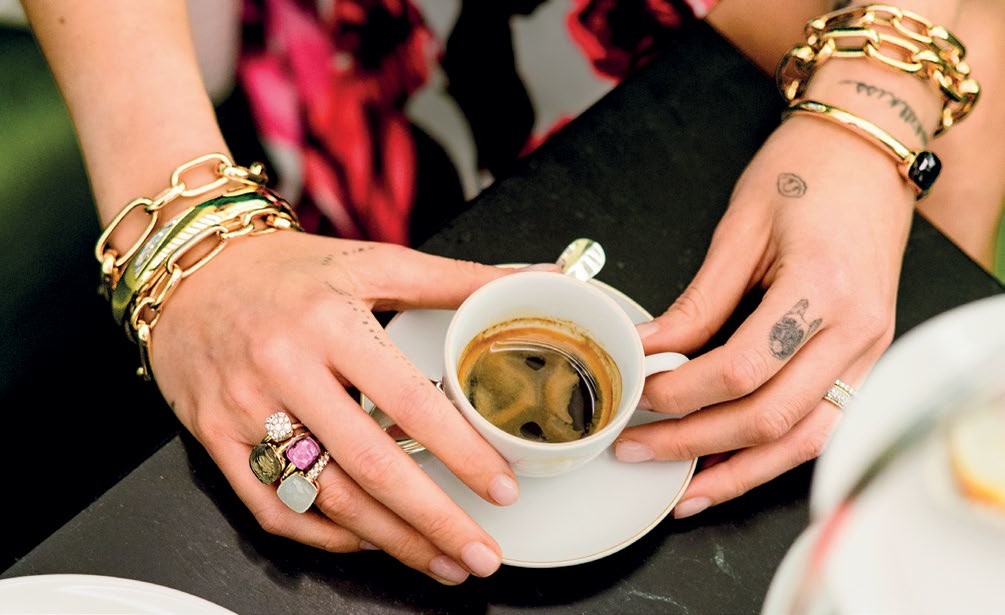 Skirt, Prada. Bracelets; rings, Pomellato
Of course, Ferragni's free designer clothes and front-row seats didn't manifest themselves immediately. In 2009, when she first began posting #ootd photos on her blog, the Blonde Salad, she was still a college student studying international law.  Those early looks—a strategic mix of designer handbags, vintage finds and Zara—captivated fans, who followed her to Instagram in 2012. In 2013, she parlayed her loyal base into a cash cow by developing a namesake fashion line. As her audience continued to grow, she negotiated endorsement deals with a select group of luxury labels, which not only paid her handsomely for sponsored posts but also helped further elevate the profile of the Chiara Ferragni Collection by association. In 2015, Harvard Business School published a case study on her entrepreneurial success. Ferragni's brand, which has an emoji-like winking eye as its signature motifs, is now carried in more than 400 stores (including flagships in Milan, Paris and Shanghai) and generates US$25 million in annual revenue.
"The secret to social media is not thinking about it too much," says Ferragni who usually adds four to six photos to her main feed daily, more than most people post on Stories. For Ferragni, every moment is a shareable one—not to mention a potential product placement opportunity. Although, a fair share of her content is sponsored, much of it isn't. From romantic dinners with her Italian rapper husband, Fedez, to playground trips with her son, nothing is off-limits.
Sweater; skirt; bag; Prada. Earrings; interchangeable bracelet (worn as necklace); bracelets; rings, Pomellato
The secret to social media is not thinking about it too much.
The couple's nuptials in Sicily last year earned a cool US$36 million in Media Impact Value for sponsor brands, according to the data analytics firm Launchmetrics. The highly Instagrammable, three-day extravaganza included a performance by the groom—a social media heavyweight in his own right, with 7.6 million followers—fireworks, a Ferris wheel, and a hashtag (#TheFerragnez). In terms of placements, the biggest winners were Dior (which provided two couture gowns for the big day—one embroidered with lyrics from "Favorisca I Sentimenti," the song Fedez wrote to propose to Ferragni) and Prada (which supplied a bespoke crystal-covered cocktail dress for the rehearsal dinner). For its part, Pomellato contributed his-and-hers wedding bands swathed in pavé diamonds. #TheFerragnez, by some calculations, generated even more online impact than the royal wedding, garnering 67 million interactions over four days. "It was insane," says Ferragni, sipping an espresso. We are sitting in a quiet corner of Pasticceria Marchesi, a retro-chic haven that looks like it was custom-built for Instagram. "I couldn't believe that Fedez and I got more buzz than a duchess and a prince."
So what's next for the queen bee of fashion partnerships? "Fedez and I would love to do more projects together," she says. With their very millennial digital fluency and unique celebrity nexus between the worlds of fashion and music, the similarity between the Ferragnez and Kimye—the ne plus ultra of social media power couples—has not been lost on them. Fedez coyly named a track on his latest album "Kim and Kanye". "I think Kim is a genius—she's created so many different businesses," says Ferragni. "Everything Kim and Kanye do is gold. Fedez and I are always like, 'We're gonna be best friends with them someday!' "
CHIARA'S MILAN ESSENTIALS
PORTA NUOVA 
"My office is close to a medieval city gate—I love how Milan is a mix of old and new."
CITYLIFE 
"We live in a Zaha Hadid tower. There's great indoor-outdoor flow and a park downstairs for Leo."
LE SPECIALITÀ 
"The Milan Institution has the best pesto pasta and buffalo mozzarella pizza margherita."
LÙBAR 
"This is a perfect spot for an after-work aperitivo amid potted palms."
See Where to Buy for shopping details 
PHOTOGRAPHY: HEMIS/ALAMY, LORENZO DE SIMONE/AFG/GETTY IMAGES, CLAUDIO DIVIZIA/GETTY IMAGES, MANUEL COHEN, IDEARIA
Photographed by Tyler Joe
Fashion editor: Cassie Anderson
Hair and makeup: Manuele Mameli
Manicure: Magda Pintus
Producer: Stefano Ciafardoni and Silvia Pogliani/Mmproductions It