Going by the high octane lustre and unconventional shades of the Spring/Summer 2019 colour collections, fun is the new pursuit in beauty.
Going by the high octane lustre and unconventional shades of the Spring/Summer 2019 colour collections, fun is the new pursuit in beauty. The experimental Gen Z makeup artist Kellie Tan gets creative and shows how self expression can still be a really pretty thing.
VISION D'AISIE: L'ART DU DETAIL BY CHANEL
WHAT'S IN IT: A sophisticated range of warm, rich colours inspired by East Asian culture. These include the brand's Rouge Allure Liquid Powder lippie in a deep violet fuchsia and vibrant orange ($50 each); the Les 9 Ombres eyeshadow palette in N2 Quintessence ($139) with shades like gold and petrol blue in various finishes; and two types of Baume Essentiels ($69 each), a new stick highlighter that offers a defined yet natural-looking dewy glow.
TAN'S PRO TIP: "I like doubling lipstick as blusher to create a tone-on-tone effect. (There's just something modern) about a monochromatic makeup look. In this case, I've used the Rouge Allure Liquid Powder in Electric Blossom for a playful pop – smear it on the back of your hand, then use a brush to apply onto cheeks and lips to control the intensity. The slightly blurred, matte finish makes it particularly suitable for both areas. I've also added dimension to the cheekbones by swiping on the light, peach-tinged Baume Essentiel in Sculpting with a fluffy blush. Some gloss (not from the collection) on the lips complements its moisture-soaked shine." 2 Moncler 1952 parka and sweater, Moncler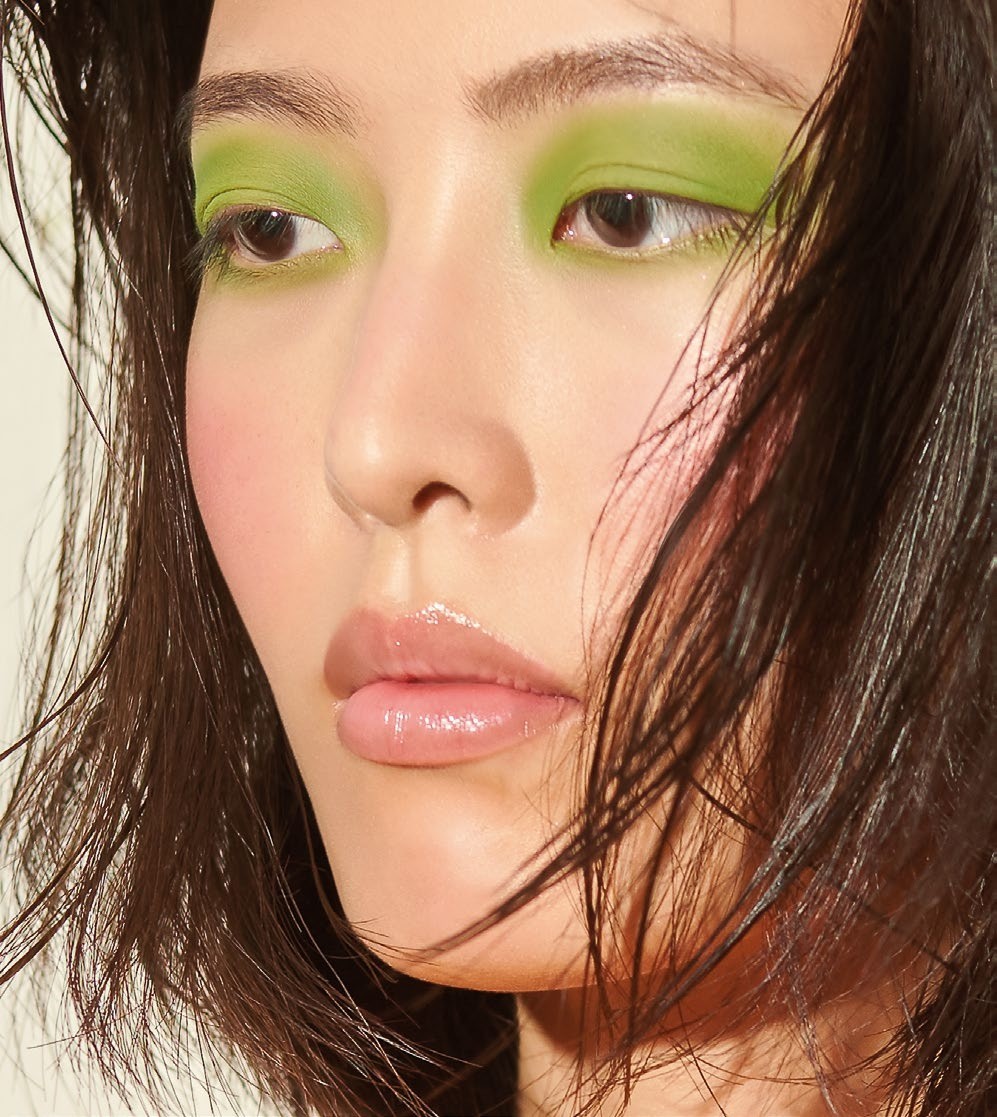 WANDERLUXE BY NARS
WHAT'S IN IT: Besides high-impact eyeshadows that reflect the electric hues the runways have been obsessed with (think matcha green and a shimmery topaz, $33 each), there's an antioxidant packed clear lip balm ($40), a satin black mascara ($42), and the limited edition Mosaic Glow Blush ($65) with intensely pigmented, universal shades that can be used alone or blended as bronzer, blusher or highlighter.
TAN'S PRO TIP: "Contrast two bold colours for a fashion-forward look. You can't go wrong if you work with complementary shades on the colour wheel – like red (the coral from the Mosaic Glow Blush) and green (the Matcha eyeshadow) as I've done here. Pack them on with your fingers, then use a fluffy blush to blend them out as you wish." 
LOLLI'GLOW BY DIOR
WHAT'S IN IT : Unexpected yet pretty shades that both girlie girls and fashion fiends would dig. Lip Glow To The Max, for example, is an update of the brand's Lip Glow balm, now each with two tones – one deep, one light and pearlescent – of coral, raspberry or pink ($48 each), swirled like a candy cane for a more vibrant finish. The Rouge Dior Double Rouge in the line similarly packs two colours (yellow and pink) in one tube ($50) for an ombre effect. For eyes, there are matte, sorbet-hued liners ($50 each) and two palettes ($104 each) with shimmery pastels, while the equally playful nail varnishes ($40 each) smell just like their inspiration: candy.
TAN'S PRO TIP: "The other trick to wearing two bold colours at once on the face is to make sure that one is lighter and less intense than the other. It explains my contrast of the sparkly baby blue from the 5 Couleurs Lolli'Glow eyeshadow palette in Mellow, swept gently over the lids, with a concentration of the bubblegum pink Rosy Glow Lolli'Glow blush in the centre of the cheeks. The latter actually also helps to bring out one's cheekbones. Follow with a swipe of the blusher over the chin and nose bridge for a youthful flush of colour." Jacket, Sandro. Necklace, Gucci 
SPRING/SUMMER 2019 COLOUR MAKEUP BY CLE DE PEAU BEAUTE
WHAT'S IN IT: An array of feminine, polished pinks, nudes, reds and oranges made youthful. The highlight is the debuting Refined Lip Luminizer available in 12 shades ($85 each), including a rich Grenadine and slightly faded Old Rose red, all said to offer intense colour despite the sheer finish, as well as the illusion of plumpness thanks to a special oil. Also new: three lustrous, Rococo-inspired reds – soft rose, vivid rose and cherry ($92 each) – under the Rouge A Levres lipstick line; a sweet rendition of the Luminizing Face Enhancer ($140) with shades of orange, pink, gold and silver; and two neutral-hued Ombre Creme Solo eyeshadows ($60 each) that leave more of a sheen than distinct colour alongside a fresh, dewy finish.
TAN'S PRO TIP: "A strong lip is all that's needed to make a statement sometimes, so my focus here is on perfecting the puckers with the Rouge A Levres in vivid Rose Water. To do so without a liner or brush, use the sharp edge of the lipstick bullet to define the outline, then fill it in using the flat side. The rest of the face has been largely left natural, save for the eyes, which have been accented with a swipe of the Ombre Creme Solo in Iridescence." Shirt, Bimba Y Lola. 2 Moncler 1952 sweater, Moncler 
SHIMMER RUSH BY YSL BEAUTE
WHAT'S IN IT: Beauty director Tom Pecheux's kit for the hyper glamorous music festival goer. This includes the All-Over Palette ($112) packed with four iridescent eyeshadows in white, beige, copper and purple, and lip/cheek colour in lustrous coral and matte pink; the brand's liquid Couture Eyeliner in metallic grey and sparkly black ($45 each); a limited edition Face Palette ($99) with four luminous rosy shades; and the Volupte Liquid Colour Balm in light yet luminous pink or lilac ($52 each).
TAN'S PRO TIP: "Holographic eyeshadow, like the ones in the All-Over Palette, is a good excuse to get playful with makeup, so get creative with where you apply it. Here, I've placed the lilac only on the centre of and below the lids. And when you do so, keep the rest of your face bare, minimal and dewy – this lets the eyes shine and is also an easy look to achieve." 2 Moncler 1952 parka, Moncler. Earrings, Bimba Y Lola 
As we write this, Ariana Grande is ruling the charts and airwaves with her soda-pop sweet (and ridiculously addictive) female power anthem Thank U, Next. Look beyond though, and what's obvious is an industry that's still inordinately dominated by men, be it post-millennial hip-hop thugs like Post Malone, the baby-faced K-pop princes BTS, or the seemingly ubiquitous Adam Levine. This only made deciding on the focus of our third annual Music Issue a cinch: women who rock. Right here in Singapore, the industry is being rejuvenated by a new pack of females who are confidently putting their own stamp onto genres as diverse as rap, punk and folksy love songs; their individuality shining through as they model the season's plaid prints and tailoring. Behind the scenes, a community of women are pioneering new ways of experiencing and discovering music, while the likes of Janis Joplin and Dolly Parton – alongside a bevy of other industry icons and movements – inspire the S/S '19 collections. Now, all we have to do is wait for the Spice Girls reunion tour. Ready to hit play? – KYS
The artwork opposite might seem like a rather literal take on the theme of music, but be observant and you'll discover the whimsical mind of artist Danielle Tay (@iamdanielletay), known for her landscape paintings that have been exhibited globally. For example, she's included a feline friend (a reference to catwalk, geddit?) and reimagined musical notes as accessories. "Both (fashion and music) as outlets for self expression are visually unified in this artwork," she says. "(It's) a playful celebration of the inextricable connection between the two."
Text Sofia Kim Photography Vee Chin Styling Imran Jalal Model Bora/Mannequin