In the fickle world of fashion, what keeps one repeatedly going back to a particular label through the years or even decades?
Yohjean, fan and collector of designers like Junya Watanabe, Comme des Garcons and Martin Margiela who challenge conventions of shape and proportion, in a Rick Owens dress and shrug, the latter from his F/W '18 collection 
In the fickle world of fashion, what keeps one repeatedly going back to a particular label through the years or even decades? For the four collectors here, it all boils down to good old loyalty and a singular, dogged love for their chosen pantheon of designers – trends be damned. Keng Yang Shuen gets them to turn the cameras on themselves and (a portion of) their carefully amassed treasure troves. 
YOHJEAN, full name and occupation undisclosed
Collects: Comme des Garcons, Yohji Yamamoto, Junya Watanabe while "dabbling" in other avant-garde names such as Rick Owens, Ann Demeulemeester and Maison Martin Margiela (Tabis in particular) Why: "I like clothing that has the ability to create the illusion of changing the shape of the human body. When you wear any of these designers, your body no longer matters. I think that's an important message: Your body is just a vessel." The start: Around 2009 when she began taking an interest in fashion and came across the unusually large and mannish silhouettes from Yohji Yamamoto's F/W '06 show on the Internet. That year, she acquired her first piece from the label at the Club 21 Bazaar: an A-line maxi skirt made with "a lot, a lot" of fabric that she still wears today. Size of collection: Between 100 and 200 pieces across these designers – following a complete purge of her wardrobe a few years ago. Oldest piece: A handful of items that date back to the '90s Most treasured piece: "Everything I own from Junya... A few highlights would be pieces from his F/W '08 collection that experimented with the use of grey draped jersey (see bottom row, middle) and a dress and skirt from his tailoring-centric F/W '98 show. I've only seriously started buying his runway pieces in recent years... When Junya is good, he is so so good." Still searching for: "Any of the last five dresses from Junya's F/W '08 show." Extreme collector's behaviour: "Waking up at 5am to bid for a cropped sweater from Rick Owens' F/W '12 Mountain collection on eBay. I lost by US$5 (S$6.95)." Collector's tips: Rakuten and eBay are replete with second-hand pieces by these labels, but patience, perserverance and "a little bit of luck" are necessary. Of course, a trip to Japan should prove fulfilling, but Yohjean recommends being focused about what and who you want to collect as the market for second-hand designer goods there can be overwhelming. 
Among Yohjean's monochromatic, avant-garde designer-centric wardrobe (clockwise from near right): Maison Martin Margiela Tabi gloves from 1999, a coat from Comme des Garcons F/W '12, more from her assemblage of Tabi accessories from Margiela, a dress from Yohji Yamamoto F/W '17, boots from Rick Owens F/W '13 and – one of her most treasured items – a runway dress from Junya Watanabe F/W '08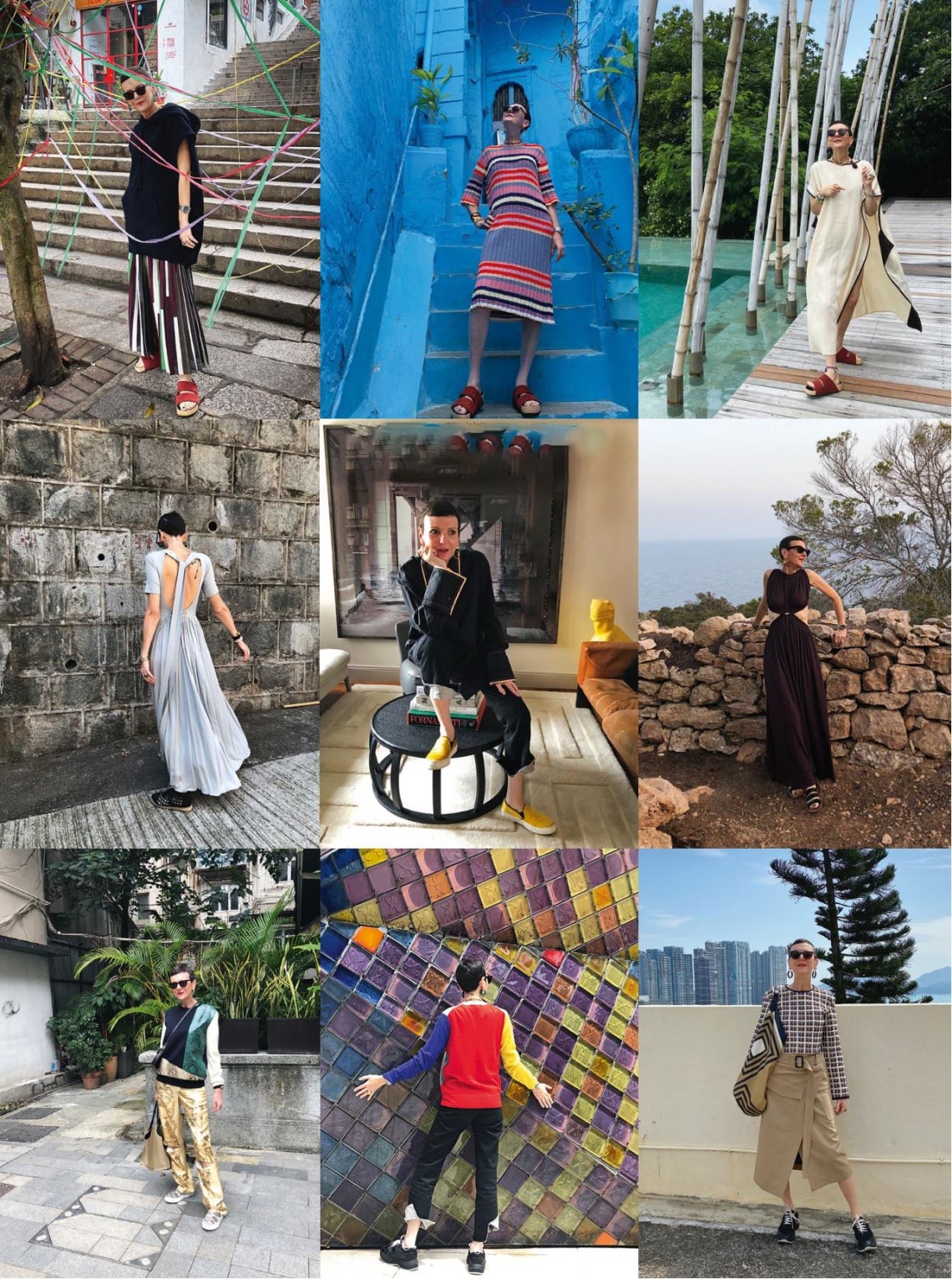 In every one of these photos, Gilain is wearing at least three items from "old Celine" (for the full breakdown, head to femalemag.com.sg). 
FREDERIQUE GILAIN French lawyer based in Hong Kong
Collects: Celine from the Phoebe Philo era (aka old Celine) Why: "What's not to love about Phoebe Philo's clothes? Her proposal was very new and modern – you wear Celine by Phoebe for yourself, not anyone else... Every collection was a surprise yet could be mixed and matched, new pieces enhancing and reviving older ones and telling the story of this Celine woman: not sexy, but fearless and desirable; not fashionable but stylish and feminine in her own way... I don't think there's anything quite like what she did." The start: September 2010 when she made her first "old Celine" purchases – a pair of grey pants and a white shirt from F/W '10 – in London, where she was living at the time. She was about to relocate to Hong Kong for work and was after pieces that were "corporate with a twist". Size of collection: At least 300 items including accessories Most treasured piece: "I've a lot of treasures, but I am not collecting for the sake of collecting; I've a connection with all that I own... The fringed dress from Pre-Fall 2015, for example, is not the most iconic piece that I own, but it is me: The top part is a plain navy cashmere knit and the bottom – black fringes. It's a perfect combination of simplicity and eccentricity, day and night, seriousness and fun and I feel happy every time I wear it." Still searching for: The foulard print shirt from S/S '11 made famous by Kanye West – she had passed on it at the time, thinking it was a bit loud. The price for a second-hand version is now "simply and utterly ridiculous". Collector's tips: Have a "want" and "wish" list and decide how much you are willing to spend. Her go-to retailers? Less eBay and more established retailers of pre-owned fashion such as Vestiaire Collective and Hula in Hong Kong as well as professional sellers who get in touch via Instagram (her account @lafredtouch is a visual shrine to "old Celine" that shows how Philo's designs are as functional as they are stylish) 
A peek at interior designer Florence Lim's Prada collection that started in 1987: (left from top) a F/W '18 shirt, a F/W '17 coat and dress, a special-order fur coat and a S/S '19 dress; (main picture) top and pants from the marabou-trimmed S/S '17 collection; and (right from top) S/S '14 slides, a Resort '20 coat and dress, a F/W '17 sweater and skirt, a S/S '20 bag and a pair of S/S '14 sunglasses 
FLORENCE LIM, interior designer
Collects: Prada Why: "Miuccia Prada's looks are timeless. I can wear a piece purchased 10 or 20 years ago (if I'm lucky enough to still fit into it) and it would still look au courant. The label is not really about fashion. It is never about superficial beauty. In fact more often than not, some designs are deemed unfeminine, eccentric, even strange. Her clothes make a statement in the most visceral sense and where Miuccia leads, women follow." The start: Her first shopping trip to Milan in 1987 when friends brought her to the brand's first and oldest boutique in Galleria Vittorio Emanuele II. What did she get? A Prada nylon backpack, of course. Size of collection: While she hasn't kept count, Lim lets on that she's been a faithful customer for over 30 years, buying 10 to 15 pieces including accessories every season. You do the math. Most treasured piece: Too many to print. Among them: all the cardigans from S/S '04, which she points out was seminal for its experimentation with tie- and dip-dyeing. "The colours were beautiful. The pieces were easy to wear... By the way, nothing beats wearing a vintage Prada. You feel like part of a special tribe who had the foresight to buy these pieces years ago." Some serious fan behaviour: With skin that's sensitive to certain materials, Lim did not buy much from Prada F/W '07, which featured coats made out of mohair as well as a laminated fabric. That same year, British artist Barnaby Barford created a figurine dressed in an orange jumper from that collection as part of a commission by Wallpaper magazine so she promptly snapped it up. Collector's tips: Lim swears by the service and experience of shopping at the Galleria boutique in Milan (the prices in Italy are always the lowest, she adds), but also turns to the Prada stores on London's Bond Street, at Alexandra House in Hong Kong and, here in Singapore, Paragon. PS. Not everything that goes down the runway is produced for sale, she points out. "If that's the case, it's fine. It is up to the sales assistant to locate the style and size that I want if it exists... I just need to be patient. If it's meant to be, I'll have it." 
Jonathan's Visvim "valuables" includes (from top row, left to right) this S/S '14 denim jacket, F/W '13 bag, shirts from S/S '13 to S/S '18, varsity jackets from S/S '15 and S/S '17, S/S '14 vest, S/S '13 noragi, F/W '12 duffle coat, F/W '13 jacket, S/S '13 shirt, S/S '15 boater hat and S/S '19 shirt. 
GIAN JONATHAN, creative director
Collects: Visvim Why: He's always been into vintage products for their "unexplainable" charm and this, by extension, was what drew him to the Japanese label – long known for its laborious treatments to help achieve a weathered or uneven patina. This, along with the sense of satisfaction that comes with being able to get one's hands on the brand's highly limited designs (there are only five pieces worldwide for some). The start: In 2013 when his then-girlfriend, now-wife bought him a pair of seven-hole, '73-Folk boots in sand-coloured suede, but he's been "drooling since 2010", he says. Size of collection: Following a Marie Kondo-esque exercise that saw him let go of designs that he seldom wore, he's left with about 200 pieces, all of which he catalogues on his Instagram account @gian2 that doubles as a virtual community for fellow Visvim fiends. Most treasured pieces: He's got one for nearly every part of the body. His favourite Visvim hat, for example, is a hand-woven boater with a geometric motif crafted from mud-dyed straws while his No. 1 top is a noragi (a kimono-esque jacket traditionally worn by Japanese farmers) made from a patchwork of vintage Japanese indigo-dyed fabrics (Jonathan estimates that only six of these were produced). Still searching for: The Gore-tex PFD parka from S/S '13 featuring the brand's Amdo cross motif all over and the Free Edge shirt in a black bandana print – the only one from the range that he doesn't own. Extreme fan alert: "I check for Visvim online the way an investor checks the stock market." Collector's tips: Trust the motherland for the most competitive prices and most limited-edition drops – the brand holds exclusive shopping events in cities such as Sendai and Hiroshima several times a year. Online, head to Grailed, which tends to have a good selection.