IF AN ABODE SHOULD INVIGORATE AND INSPIRE, THEN COCO CHANEL'S HOME AT 31 RUE CAMBON IN PARIS IS A DREAM HOUSE; ITS DECOR AND CONTENTS THE SOURCE OF IDEAS FOR MANY A CHANEL GARMENT OR ACCESSORY.
IF AN ABODE SHOULD INVIGORATE AND INSPIRE, THEN COCO CHANEL'S HOME AT 31 RUE CAMBON IN PARIS IS A DREAM HOUSE; ITS DECOR AND CONTENTS THE SOURCE OF IDEAS FOR MANY A CHANEL GARMENT OR ACCESSORY. EXHIBIT A: THE 2020 METIERS D'ART COLLECTION THAT REVOLVES ENTIRELY AROUND THE HALLOWED SPACE. NOELLE LOH BREAKS DOWN HOW – THROUGH HER GLAMOROUS YET PRAGMATIC DESIGNS – ARTISTIC DIRECTOR VIRGINIE VIARD HAS OPENED THE DOORS TO THIS MAISON AND WELCOMED A NEW GENERATION OF WOMEN IN.
The starting point of this Metiers d'Art collection was the Cubist-faceted mirrored staircase that connected Coco Chanel's second-floor apartment at 31 Rue Cambon to the brand's haute couture salon below. Created in the 1920s and where Mademoiselle Chanel would sit – perched on the fifth step – to view her shows and guests' reactions in private, it can be said to be the backdrop to every look present-day artistic director Virginie Viard creates. "I always think about the staircase first when designing: I imagine a girl walking down it. Wearing which dress? Which shoes?," she says. Meanwhile the salon below was the venue for Chanel's first Metiers d'Art show in 2002 when the brand introduced this annual, off-season collection to celebrate the savoir faire of its speciality ateliers. Says Viard: "That show was very dear to me. The models smoked cigarettes while listening to Lou Reed. It was more of an attitude than a theme." The same can be said of this year's 71-look showcase – Viard's first Metiers d'Art outing – that spans luxurious sportswear and flirty interpretations of the brand's famous tweed skirt suit to modern eveningwear kitted out in feathers and sequins.
Famously superstitious, Coco Chanel saw wheat as a symbol of luck and prosperity, and displayed it in all forms in every room in her apartment. These included a painting of an ear of wheat from Salvador Dali and a table supported by a gilded sculpture of a sheaf of wheat by Goossens, one of the 23 metiers d'art – or specialised workshops – that Chanel owns. The work of the embroidery atelier Lesage, the tulle jacket above is one of the many pieces from the 2020 Metiers d'Art collection that celebrates this idiosyncratic obsession of hers. It features 300,000 gold sequins, 10,000 glass tubes and 3,000 metres of gold thread. How it was worn on the runway: over a plain black cashmere jumpsuit – instant '80s-inflected party glamour. 
In contrast to the modern, uncluttered decor of the brand's boutiques, Coco Chanel's apartment was sumptuously Baroque, anchored by dramatic, often ornately carved or decorated furniture that reflected her superstitions and fascination with exotic cultures and their aesthetic. Cue her treasured 18th-century lacquered Coromandel screens – word is that she first discovered them at age 18 when she entered a Chinese shop, an interest that would grow as she explored Chinese art during her relationship with Boy Capel. And pervading throughout: gilded fixtures and objects, mirrors, crystals and large chandeliers that diffused light throughout the honey-hued rooms, adding both warmth and glamour that made the apartment – in the words of Viard – "such a welcoming space".
What better way to capture how the apartment's gilded ornaments and crystal objects reflected light than through a Metiers d'Art collection that highlights the work of ateliers such as Lesage; the 71-year-old Montex that also specialises in embroidery; and the costume jeweller Goossens whose founder created antique-style jewellery and furniture for Coco Chanel? The most playful looks in the 2020 Metiers d'Art collection are also the most dazzling – literally. Fuss-free, pull-on-and-go jumpsuits and dresses, for example, come in metallic wool or tweed embroidered all over with sequins.
The skirt suit that forms look 42 features a Jackie O-esque jacket given a hip, 2000s-tinged edge (top row, second and third photos from left) with its cropped cut and patchwork of house motifs such as ears of wheat and the double "C" logo on its back. Embroidered by Montex and calling for 140 man-hours, the applique boasts over 60 different elements including 23,660 sequins in 23 colours. Meanwhile the accessories used to liven up the more understated looks on the runway are some of the most opulent created under Viard, including silk belts embroidered with crystal flowers.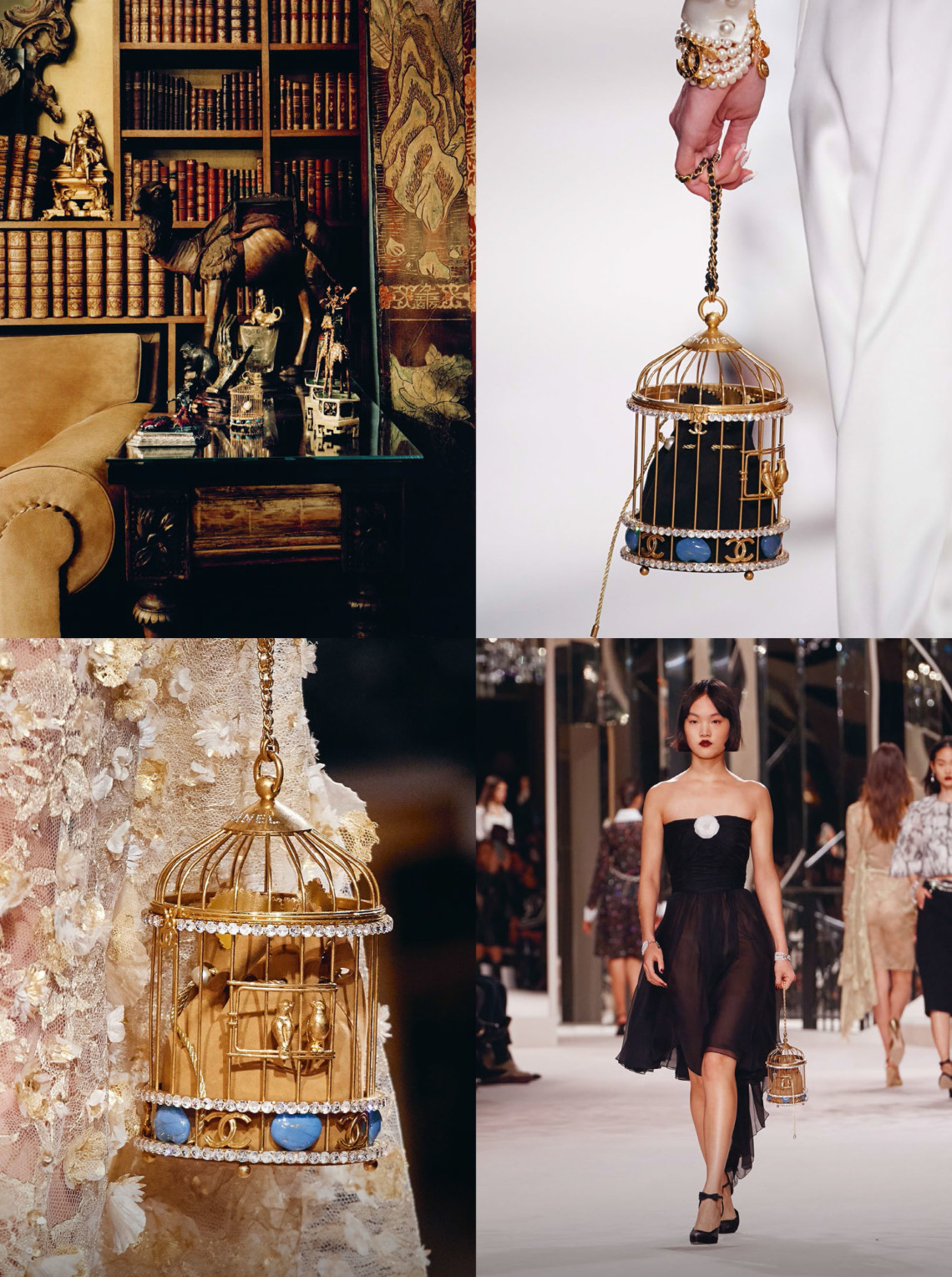 Coco Chanel filled her apartment with trinkets and mementos collected throughout her life. Among the more curious finds is a tiny bejewelled birdcage complete with a pretty, sculpted bird inside that has previously inspired the likes of earrings and a 1992 perfume campaign starring Vanessa Paradis (go Google it). Viard's imaginative and highly collectable 2020 Metiers d'Art interpretation: a wristlet-style novelty bag that brought a youthful irreverence to the collection's feminine evening dresses on the runway.
The affinity Coco Chanel had for camellias is legendary, resulting in one of the brand's most iconic motifs and time-honoured sources of inspiration. Said to have first received a bouquet of the white bloom from the love of her life, Boy Capel, she liked its simplicity and how it possesses no scent, allowing her to wear her own perfume. Needless to say, it turned up in her apartment, be it as part of the design of her Coromandel screens or crystal chandeliers. Working with the plumassier Lemarie, which has been creating Chanel's signature fabric camellias since the '60s, Viard swathes jackets with the sculpted flower or transforms it into a graphic print on a feathered miniskirt; the effect at once intellectual and oh so pretty.