THE EVERYDAY ESSENTIAL: OUTDOORSY BOOTS
Left: Leather boots, Timberland. Cotton T-shirt, $410, and tulle skirt, $2,095, Burberry. Nylon socks, Prada.
Right: Leather boots, Bally. Tweed jacket and matching skirt, Chanel
THE EVERYDAY ESSENTIAL: OUTDOORSY BOOTS
Back in the '90s, these rugged kicks went urban thanks to the hip-hop community. These days, it's the activities that they were originally designed for – trekking, climbing, anything adventurous – that have become an "It" urban pursuit. The hiking-inspired renditions from fashion houses this Pre-fall might not equip you for that trip up Mount Kinabalu, but they'll make you look like you are as you go about your everyday business. (PS. They also look really cool with pretty dresses.) – KYS
Left: Suede, leather and canvas boots, nylon jacket, and silk twill dress.
Right: Suede, leather and canvas boots, and nylon jacket. All Gucci. Prices unavailable unless stated
Photography Vee Chin, assisted by Sherman See-Tho Styling Imran Jalal, assisted by Christabel Teo Model Anne Claire/Ave
THE IT ACCESSORY: THE "SCHIRMMUTZE"
Pronounced "schirm-mut-ze", it refers to the peaked cap traditionally worn by German sailors. And in the port city of Hamburg, it's as dear a cultural icon as, say, flip-flops are to us – just way cooler. John Lennon started wearing one regularly after The Beatles' formative years touring the local club scene. And it topped every single outfit in Chanel's latest Metiers d'Art show that was held in and paid sweet tribute to Hamburg, Karl Lagerfeld's hometown: accompanying 87 looks (women's and men's), in four styles (two have a long ribbon on the back) and a variety of fabrics, all handmade by the French milliner Maison Michel (craft, after all, is what the Metiers d'Art collections are about). The street style crowd is already on board. And, hey, if Lagerfeld and Lennon endorse it, it's hard to say no. In tweed, wool, or flannel, from about $1,200, Chanel – KYS
Brandflasher Celine's typeface – created by typography designer Hannes Famira in 2005 and reportedly based on the 1931 font Semplicita – returns to the spotlight with the brand's Made In tote #prefall #phoebeforever
Supremefonts The clean serif typeface printed large across bags, wraps and coats in Valentino Pre-fall is an abbreviated update on the brand's logo from the '80s. #soclever
Hautesnobiety No official word on Jil Sander's signature typeface, but it reminds us of an extra bold Futura that lends a modern twist to the brand's feminine Pre-fall collection. #wantthis #powerwoman
Callmebyyourtype Fun fact: The typeface used in Balenciaga's logo – updated last year – is inspired by transport signage.
THE COOL LOGO: NEUTRAL TYPEFACES
So what's the difference between these and say, Supreme's, which is also clean, simple and modern? We're no typography experts, but these just seem harder to tag to a particular period, gender or trend. Take Valentino's, a clever abbreviation of the one used in the '80s, and printed XL across bags and coats. Or Balenciaga's, which is inspired by that used on public transport signs, introduced on classic, ladylike top-handle bags this year. Clarity, not style, is the main purpose here. Of course, that they're emblazoned almost randomly across all kinds of products, and will be as hyped about as most of today's logo "merch" is ironic – and that only makes us like them more. – KYS
Viscose cady jacket, $3,460, matching tunic, $1,500, and pants, $1,340, and Ophidia suede Boston bag, $3,120, Gucci. Resin cuff, Chanel
Wool jacket, matching miniskirt, resin sautoir necklace, and wool shoulder bag, Chanel. Leather ankle-strap sandals, $1,090, Gucci. Stockings (worn throughout), stylist's own
Cotton blouson, $2,480, Lurex sleeveless top, $1,070, and cotton skirt, $1,330, Bottega Veneta
Michael Kors Collection jacquard jacket, matching skirt, cashmere bralet, Mia calfhair top-handle bag, and leather pumps, Michael Kors. Prices unavailable unless stated
THE FASHION HACK: ENSEMBLE DRESSING
Last year, tonal dressing made a comeback – you know, keeping everything you've got on within the same colour family. This season's upgrade takes a cue from Cher Horowitz and her indelible yellow plaid suit in Clueless (1995) – and many a First Lady: Apply the matchy-matchy rule to not just hues, but also prints and fabric (and, no, it's not limited to suits). The effect is just as camera-ready as that of the pattern-clashing peacock parade at Fashion Week – just a whole lot easier and more elegant. – KYS
Photography Zaphs Zhang, assisted by Sherman See-Tho Styling Imran Jalal, assisted by Christabel Teo Hair Peter Lee/ Mosche, using KMS Makeup Sha Shamsi, using Marc Jacobs Beauty Model Natasha/Mannequin Location Royal Plaza On Scotts
From top right: Van Cleef & Arpels Lady Arpels Planetarium in white gold with diamonds on alligator strap. Omega 27mm Constellation in stainless steel. Parmigiani Fleurier Kalparisma Nova Galaxy in 18K rose gold on alligator strap, $41,000. All with aventurine or aventurine glass. Prices unavailable unless stated
THE HOROLOGY STAR: BLUE AVENTURINE
This iridescent quartz is not new to the watch world. While found in various shades in nature (the most common is green), the deep navy strand – reminiscent of the night sky with its flecks of mineral inclusions – has somehow been the preferred choice among watchmakers. That is, if they master tempering the fragile material thin enough for dials, or the time-consuming, labourintensive process of creating the synthetic yet no less inferior version known as goldstone or aventurine glass. It explains why – next to other quartzes like chalcedony and onyx – it's often a lot more underrated. The latest crop of luxury timepieces turns the spotlight onto it: from Omega's signature Constellation bracelet watch, to Van Cleef & Arpels' first adaptation of its 2015 men's watch, the Midnight Planetarium, for women. That nearly all of them are inspired by the galaxy begets the response: "About time." – KYS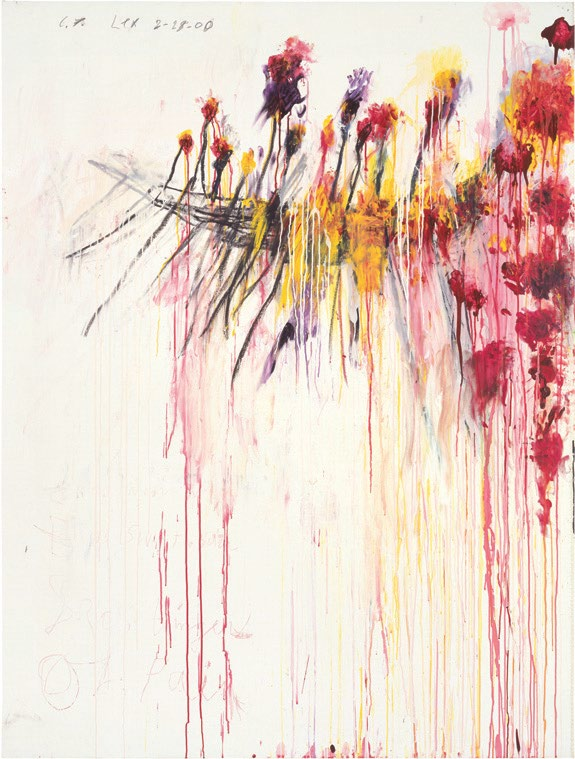 Coronation of Sesostris (2000) by Cy Twombly, acrylic, wax crayon and lead pencil on canvas
He adores the modern touch of French architect and designer Joseph Dirand, who decked out the interiors of Miami's Four Seasons Hotel Residences (above).
He loves everything about Belle de Jour (1967), from the stars to the Yves Saint Laurent wardrobe.
Paul McCobb – his works were rereleased at the Salone del Mobile fair last month – is his furniture hero.
Wu adds a sexy edge to American sportswear for S/S '18.
Jason Wu
Jason Wu
The New York-based designer, who headlined the latest edition of Singapore Fashion Week, shares his cultural and design inspirations.
Text & Coordination Keng Yang Shuen Catwalk Photo Showbit.com Artwork Photo Rob McKeever, courtesy of Gagosian Gallery