You know you just wanna have fun, so channel your inner Cyndi Lauper.
"Marc Jacobs S/S 2020"
You know you just wanna have fun, so channel your inner Cyndi Lauper. Make it now with half-half jeans, this season's granny sweater, and dance to have the time of your life.
"Paco Rabanne S/S 2020"
PRETTY PREPPY
Layer to surprise — wear a sheer dress over dad's polo, and strut out in bright socks and strappy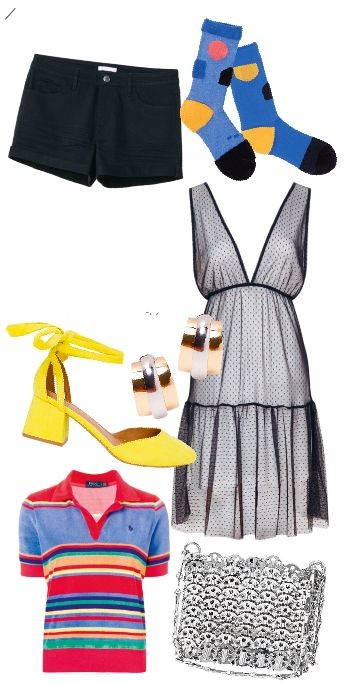 WISH LIST
#TEAMCLEO STYLE TIP:
Not sure how to style your sheers? Wear a bright top under and amp up the look with colourful accessories.
FROM TOP: Shorts, H&M; socks, $16.70, Good Pair Socks; dress, £16 (approx. $29), PrettyLittleThing; earrings, Zara; heels, £28.50 (approx. $51), ASOS; shirt, USD186(approx. $259), Polo Ralph Lauren from Farfetch; bag, USD533 (approx. $741), Paco Rabanne from Net-a-Porter 
TEXT LIM LEE ANN PHOTOGRAPHY TPG IMAGES 
"Off-duty Gigi Hadid still looked on point during Paris Fashion Week"
HOME RUN
A full-white getup is pitch perfect, but you can strike out with a bright red varsity jacket. Score points with a baseball cap and future-proof shades.
#TEAMCLEO SAYS:
A white tee and kicks are style basics, so play up with different silhouettes.
CLOCKWISE FROM TOP: Pants, H&M; bracelet, £13 (approx. $23), Icon from ASOS; shirt, H&M; shoes, Adidas Originals; jacket, ¥15,000 (approx. $190), CDG; cap, $39, New Era x Fortnite from Footlocker; shirt, H&M; sunglasses, £7.50 (approx. $13.50), ASOS 
TEXT LIM LEE ANN PHOTOGRAPHY TPG IMAGES
"Kacey Musgraves looking like a country Barbie in bright tartans"
KILL IT LIKE KACEY
Bored with basics? Sixtime Grammy Awards winner and country singer Kacey Musgraves shows us how to nail a neon pink ensemble.
Nobody likes bad hair days, so slick it up into a high ponytail à la Ariana Grande as an alt to your messy bun and your look is instantly elevated.
The trick to wearing a bright coloured outfit is to keep make-up at the bare minimum. Opt for neutral shades for your best face forward.
Make a statement loud and clear by pairing an oversized trench with a matching top. Show off a little skin with a plunging neckline.
Sometimes it's not a bad thing to have a little fun. Rock torn-hemmed jeans underneath a coat but make it fun with frayed ends peeking through.
If 'taken for granted' is your middle name, add a little attitude with a pair of pointed-toe white heels that mean business.
"The vibrant colors of this sporty Lucent series evoke an image of the Olympics or a colourful parade"
BAO DOWN
Structured yet soft, the fluidity of the new collection by Bao Bao Issey Miyake encapsulates modern femininity at once.
They speak voulmes with crisp geometrical structures while encouraging movement and creativity with its soft material. This is what Bao Bao Issey Miyake bags are known for. The Spring Summer 2020 collection for Bao Bao Issey Miyake is nothing but modern simplicity, chic shapes and cutesy vibrant colours in a variety of sizes. The Lucent series is the beginning of Bao Bao Issey Miyake, and you can be your own artist with the way you use your Lucent bags. They'll appear as different silhouettes depending on what or how much you carry in them. Coming in new colours such as navy blue, lime yellow, pink beige, off white and red, the Lucent bags are completed with a matte finishing for coolness. In conjunction with Tokyo Olympics 2020, the range also introduces the Lucent Gloss series available in vibrant shades that represent the Olympic spirit.
Bao Bao Issey Miyake also experiments with shapes for the Lucent collection. Enter the Maru Maru series. Tote bags are designed with maru (circle in Japanese) appearing in different sizes and colours across the front of the bags. Imagine spotlights shining — that's what Maru Maru's design evokes. Simple yet bold, the maru motif will add a stylish accent to any of your outfits.
Bao Bao Issey Miyake also took this chance to introduce the new Kuro series in its Spring Summer 2020 collection. Translated as black in Japanese, kuro is a colour often used to represent professionalism, and especially people who are organised and proficient in their line of work. The Kuro collection explores the essence of fashion, art and design, but if you aren't a fan of darks, colourful marble prints and pastels from the series will take your fancy.
The Kuro series displays bold design based on marble patterns and created using kneading clay 
FROM LEFT: Gravity paint tote bag in pink mix; Gravity paint small tote bag in blue mix; Gravity paint shoulder bag
"Simple yet bold, the maru motif will add a stylish accent to any of your outfits." 
Prism Sac shoulder bag in deep blue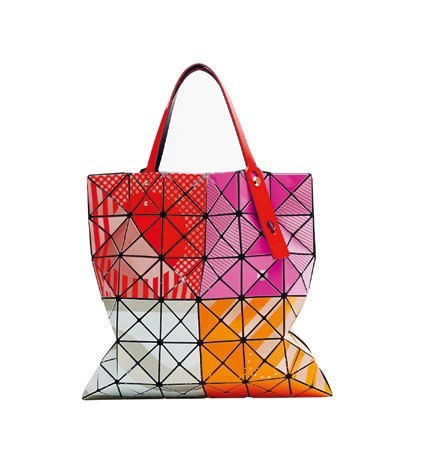 Parade tote bag in red mix 
Wring bicolour drawstring backpack in light green and light blue 
FROM LEFT: Sherpa backpack in matte black; Sherpa shoulder bag in light green 
TEXT VOON WEI PHOTOGRAPHY COURTESY OF BAO BAO ISSEY MIYAKE 
TEXT VOON WEI PHOTOGRAPHY COURTESY OF MARC JACOBS