Music and passion—here, Lolo reflects on living a life of contrasts, a sound that's rare in this world, and keeping it real in her work.
We live in a time of flux. There's the shiny sheen of curated lives made amazing on social media, and the harder-to-swallow drudgery of real life. Twenty-five-year-old singer and songwriter Lolo Zouai acknowledges this: seeing the highest of highs and living the fly life, tempered against the bittersweet lows. (Her sound meshes emotion with dance elements which make them "bittersweet bangers". Apt.) Lolo keeps it real. "I am not going to lie on my songs, and I think I am not capable of not being myself, it's hard for me to put on a fake thing," she shares.
Remember her name, because Lolo Zouai is the next big thing. Now based in Brooklyn, she is an amalgamation of different backgrounds—she was born in Paris and grew up in the Bay Area of San Francisco. Being French-Algerian, she's multilingual and brings this rich mix to her music, which catapulted her to fame after being discovered as a teen recording songs in her bedroom. Take a listen of tunes like "Caffeine" and you'll be instantly hooked. And thanks to the digital world we are in, some of Lolo's biggest fans are in Asia , with Taiwan, Malaysia and Philippines being the top three Asian countries for audio streams. We dive right into her music, how she keeps it real and who the real Lolo is.
Why did you choose "High Highs to Low Lows" as the album title?
Well, that song is the first song that Stelios (Phili) and I made. Before I came into the studio with Stelios, I found that it's better to come in with a concept. And so I had this idea that I wanted to do something with "Low Lows" and "High Highs" as the title, and I didn't know what it was yet. I had been going through, in the industry, emotionally draining moments where I was super-excited and then super-disappointed. There were moments when I was hanging out with celebrities and living this glamorous life for two days on a yacht or in crazy hotels, and then I would come back to Brooklyn and be in this tiny little room that I share with my friend who is working at a restaurant. So it wasn't only just emotional highs, it was more like everything that I was seeing with this crazy contrast in my life.
Can you talk about deciding to be more real in terms of your songwriting?
I found that the lyrics that I am always iffy about in my songs, tend to do the best. Like for "High Highs" I was like "You think it's all Gucci, but it's 99 cents." I was like is that lame? And everyone loved that line. I wrote that song because I wear these dollar hoops and I wear dollar T-shirts from a thrift store, and then I would hang out with these people that wear more expensive stuff and they are like "oh, is that the new...?" and I am like no, it's from Goodwill (laughs). I am not going to lie on my songs, and I think I am not capable of not being myself. It's just like noticing that that is what people are lacking and what we are missing in music sometimes.
"More than a singer — Lolo has been part of fashion campaigns for Coach and Tommy Jeans"
So who is Lolo?
Well, I am just a girl from the Bay Area, San Francisco, that's where I grew up and that is really what raised me. My mom is from France and my dad is from Algeria, so I am just cultured in that sense. I understand three different sides of culture and I understand having a dad who is Muslim. And then I also understand having a hardworking single mom, so I think with all of that combined, I am a really hardworking, fun, energetic, loving person.
Because your background is so diverse, does that outsider status kind of allow you to observe the world differently?
It's weird, I kind of see myself as someone who is observant. Anywhere, I feel like I am not there and I am just there to watch. And I think that my culture has made me more open, more understanding, especially coming from San Francisco, I am very open-minded.
Does that influence the sound and what you hear in music or even your vocal phrasings?
I have soaked up my mom's and my dad's accents and their way of speaking, but being around Arabic and French, it's just naturally how I sing. And listening to R&B, I just created my own sound and my own melodies, and I think it's definitely from my upbringing.
What is your working relationship with Stelios [Phili, record producer]? How did you meet him and how did he help you enhance what you were already doing?
Well before I met him, I was working with different producers but everything was coming out a little bit too generic. I was like "this doesn't feel special, people are always comparing me to someone else." So Doug, my manager introduced me to Stelios and we just had a few sessions and we really connected. And when I told him the concept for "High Highs" and I told him what sound I wanted, he completely got it and he was so into it. And he has Greek origin and Greek music kind of is similar to Arabic music, so we kind of have the same music language. We just kind of got addicted to working together and we kept getting better at making music.
What are your musical influences?
I can go from Dolly Parton to E-40 and then I can go from some Angus and Julia Stone to Too Short, I just like really different kinds of music for different moods. I love R&B, hiphop, indie, folk and classic.
Let's talk about "Moi" and choosing to sing bi-lingual.
It's about a time when I moved to Paris when I was 19. I was trying to make music and was really confused, but I knew that I had this fire in me. I have always known that this is what I was going to do but just seeing the steps was really difficult 'cause I had stage fright. I ended up dating somebody and I wasn't ready for a real relationship. I was just having fun and he was serious, and so I had to just leave and he was really mad at me. At the end, it's like, "I am a very career-oriented person so you are not going to stop me from my dreams."
"Lolo was in a F/W 2019 campaign for Coach, toting that season's IT-bag"
"Desert Rose", I love how there is the word Habibi ('my dear') throughout.
"Desert Rose" is a tribute to my Algerian family and 'cause it's very modest over there and I was getting some hate messages. I understand that it is different cultures and they just don't understand about trying to [become] a public artiste, it seems like vanity to them. But I was just like "If I make a song to dedicate to them, I have to put in some Arabic." I think that is my favorite song that I've ever written and it's deeper than you imagine.
The reaction to "Caffeine" was instant!
I have been holding onto that song for a few years. And I just knew I needed to save it for a bigger moment, because I didn't want it to go unnoticed. With Stelios, the production is phenomenal, the synths are so good and we had so much fun with it. We were addicted to this Japanese Green Tea and wanted to write a song called "Green Tea". And we were like "That's not cool. Oh, Caffeine." And it just came out so great.
"Ride" is a fun song too. It felt like an aggressive jam, but in your own style.
It's really hard. I wanted to make something so dark and hard. I wanted to make something that when you listen to it, you just want to punch a wall. I just wanted to make something empowering and sexy and there is really not that much to say about it. It's fun and sexy, but then it's also experimental.
You were able to record this album under the radar, on your own terms before signing to a record label. How did that happen?
Before Stelios, I was in that old system. Like I had performed for LA Reid, in a room and I was just so uncomfortable. I think it was my body telling me this is wrong. So after all that happened, I was like "I need to focus on myself, and put out music independently and it will happen." And I knew that eventually I would want to sign with a major but it would be on my own terms.
How are you about writing for other people?
It's exciting and I think that I would prefer being in a room with somebody just to get their vibe and talk to them. But at the same time I don't want to give up all my juice (laughs), like I am not going to give my hundred percent juice to people.
I heard that you call your fans "Loriders", who came up with that?
I had it five years ago. I have had it forever, and so now that it is really catching on, I am like yes! (laughs) It always feels weird to say, but I think it's a really solid name.
What is the furthest place you heard a fan from?
I have a lot of Malaysian fans. It's weird, everyone is like "Come to Malaysia", and I am like, "Is there a little community of Lolo fans?" I can't wait to come to Asia, I feel there is a really good style over there, I can't wait. I'll see you soon!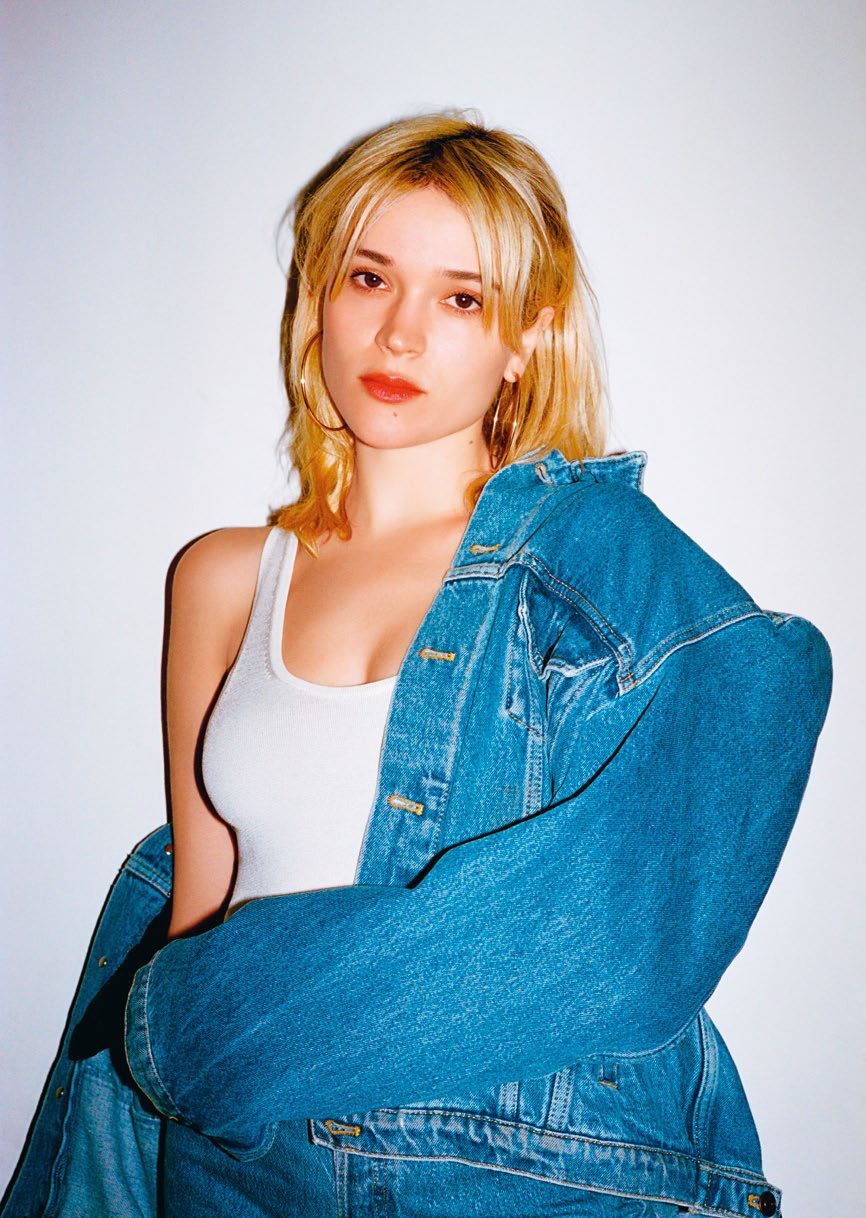 "I had been going through ... draining moments where I was super-excited and then super-disappointed."
TEXT LINA ESA INTERVIEW COURTESY OF SONY MUSIC MALAYSIA PHOTOGRAPHY ÉCOUTE CHÉRIE; COURTESY OF COACH