Get your health and beauty fix with Crème Simon's skincare, wellness teas and natural supplements.
Get your health and beauty fix with Crème Simon's skincare, wellness teas and natural supplements
The old adage is true: You are what you eat. How healthy you are on the inside directly correlates with how good you look on the outside. 
Understanding that caring for your skin goes beyond the surface, Crème Simon has combined the efficacy of its natural skincare and nutritional programme to bring out the best in your skin. 
Flower Science
Founded by a visionary pharmacist Joseph Simon, Crème Simon has been taking care of women's beauty and wellness since 1860. Creator of the world's first natural stable cream, he was also the first to discover the natural yet potent hydrating properties of botanical glycerine. 
Crème Simon's paraben- and silicone-free skin- care features the signature Activ Fleur Complex. It contains 11 carefully selected botanical plants and flowers that help to detoxify and oxygenate skin cells for healthy renewal. This leaves your complexion bright and supple! 
With over 30 beauty awards won in Singapore alone, Crème Simon's latest range encompasses the natural supplements and wellness teas. Crème Simon's new launches further emphasise their holistic approach to beauty with health supplements and wellness teas. 
Tea Time 
To promote health from within, enjoy Crème Simon's natural wellness teas, formulated to complement your external beauty regime. Available in four flavours – Purify, Beauty, Skin and Relax – they are free from caffeine, sugar, artificial colouring and flavouring and preservatives. 
To aid digestion and relieve water retention, try their 100 per cent organic "Purify" tea with lemongrass, liquorice root, ginger and other natural ingredients that help boost metabolism and cleanse toxins accumulated from our daily lifestyle. At night, the "Relax" tea is calming and helps you sleep better, while the "Beauty" and "Skin" teas are packed with powerful antioxidants to boost your skin's radiance.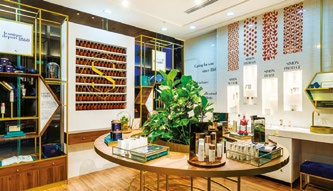 Boost Your Vitality 
While a balanced diet is important for your skin's health, Crème Simon recognises that we may still not be getting our full daily nutrients intake. Complete your healthy diet with Crème Simon's vegan-friendly Health Supplements that are free of additives, gluten and allergens. 
"Feel" is a daily multivitamin with ginseng and rhodiola to combat stress and fatigue. The "Look" supplement encourages healthy skin and hair with antioxidants, while the "Rest" supplement promotes restful slumber and prevents jet lags.