Food personality Angela May juggles many plates in the air.
Food personality Angela May juggles many plates in the air.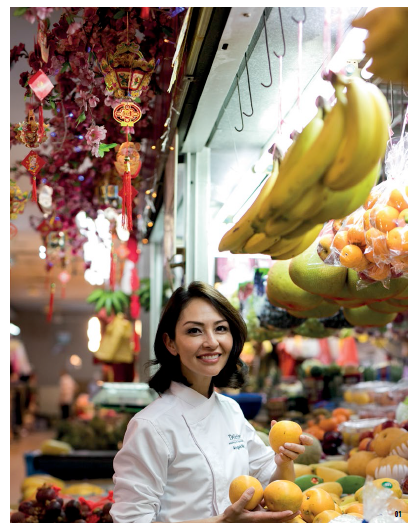 As the preternaturally poised Angela May sits down to our breakfast meeting, she says: "My hands are shaking a little." Not from nerves or caffeine, but because she has come from an early-morning judging stint at a local school's junior pastry-chef competition. The taste-testing has left her slightly high on cake, fondant and buttercream.
It's an average multitasking day for the presenter-host-chef and, now, restaurateur, who opened her first eatery this year in conjunction with the DHM restaurant group: Angela May Food Chapters. May, whose face and voice is familiar to any devotee of high-gloss food and travel cable-TV programmes, enjoys a breadth of F&B work seldom experienced by anyone not surnamed Oliver. "My career path is totally strange and roundabout, far more exciting than I'd ever imagined it could be," she reflects.
Born to an American father and Thai mother – both are good home cooks – she spent her early years in Colorado, moving to Thailand with her family when she was 13. She cites both kao ka moo (Thai braised pork leg) and mac 'n' cheese as major childhood comfort foods. Her first job had nothing to do with cuisine, however. "I did commercial modelling. It was a lot of travelling, a lot of 'I want to find myself' and 'I want to do something creative, something arty'," she relates. When she finally realised that her ideal medium was not fashion, but food, she promptly signed up for a year-long cuisine course at Le Cordon Bleu in Sydney, Australia. "I was hungry. I wanted to know more, to be part of the industry. On top of it, I wanted to live in Sydney, where the produce is amazing and incredibly fresh."
With hindsight, she smiles at her own naivete about the abrupt change of course. "I went in very blind. If anyone asked me today, should I do that? I would say no. Go get an internship, go and work in a kitchen first, talk to as many people as possible, and then decide." Qualification in hand, and wanting to work in a restaurant, she narrowed her relocation choices down to Singapore or Hong Kong. She picked the former, moved here, "and then realised it was complicated", she says wryly.
May ended up signing with Fly Entertainment to work as a host, cutting her teeth on entertainment events before eventually focusing exclusively on food projects. Two of these have now become her mainstays: live-hosting the biennial Bocuse d'Or chef championships and the Coupe du Monde de la Patisserie (World Pastry Cup) in Lyon, France, as well as subsidiary events like the Asian legs of both competitions.
She gets especially animated while describing the Bocuse d'Or. As close as gastronomy gets to a contact sport, and highly prestigious in professional culinary circles, the competition requires chef teams to cook and present two highly complex dishes in five hours and 35 minutes, their tightly choreographed kitchen work under the scrutiny of august judges and prodigiously noisy spectators. "It's chaos!" she says, and very demanding, but she loves the adrenaline rush. "Every day before we go onstage, I feel like I'm about to throw up. It's that panicky 'oh my god' moment, and everyone's screaming and yelling and it's GO TIME… but if I lost that feeling, I would be dead inside. You've got to have that 'yeeeaahh' feeling."
May and her French cohost trail the roving judging panel with camera and sound crew, covering the stove-level perspective with bilingual commentary, banter and interviews. "It's like watching a football match, but with a sea of white jackets and big-name chefs. My jaw drops every time – you're in the presence of such greatness, but everyone's there having fun." She reels off names – Paul Bocuse, Regis Marcon, Joel Robuchon ("He kept kissing me!"), Thomas Keller, Grant Achatz, Yannick Alleno – with the giddiness of the Michelin-starstruck.
It sounds like a recipe for diva behaviour, but May is adamant that it couldn't be further from reality-TV dramatics. "It's never, ever a selfish place. It's always very nurturing, generous and giving, across the board. True and genuine hospitality. Many of the chefs are involved with the teams that they train, mentoring and bringing up the next generation so they have the skills to open restaurants of their own." She says with a laugh: "I get very saccharine about these things, but it's really true. It's like a family."
"HE KEPT KISSING ME!"
ANGELA MAY, ON JOEL ROBUCHON AT THE BOCUSE D'OR
A PAGE IS TURNED
May's latest trajectory has landed her in the kitchen of her own brand-name restaurant. After the initial handshake with DHM early last year, it took a year of strategising, recipe testing and remodelling of a prime corner in Robinson's department store to birth Angela May Food Chapters.
It is tempting to look for traces of her bicultural heritage on the menu – the aesthetic precision of the plating; the way sweetness counterpoints salty and spicy, perhaps hinting at Thai mores; a charcoalfuelled Josper grill; and plushly appointed desserts speak with more Western accents. But such hairs aren't really worth splitting. Dishes such as a laksasauce grilled lobster roll inspire allegiance to no particular nation, only to greed.
She describes her cuisine with words like "feminine", "delicate", "comforting" and "thoughtful". Vegetables, grains and fruit get as many lead roles as meat. For example, juicily rare grass-fed beef tenderloin almost plays second fiddle to a salad of intense-tasting spearmint and lacinato kale.
"I don't turn to 'just add more butter' to make something taste better," May says, professing an abiding interest in nutrition. Her red curry sauce illustrates this: It derives its subtle richness not from coconut cream but from raw cashew milk. Which is not to say that decadence is absent – her dark, chewy Valrhona chocolate cookies are perfectly pitched to incite wild cravings.
What is the most affirming part of her latest role? "When the whole thing runs smooth like an orchestra or a ballet… people come in, chat, laugh, have a good time, and walk out with a smile on their face. That's what makes me content. Food is about making people happy."
May's time now oscillates between back-of-house and in front of the cameras. Days after the restaurant's grand opening, she had to decamp to Spain to film a series on Spanish gastronomy. Does she find the constant juggle of regimented control and anything-canhappen freestyling dislocating?
"It was fantastic to be able to do both," she says, referring to the laser focus of readying every last detail of Food Chapters for launch, and the open receptivity to spontaneous Spanish encounters, which included skydiving over Catalonia and ripping into just-caught raw prawns. "So, so sweet, they were like sea candy. I'm always going to be upset now that I don't live there to eat prawns off the floor of a fishing boat," she recounts with wonderment.
"I think I'm in the best position ever. Everything feeds into what I do here. I can watch something or somebody whose work I'm in awe of, like the Roca brothers at El Celler Can Roca, and let it all wash over me so that I gain more inspiration." Has her access to such privileged worlds led her to any new self-discovery? She pauses, thinking. "No, not really," she demurs. "I still want to make beautiful things… there's just so much else to do, always something else that's exciting. I just need to find more hours in a day."
01 A PLACE TO CALL HER OWN
May didn't think her hectic travelling schedule would allow her to open her own restaurant, but DHM convinced her otherwise.
02 & 03 ANGELA MAY FOOD CHAPTERS
Typical of May's cuisine: laksasauce grilled lobster roll.