These date-friendly places deliver extra oomph in the form of music, cool fusion menus, or a thoughtful ambience.
These date-friendly places deliver extra oomph in the form of music, cool fusion menus, or a thoughtful ambience.
HOOD BAR & CAFE
#05-07 BUGIS+
So you don't have the vocal chops to serenade your date? Compromise: Take her someplace with professional crooners. Enjoy live local musical acts while chowing on Hood's eclectic East-meets-West menu. Featured here: Seafood Pizza with squid, prawns and blue mussels ( $18), and Shirley Temple mocktail ($9).
PLATYPUS KITCHEN
#01-90/91 BUGIS JUNCTION
Enjoy Italian-American fare in a casual, breezy space. Go healthy with the Salmon & Ikura bowl ($25.90) before indulging in one of thecraft cocktails, Lychee Sojutini ($6 for the firstdrink).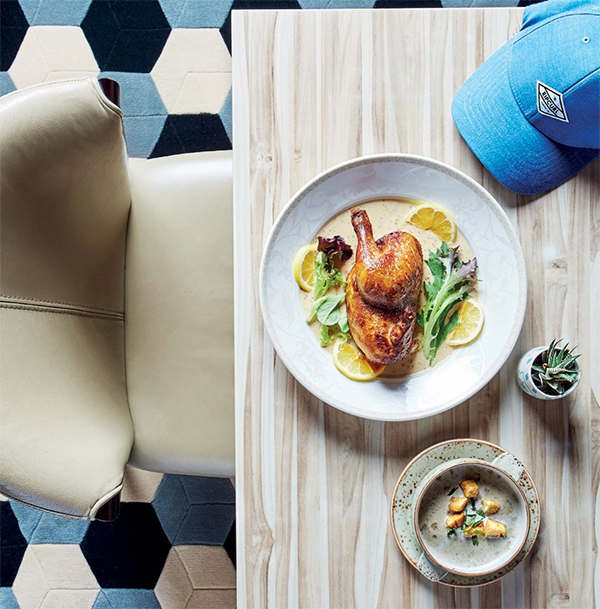 POULET
#04-12 BUGIS+
This chain eatery dishes up unforgettable Western fare, including this Half Roast Chicken with Lemon Sauce ($16.90), and creamy Countryside Mushroom Soup ($5.90).
DOLCE TOKYO
#03-10H BUGIS JUNCTION
Enjoy a medley of seafood flavours in the Squid Ink Seafood Pasta ($17++) and Cold Tofu with Ikura ($8++). Finish off with a refreshing Yuzu Juice ($5.80++).
MENYAMUSASHI TAKATORA
#B1-07 BUGIS JUNCTION
The Black Big Tiger Mori Ramen ($17.90) is packed with bold flavours, thanks to ingredients like stewed pork belly and pork slices, in a flavourful "black" broth. Complete the meal with a side green salad and a cup of Japanese Houji tea.
KOTSUJIRU NABE BY OSAKA OHSHO
#B1-K21/K22 BUGIS JUNCTION
It's gyoza galore here. Traditionalists can go for the Kuro Fried Rice set ($14.90), which comes with a side of gyoza and egg soup. For something more unusual, the Miso Pulumochi Soup Gyoza Set ($13.90) offers dumplings with chewy, mochi-like skin.
TCC
#01-92/96-97 BUGIS JUNCTION
Fall in love with the Wagyu Beef Burger ($23.80), which not only has beef between toasted charcoal buns but is also stuffed with tiger prawns, garlic shrimp floss and citrus truffle dressing. Strawberry-banana Blend ($9.50) and Dark Devotion ($13), its signature dark cocoa lava cake topped with vanilla ice cream, are other items to love.
LENAS
#04-03/04 BUGIS+
Enjoy homely Italian nosh in a space with a convivial atmosphere. Split a Parma Ham Pizza ($17.50) generously topped with slivers of meat and rucola leaves, or share a White Wine Deluxe Seafood spaghetti ($17.50). Round it off with a Mocha Frappe ($6.80).