New eco-friendly eateries that prove sustainable dining is truly taking root in Singapore.
Black Cod Saikyo-Yaki, featuring Mexican tarragon freshly-plucked from the garden next door 
GARDEN IN THE CITY 
Tucked away on the seventh floor of Funan Mall, past a verdant garden bursting with produce, lies Noka, Singapore's first-ever farm-to-table Japanese restaurant. The garden sends the bulk of its fruits, fl owers, herbs and vegetables to Noka, which fi nd their way to the menu as part of an omakase that includes a revolving lineup of sushi, sashimi and charcoal-grilled meats. There's also a three-course lunch set with options like organic mushroom salad and sashimi over a bed of premium Koshihikari rice; as well as a range of a la carte dishes. Signature mains include the Black Cod Saikyo-Yaki, where the perfectly-seared fish is coated with sweet miso and garnished with sweet potato crisps, sea grapes, salmon roe and tarragon. Another standout is the Snow-aged Niigata Wagyu—densely-marbled A4 sirloin served with farm-fresh greens and yuzu ponzo. The interior also deserves a special mention—a serene, sunbathed space filled with blonde wood furniture and charming touches like a ceiling covered with white paper umbrellas. 
ROOFTOP ESCAPE
Some of the dishes include herbs plucked from the rooftop garden 
Smoked Tofu with fennel 
The plant-forward movement isn't about getting meat off the menu, but putting plants in the spotlight while less sustainable ingredients take on supporting roles. The Garden Club at OUE Downtown is the latest local player in this space, offering an array of tasty plant-centric dishes—like Roasted Cauliflower with garlic miso sauce and Grilled Eggplant Pesto—in a balmy rooftop setting overlooking the CBD. The rattan chairs, pastel tabletops and lush greenery lend a relaxed, breezy vibe to the space, which transforms into a lively bar come nightfall complete with live music and a cocktail menu of classics and signature concoctions. Our pick is The Kensington Cooler, a refreshing blend of Hendrick's gin, Earl Grey, honey, dry lavender buds and lemon juice served in a teacup. 
PERFECTLY IMPERFECT
Kausmo seats up to just 16 at a time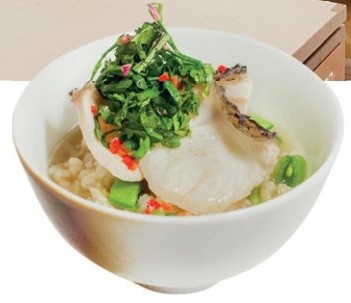 Wild Fish Congee 
Kausmo is a fine dining restaurant at Shaw Centre that champions unloved ingredients—from less popular cuts of meat to perfectly edible vegetables that are too misshapen to be sold in supermarkets. The dinner-only establishment offers a six-course menu of Asian-inflected Modern European dishes for $75++. Highlights include the zesty Wild Fish Congee, Java Ginseng & Coriander tossed with Preserved Plum Dressing; and the Chipotle-Berry Glazed Wagyu Chuck Tender, where a D-rump (the tough part of beef) is marinated for two days till it's impossibly tender and packed with flavor. As diners tuck into their meals, co-founder Kuah Chew Shian regales them with the thought process behind each dish while Kausmo's chef, Lisa Tang, works the open kitchen in full view. That the entire operation is run by just the two of them (no servers, no kitchen staff) makes it all the more impressive. 
BY SYAFII GHAZALI