It's not just about performance any more, smartphones are reaching peak luxury lifestyle.
It's not just about performance any more, smartphones are reaching peak luxury lifestyle. 
A few years ago, we all thought flagship smartphones were about as premium they could get. They had beautiful displays, powerful processors, and great cameras. There couldn't be anything else we'd want from a phone. Apparently, we were wrong. Apple, Samsung, and now Huawei, have proven there's a tier beyond flagship. Now, there's regular flagship for mere mortals - the Galaxy S9, the iPhone XR, the Mate 20 - and another, more premium tier – the Note9, iPhone XS Max, and Mate 20 Pro - for power-users, enthusiasts and, to put it quite simply, those with more money. 
Welcome to the age of the ultra-premium flagship phone. 
PICTURES 123RF
HOW DID WE GET TO THE POINT WHERE A PHONE COSTS NEARLY $2,500?
Apple may just be the king of the ultra-premium flagships with this year's iPhone XS Max 512GB model costing a whopping $2,349. In 2016, Apple's most expensive phone, the iPhone 7 Plus 256GB, only cost $1,588. That's a 48% increase in price in just two years. But just how did we get here? 
Samsung was actually the first brand to explore the potential of an ultra-premium phone with its Galaxy Note line. Launched in 2011, the Note stood out thanks to its large screen and bundled S Pen stylus, promising to be a powerhouse of productivity. It was marketed as a mobile office on the go, and the first Note phone sold for $998, making it one of the most expensive smartphones available at the time. Fast-forward to 2018, the Note9 512GB model has an SRP of $1,728, which is a 73% price jump. 
Apple began its own ultra-premium journey around 2014 when it split the iPhone line into regular and Plus models. The first iPhone 6 Plus cost about $200 more than the regular iPhone 6 and featured a camera with optical image stabilization (not available on the regular iPhone 6), a larger screen and a bigger battery. The divide between the regular and Plus models grew in 2016, when Apple became one of the first manufacturers to add a second camera to the back of the iPhone 7 Plus. And a year after that, Apple introduced an even more premium model above the Plus, the iPhone X, which boasted the incredibly advanced TrueDepth camera system and had a launch price of $1,888 for the 256GB model.
Over the past few years, there's been a dramatic increase in price for the very best phones. It's simple to point to better and better specs causing an increase in prices, but the technology industry is famously governed by something called Moore's Law: the ability for computing speeds to double every two years or so. That's not just processing power either, it means faster RAM, faster storage, faster network speeds, and every component getting smaller and smaller. 
In fact, thanks to Moore's Law, almost every type of tech product has become cheaper over the past decade. According to the US Bureau of Labor Statistics, the consumer price index for PC hardware and accessories has fallen 94 per cent in the past decade. This downward trend also applies to TVs and other consumer electronics. The only market where this isn't true? Flagship smartphones, which instead have shown a strong upward trend.
It's true that the lower end of the smartphone market follows Moore's Law, with manufacturers like Xiaomi and OnePlus continuing to pack more and more features and high-end specs into affordable devices, but why are we not seeing the same pattern at the top? 
Part of it comes down to the increasing costs of making top-end devices. The iPhone XS Max reportedly costs Apple about $605 in manufacturing costs and materials, up from the reported $405 it cost to make last year's iPhone 8 Plus. Much of the increased cost comes from specialized components. The iPhone XS Max's extra-large 6.5-inch OLED display costs Apple $110 per panel. But while top-end phones are becoming more expensive to manufacturer, that's not where the real costs lie. 
Last year, Apple spent US$11.58 billion on research and development, its most ever. And Apple wasn't alone. Samsung spent US$15 billion on R&D last year, while Huawei reportedly spent US$14 billion. Research and development is by far the biggest cost for today's ultra- premium phones. 
And it's easy to see why too. With almost every phone today capable of providing good specs and performance, the best phones need to be able to offer more to entice consumers. They need to provide evidence of innovation to prove their worth over an affordable mid-range phone. A Xiaomi or OnePlus phone may do everything a consumer needs, but it won't stand out from the crowd of other mid-range devices. 
Some consumers want to be able to do more with their phones, they want to be on the cutting edge of technology, they want the exclusivity of features that no-one else has, and they want the prestige that comes with owning the best smartphone money can buy. Companies like Apple, Samsung, and Huawei can fulfill that need, but being on the cutting edge isn't cheap.
With almost every phone today capable of providing good specs and performance, the best phones need consumers. 
ANATOMY OF AN ULTRA-PREMIUM FLAGSHIP 
What are you really getting when you buy an ultra-premium smartphone?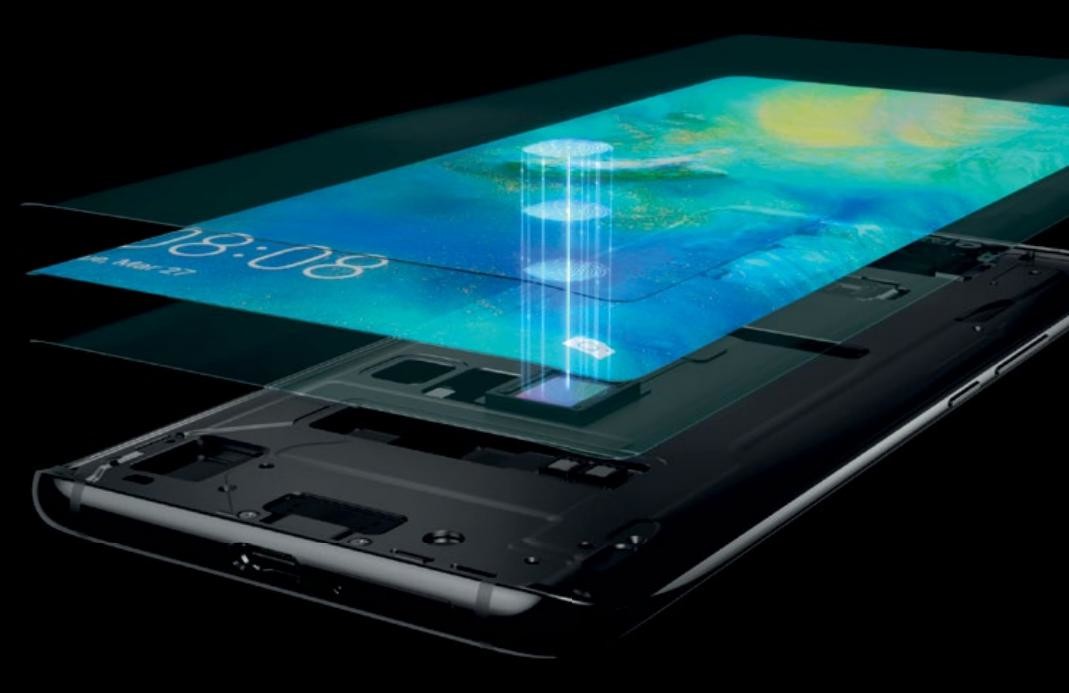 The Huawei Mate 20 Pro is the ony ultra-premium flagship with an in-screen fingerprint sensor today. 
ADVANCED DISPLAY
If you own an ultra-premium phone, chances are, it's the best screen you own. That screen is better than your computer monitor, and it's probably better than your TV at home (unless your TV cost around $10k). But what makes an ultra-premium display so good? 
The absolute best displays today all use OLED technology. OLED, or Organic Light Emitting Diodes, are able to produce a brighter light while using less energy than LCD/LED technologies. An OLED display produces black pixels simply by turning the necessary pixel off entirely, both saving energy, and resulting in a deeper black than an LCD display. On top of that, OLED displays also offer wider viewing angles, and are thinner and lighter than LCD displays. AMOLED displays, which stands for Active Matrix OLED, are a further step forward and can produce faster refresh rates and better color contrast. 
Display clarity is a measure of how sharp your display is. Essentially, it quantifies the number of pixels found on a square inch of the display. Almost all ultra-premium phones will have a pixels-per-inch (ppi) count above 450. 
The phone with the highest pixels-per- inch count on an AMOLED display today is Huawei's Mate 20 Pro, which has a 6.39-inch screen and a 3,120 x 1,440 pixels resolution. That's a whopping 538ppi! 
Almost all ultra-premium phone displays will also be HDR compatible, which means they will be able to play HDR content, and can produce a brighter, wider range of colors and contrast, so a scene can display bright highlights, while still maintaining fidelity in the darker areas of the screen. Look out for HDR 10 and Dolby Vision certifications. 
3D Face Scanning requires a suite of advanced sensors that only a few phones today have. 
BIOMETRIC SECURITY
With the push for all-display phones, fingerprint scanners have either disappeared entirely or have had to relocate to less convenient locations on the back of the phone. However, a new technology is bringing them back to the front and center: in-display fingerprint scanning. 
An in-display fingerprint sensor is embedded under the phone's screen and uses an optical fingerprint sensor to capture fingerprint data. It works by capturing the reflected light of the fingerprint through the screen's pixels. When you touch the phone's screen, the display lights up to illuminate the fingerprint. The sensor then captures a high-res scan of your fingerprint through the light reflected from the gaps between the pixels. To ensure that the fingerprint data is being read accurately by the sensor, you need to press the screen slightly so that the sensor is able to differentiate between the ridges and valleys of each fingerprint. While not the first to bring this technology to market, the only ultra-premium phone with an in-display fingerprint scanner today is the Huawei Mate 20 Pro. Samsung is rumored to add it to its 2019 phones. 
While fingerprint scanners are convenient, reliable and secure, there's an even better, more advanced alternative out there: 3D Face Scanning, but you'll only find it on four phones: Apple's iPhone X, XS, and XS Max, and Huawei's Mate 20 Pro. 3D Face Scanning was first introduced with Apple's TrueDepth FaceID system on the iPhone X. A year later, Huawei released its own near identical version on the Mate 20 Pro. 
Both 3D face scanning systems use the front-facing camera (7-megapixels on iPhones, and 24-megapixels on the Mate 20 Pro). The front-facing camera is assisted by an infrared dot emitter that projects 30,000 dots in a known pattern onto the user's face. Those dots are then photographed by a dedicated infrared camera for analysis. The infrared emitter also lets the face scanning technology work in complete darkness, and also does an excellent job of picking up sub-surface features from skin, which makes sure masks can't fool the system. According to both Apple and Huawei, their 3D Face Scanning systems both have a 1 in 1,000,000 false acceptance rate, far better than the 1 in 50,000 of most fingerprint scanners.
Ultra-premium flagship devices usually boast extreme specs to wow its users, such as the Mate 20 Pro's 40MP Leica triple camera. 
DURABILITY 
Almost all ultra-premium flagship phones offer excellent protection against both dust and water. The Note9, iPhone XS Max, and Huawei Mate 20 Pro all have an IP68 rating, which means they can survive complete submersion in water up to 1.5m in depth for up to 30 minutes. 
CAMERA 
Many smartphones now boast dual rear camera setups, but how useful are they really? On a lot of supposed dual rear camera phones, the secondary lens isn't actually usable by itself, but instead is merely a depth sensor that captures information to help create the bokeh effect for portrait photography. A true ultra-premium camera setup uses all their lenses. In the case of Huawei's Mate 20 Pro, it has three lenses of different focal lengths. They will usually push the boundaries of sensor performance and feature advanced processing make use of all its lenses to compose a picture in any given scenario. 
For example, the Mate 20 Pro's Leica- engineered triple rear camera consists of a wide 40-megapixel f/1.8 with a 27mm focal length, an ultra- wide 20-megapixel f/2.2 with a 16mm focal length that also doubles up as a macro lens thanks to a 25mm minimum focus distance, and an 8-megapixel f/2.4 telephoto with an 80mm focal length that enables up to 3x optical zoom. Furthermore, the Mate 20 Pro's camera offers a unique hybrid zoom system that combines optical zoom, digital zoom, and some AI-powered algorithms for up to 5x zoom. 
The Mate 20 Pro camera also boasts a number of other features, including AI image recognition, capable of recognizing and enhancing up to 1,500 different scenes, and pixel-binning on the main 40-megapixel sensor, a technique that enhances low-light performance by combining four pixels into one.
If future phones can also double up as wireless charging pads, that's one less charger to carry around. 
PROCESSOR 
While Qualcomm's processors are found in the majority of smartphones today, ultra-premium phone brands like Apple, Samsung, and Huawei build their own chips. In terms of pure power, the most powerful processor today is Apple's A12 Bionic, but Huawei's HiSilicon Kirin 980 is probably the most advanced. 
The Kirin 980 is built on a 7nm manufacturing process, which allows it to pack in 6.9 billion transistors within a 1cm2 die size, 1.6x more than 10nm processors like the Qualcomm Snapdragon 845. This gives it 40% more power efficiency than most 10nm chipsets. The only other mobile processor built on a 7nm process is Apple's A12 Bionic. 
The Kirin 980 is also the world's first processor to use Cortex-A76 cores, which are 75% more powerful and 58% more efficient than the previous generation. The octa-core CPU configuration consists of two high-performance Cortex-A76 cores, two high-efficiency Cortex-A76 cores and four extreme efficiency Cortex-A55 cores. To take advantage of this configuration, Huawei developed an innovative Kirin CPU subsystem with Flex-Scheduling technology that flexibly allocates the right cores to the right tasks. The 980 also sports a dedicated dual-core Neural Processing Unit (NPU), which can recognize up to 4,500 images per minute. 
The 980 also boasts the world's first 4G LTE CAT 21 modem capable of peak download speeds of 1.4Gbps as well as carrier aggregation across frequency bands so that consumers can choose their telcos and enjoy the same connectivity experience everywhere they go. 
BATTERY
Unfortunately battery technology has mostly remained the same for the past decade. Lithium-ion batteries are about as efficient as they will ever be, and there are inherent limitations on how much power they can hold. But if batteries can't last forever, the next best thing seems to be getting them to recharge as quickly as possible. 
Fast charging standards are evolving rapidly, but right now, the fastest technology is Huawei's SuperCharge. SuperCharge uses higher-than- average voltages to achieve faster charging, similar to other standards like Qualcomm's Quick Charge. However, SuperCharge also includes the built-in benefit of automatically adapting the incoming wall voltage and current based on the condition of the phone's battery and the phone's internal temperature. The latest version of SuperCharge, available on the Mate 20 Pro, is capable of charging 10V at 4A for a total of 40W power transfer, far higher than any other fast charging standard available right now. With SuperCharge, the Mate 20 Pro's massive 4,200mAh battery can be charged from 0 to 75 percent in just 30 minutes, and to 100 percent in just 46 minutes. 
The Huawei Mate 20 Pro also offers a unique combination of wireless fast charging, being compatible with the Qi wireless charging standard at up to 15W, and also being able to reverse wireless charge other Qi devices. This last feature is another showcase of how ultra-premium flagship devices look to innovate a common technology. While niche in its current form, having a phone that is also a wireless charging pad holds great potential to be developed further.
LUXURY LIFESTYLE TECH 
What do you buy when ultra-premium just isn't premium enough? Phone brands have been collaborating with luxury and designer brands for years to create even more exclusive, limited edition variants of their phones.
LG PRADA 
The LG Prada was a touchscreen mobile phone designed by Italian fashion house Prada and manufactured by LG in 2007. It actually holds the distinction of being the very first mobile phone with a capacitive touchscreen. It sold for US$777, US$278 more than the first-generation iPhone, which was released in the same year.
PORSCHE DESIGN HUAWEI MATE 20 RS 
Huawei has a long- standing collaboration with Porsche Design, and the Mate 20 RS is their latest luxury model. 'RS' stands for Racing Sport, in reference to Porsche's RS-branded cars. The phone features two strips of handmade leather compared to the regular glass-backed Mate 20 Pro, more RAM and storage, costing €1,695. 
TONINO LAMBORGHINI ALPHA-ONE
Another design house born from an automotive maker, Tonino Lamborghini actually makes its own luxury smartphones. The Alpha One here is a US$2,500 smartphone featuring space-grade liquid metal alloy more commonly used in surgery tools and supercars, plus handmade Italian leather back cover.
NOKIA ASCENT FERRARI 60 
In 2007, Nokia teamed up with luxury phone maker Vertu and Italian luxury sports car manufacturer Ferrari to celebrate Ferrari's 60th anniversary. Only 60 of these phones were made, with a design inspired by the detailing on a number of Ferrari cars. Each phone sold for a whopping US$25,400. 
PICTURES 123RF, APPLE, HUAWEI
Art Direction and digital imaging by Ashruddin Sani