LIGHTS ALL AROUND
1. LIGHTS ALL AROUND 
The ASUS ROG Aura Terminal features four independently controllable and addressable RGB headers, so you can use it to control RGB strips inside your PC and on your monitor. In addition, the RGB Halo feature enables ambient RGB synchronization that responds to the content on your screen when LED strips are mounted behind a monitor. Each channel supports 90 individual LEDs, for a total of 210. 
ASUS ROG AURA TERMINAL 
2. THE SPECIAL FORCES OF SD CARDS 
Sony's new SF-G Tough series SD cards might even survive the destruction of the camera it's in. The cards are fast, with read/write speeds of up to 300MB/s and 299MB/s. They're tough; bend proof to 180N and drop proof to 5 meters, plus dust- and waterproof with an IP68 rating. They're built with a monolithic structure — one-piece molding with no empty space. 
SONY SF-G TOUGH 
3. COOLING WITH COLORS 
The Cooler Master MasterFan addressable RGB case fans come in either 120mm or 140mm sizes. The fans work out-of-the-box with supported addressable RBG motherboards, but if you use Cooler Master's MasterPlus+ software, you'll be able to customize lighting sequences for a more immersive viewing experience. 
COOLER MASTER MASTERFAN MF120R/MF140R
PICTURES ASUS, COOLER MASTER, SONY 
4. LIVING LA VIVA WIRELESSLY 
Mophie's new Charge Stream Powerstations can both be charged wirelessly and charge devices wirelessly. Made for Qi-enabled devices, these power banks come in two sizes. The Wireless has a 6,040mAh capacity and the Wireless XL has a 10,000mAh capacity. Each also comes with a USB-A port that can output 10W to charge a laptop, while your Qi-enabled device charges wirelessly. 
MOPHIE CHARGE STREAM POWERSTATION WIRELESS XL 
5. FREE SPROCKETS INSIDE 
This compact 35mm film camera comes with sprockets! But what are sprockets? Sprocket holes are the small rectangular holes on the edges of 35mm film. The Sprocket Rocket can capture an image on the full length of film, extending past the sprocket holes. Coupled with the camera's wide-angle lens, this lets you capture super-wide photos with a dash of retro. 
LOMOGRAPHY SPROCKET ROCKET 
6. YOYO UPSIZED 
The Cambridge Audio Yoyo (L) is a wireless speaker clad in 100% wool from renowned English fabric weaver, Marton Mills. This three-channel speaker, with full range drivers and subwoofers mounted on its sides and front, supports Chromecast Audio and Spotify Connect. It features Bluetooth, Wi-Fi, and NFC connectivity. It also supports HDMI Arc and S/PDIP inputs to transform to an external speaker system.
CAMBRIDGE AUDIO YOYO (L)
7. HUBBA, HUBBA 
The Verbatim Dual Type C Hub with HDMI & RJ45 is designed for the new Apple Macbook Pro as it connects to the device's pair of Thunderbolt 3 ports. In return, the hub rewards the sacrifice with five ports, i.e., a HDMI port, RJ-45 LAN port, a pair of USB 3.0 ports , and an USB Type-C USB 3.1/ PD charging port. The hub comes in two colors, grey and silver. 
VERBATIM DUAL TYPE C HUB WITH HDMI & RJ45 
PICTURES CAMBRIDGE AUDIO, LOMOGRAPHY, MORPHIE, VERBATIM 
8. FORGET ME NOT 
The Walli Smart Wallet has a Bluetooth tracker sewed inside, which enables you to track it via your smartphone. If your Walli Smart Wallet gets left behind, the app will trigger an alert to the absent-minded owner. The wallet also works as a phone tracker, as double-tapping its corner will send an alert to your misplaced smartphone.
WALLI SMART WALLET
9. SMART SOUND IN A SOUNDBAR 
The Bose Soundbar 700 packs a lot in a clean chassis. Bose PhaseGuides send multiple channels of sound throughout your room, while Bose DSP, custom low-profile transducers, and QuietPort tech promise detail and depth for all of your content. Bose's proprietary Adaptiq feature acoustically adjusts the Soundbar to its surroundings, and an eight-microphone array listens in for when you want to use Amazon Alexa. 
BOSE SOUNDBAR 700 
10. MAINSTREAM SSD THAT'S IDEAL FOR SYSTEM UPGRADES
The Verbatim Vi500 2.5-inch SATA 6Gbps internal SSD is an ideal upgrade option for the desktop PC or laptop. It sports 3D NAND flash storage chips and a Marvell 88W1160 controller. This drive is targeted at mainstream users who are looking for a reliable and budget-friendly SSD, backed by a limited 3-year warranty.
VERBATIM VI500 SSD
11. AIR QUALITY MONITOR GETS AN UPGRADE 
The Awair 2nd Edition is an indoor air pollution tracker that monitors five key factors that impact well-being, i.e., dust, chemicals (volatile organic compounds), carbon dioxide, temperature, and humidity. Awair is compatible with Alexa, Google Assistant, Nest, and IFTTT. This air quality tracker will alert users to indoor pollution levels, provide tips on how to alleviate the situation, and how to improve the home's air quality. 
AWAIR 2ND EDITION 
PICTURES AWAIR, BOSE, WALLI, VERBATIM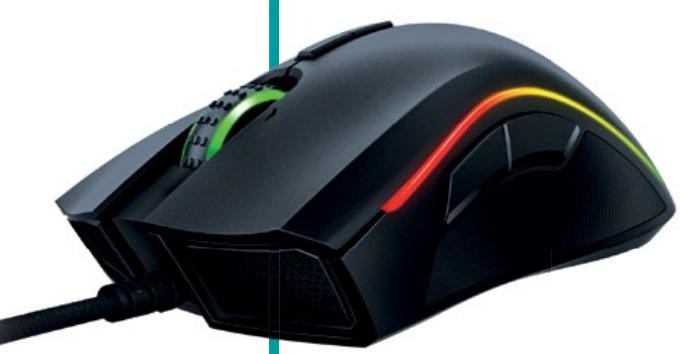 12. HEY, MAMBA! 
The Razer Mamba Elite is the successor to the Mamba Tournament Edition. This wired gaming mouse breathes new life into the Mamba series, sporting a 16,000 dpi optical sensor, Omron switches with extended durability, and nine programmable buttons. The Razer Mamba Elite features 20 Razer Chroma lighting zones and each zone is programmable via Razer Synapse or Chroma Studio. The mouse boasts of enhanced ergonomics too, with its improved side grips.
RAZER MAMBA ELITE 
13. BYE, BYE, WALLET 
Nomad's new Rugged XL Folio Case for 2018's new iPhones lets you leave your wallet at home. The case features a tri-fold wallet design based off  Nomad's Rugged Case. It adds two wallet folds with four card slots and two cash pockets. Protect your iPhone and carry everything you need in one stylish package at the same time.
NOMAD RUGGED XL FOLIO CASE 
14. MAKE YOUR FRIDGE SMARTER! 
The Smarter FridgeCam is a wireless camera that keeps track of your fridge's content with the primary main to reduce food wastage. Its universal mount allows it to be mounted in any fridge and monitor its contents from your smartphone via its Smarter app. The FridgeCam uses its "best before" tracker to highlight which items are reaching their expiry dates. With this smart wireless camera, the entire household can look for to minimizing food wastage in the long run. 
SMARTER FRIDGECAM 
PICTURES NOMAD, RAZER, SMARTER