The flagship smartphone market is one of the most competitive consumer spaces out there. It's the place where manufacturers get to showcase their greatest research and development, and most luxurious designs. These are the best phones of the year.
The flagship smartphone market is one of the most competitive consumer spaces out there. It's the place where manufacturers get to showcase their greatest research and development, and most luxurious designs. These are the best phones of the year.
APPLE IPHONE XS MAX 
The iPhone XS Max is Apple's biggest ever smartphone with a massive 6.5-inch AMOLED display. For the most part, it looks like a supersized version of last year's iPhone X, with a shiny stainless steel frame (in a gorgeous new gold color). Apple also advertises it as having the most durable front and back glass used on any smartphone. Environment resistance is also better and is now IP68 rated. 
While the XS Max's 6.5-inch display makes it sound huge, the phone is actually about the same size and weight as an iPhone 8 Plus. The display itself has a 2,688 x 1,242 pixels resolution (~458ppi) and is practically perfect, with rich colors, deep blacks, excellent contrast, and perfect viewing angles. It is HDR10 and Dolby Vision certified, with a 60% increased the dynamic range so HDR content looks even better now. 
Audio on the XS Max is provided by a stereo speaker setup comprising of one downward firing speaker, and the earpiece doubling up as the second speaker. Sound is impressively loud, with a distinct left-right stereo separation. 
Like last year's X, the XS Max lacks a fingerprint scanner and relies entirely on FaceID for biometric security. While the components are the same, it has been upgraded to be faster than the X. 
On the rear of the XS Max there's a new, bigger 12-megapixel sensor in the wide- angle camera that delivers cleaner images in low light. Both rear cameras also boast zero shutter lag thanks to a rolling four-frame buffer that continuously captures images whenever the camera app is open.   
Inside the XS Max is Apple's new A12 Bionic chip, which is one of only two mobile processors currently made on a 7nm process technology (the other is Huawei's HiSilicon Kirin 980). The A12 Bionic packs a hexa-core CPU, a quad-core GPU, as well as a 'next- generation' octa-core neural engine for machine learning and AI tasks. 
The XS Max has a 3,174mAh battery that supports Qi wireless charging. Technically, it also supports USB Power Delivery fast charging, but not with the bundled charger. 
The XS Max has extra antenna bands that lets it support 4G LTE up to Cat 16 (1024Mbps). 
The XS Max is available in Silver, Space Gray, and a gorgeous new Gold color. 
ASUS ROG PHONE 
The ROG phone has an aggressive design full of sharp lines and angles, complete with an illuminated programmable ROG logo on the back. It has a 6-inch notched AMOLED display with a 2,160 x 1,080 pixels resolution (402ppi), 18:9 aspect ratio, with HDR support and 108.6 percent coverage of the DCI-P3 color space. For more responsive gaming, it also has a 1ms pixel response time and a 90Hz refresh rate. It isn't quite as fast as the Razer Phone's 120Hz Sharp IGZO panel, but it is the fastest smartphone OLED display right now. 
The phone has not one, not two, but three USB-C ports designed to be used with its peripherals such as the AeroActive Cooler, as well as to charge more comfortably while gaming in landscape mode. Even with its multitude of open ports, the ROG Phone is still IP68 rated. 
Another interesting feature is the presence of three ultrasonic sensors, two on the right (called AirTriggers) and one on the bottom left. They can act as programmable shoulder triggers for gaming, to launch apps or wake the phone. There's even something called X Mode that's activated by squeezing the sides of the phone. This kicks the ROG Phone into high gear, optimizing gaming performance by killing background processes and giving games priority for RAM allocation and data transfer. 
On the rear, you get the same dual camera setup as the ASUS ZenFone 5; a 12-megapixel f/1.8 main lens with 4-axis OIS, and an 8-megapixel f/2.0 wide-angle lens. 
Just like ASUS ROG PC components, the ROG Phone is overclocked out of the box, using a "speed-binned" Qualcomm Snapdragon 845 at 2.96GHz (they're usually clocked at 2.8GHz), with a whopping 8GB RAM. To keep everything cool, the ROG Phone employs a unique 3D vapor-chamber cooling system. ASUS claims this offers 16 times the heat dissipation area compared to regular smartphones. 
The battery is no slouch either, with a large  4,000mAh unit that supports QuickCharge 4.0 and Qi wireless charging. 
 The illuminated ROG logo can be synced with up to five other ROG phones. 
The left edge has a conjoined double USB-C port that lets you attach a clip-on cooler. 
GOOGLE PIXEL 3 XL 
Google has played it fairly safe with the Pixel 3 XL's design and it mostly resembles last year's model, with the addition of a new notch in the display. The back of the phone is now entirely glass, but Google has kept the two-tone design element by sanding the bottom two-thirds of the glass panel. Like many other brands, Google has bumped the Pixel 3 XL's water and dust resistance up to IP68. 
The notch is quite narrow, but really tall for no real reason we can discern as the 3 XL doesn't have advanced front-facing sensors like the iPhone XS Max or Mate 20 Pro. The bottom bezel is also larger than many other "bezel-less" smartphones, making the 3 XL look less-premium in comparison.
While last year's Pixels were plagued with display issues, the Pixel 3 XL fares much better. The phone's 6.3-inch P-OLED panel specifically built for the Pixel 3 XL is bright, with natural colors and great contrast. It is certified by the UHD Alliance as a Premium HDR device, but unfortunately, without HDR10 support. 
On the rear, the Pixel 3 XL has a single 12.2-megapixel dual-pixel camera. Its marquee feature is Top Shot, which captures a series of frames before and after you hit the shutter button. On-device machine learning then finds the best photos. There's also AI-powered Super Res Zoom, which takes a burst of photos to create a higher quality image when you use digital zoom. Despite only having a single rear camera, the 3 XL does have a Portrait Mode, using photosites on the sensor to create a depth map, and an AI algorithm to further separate subject from background and apply a lens blur. The end result is quite good, but not as good as multi-lens phones. 
The Pixel 3 XL runs on a Qualcomm Snapdragon 845 processor with 4GB RAM, and as with all Pixel phones, stock Android OS. The 3 XL has an exclusive Pixel Launcher, which includes a new gesture control system that is quite similar to the one used by Apple for the XS Max. 
The Pixel 3 XL has a 3,430mAh battery that supports fast charging with the bundled 18W power adapter, and has Qi wireless charging support too. 
The notch on the Pixel 3 XL is taller than average. 
The back of the phone has an interesting two-tone finish. 
HUAWEI MATE 20 PRO 
Huawei's Mate 20 Pro looks like a cross between the Samsung Galaxy Note9 and Apple iPhone XS; it has a curved display like Samsung's Infinity Display, and a notch with iPhone XS-like set of sensors. 
At the bottom, there's a USB-C port and a dual nano-SIM card tray, but the phone uses Huawei's new proprietary NM (Nano Memory) format instead of Micro SD. Uniquely, there are no visible speaker grilles as the bottom speaker is hidden inside the USB-C port. The phone is also IP68 rated. 
The Mate 20 Pro's 6.39-inch AMOLED display has an impressive QHD+ resolution at 538ppi, the highest pixel density OLED phone. The display itself is gorgeous with excellent clarity, great contrast, vivid colors and wide viewing angles. Plus, it is HDR10 compatible. 
The Mate 20 Pro also boasts having both an in-display fingerprint scanner and 3D Face Unlock. The in-display fingerprint scanner is fast and reliable, while 3D Face Unlock is functionally identical to Apple's FaceID. It uses an IR camera and flood illuminator to project 30,000 infrared dots to scan your face, even in the dark. 
Its rear triple camera setup is comprised of a wide 40-megapixel f/1.8, an ultra-wide 20-megapixel f/2.2, and an 8-megapixel f/2.4 telephoto. The main sensor spits out 10-megapixel images through pixel binning, though you can shoot in full 40-megapixels. The telephoto lens grants 3x optical zoom (or 5x hybrid zoom), while the ultra-wide lens also doubles up as a close focus macro lens. This setup gives the Mate 20 Pro the most versatile camera setup of any smartphone in the market. 
Huawei's own Hi-Silicon Kirin 980 processor powers the Mate 20 Pro, and is the second mobile SoC built on a 7nm process (other than Apple's A12 Bionic). The Kirin 980 is an octa-core processor with a unique setup that's more versatile than the standard big.LITTLE approach: four low-power cores, two medium, and two high-power cores. 
The Mate 20 Pro's huge 4,200mAh battery supports a 40W fast charge through Huawei SuperCharge as well as 15W Qi wireless charging. It can even reverse wireless charge other devices. 
The triple camera and LED flash are arranged in a unique 2x2 grid. 
The Mate 20 Pro has a 3D face unlock system functionally identical to Apple's TrueDepth FaceID.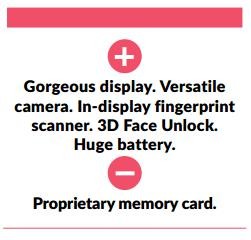 LG G7+ THINQ 
LG is done experimenting with modular components and curved designs, and the LG G7+ ThinQ takes a completionist approach. The phone has a 6.1-inch LCD IPS display with a 3,120 x 1,440 pixels resolution (~564 ppi) and a small notch at the top. It doesn't have the blacks and contrast of an OLED display, but it still manages vivid colors. The phone has an aluminum frame with a glass rear that is slightly curved at the edges for a comfortable and ergonomic feel in hand. It's a safe and proven design, but not particularly exciting. The G7+ is IP68 rated too. 
The G7+ has an easy-to- reach fingerprint scanner below the vertically oriented dual rear camera. Unlike every other LG device in recent memory, the fingerprint scanner doesn't click to double up as a power button. Instead, LG has returned the power button to the right side of the phone. 
There's also a new dedicated Google Assistant button; a single press launches Google Assistant, while a double press launches you straight into Google Lens. A long press takes you into voice commands with Assistant. 
While the G7+ does not have a stereo speaker setup, its single downward firing speaker features an improved 'Boombox' design, utilizing the internal space of the phone as a resonance chamber to deliver more bass. The G7+ also caters to the audiophile market, with a 32-bit HiFi Quad Sabre ES9218P DAC built-in. 
On the rear, the G7+ has a pair of 16-megapixel cameras, an f/1.6 with OIS, and an f/1.9 wide- angle without OIS. Those are impressively wide apertures, theoretically making the G7+ camera one of the best around - but it's not. The Sony IMX351 sensor used in the G7+ has a smaller 1/3.1-inch surface area and just 1μm-sized pixels, which means it can't capture as much light, reducing the benefits of a larger aperture. For comparison, the Note9's camera has a 1/2.55-inch sensor with 1.4 μm size pixels. 
The G7+ is powered by a Qualcomm Snapdragon 845 with 6GB RAM, but has a relatively small 3,000mAh battery. It does support Qualcomm's Quick Charge 3.0 fast charging, and wireless charging through the Qi charging standard. 
There's a new dedicated Google Assistant button on the left side of the phone. 
The G7+ is one of the few phones remaining with a headphone jack. 
ONEPLUS 6T 
OnePlus has never been particularly daring when it comes to phone design and the 6T is the same metal and glass sandwich you see on 90% of premium smartphones. The most refreshing feature on the 6T is its small teardrop-shape notch, which allows for a smaller top bezel. 
For the first time, the 3.5mm headphone jack has been removed. With the headphone jack gone, OnePlus is now bundling a USB-C to 3.5mm headphone adaptor, but surprisingly, no earphones. 
The 6T is available in two colors, but they're both shades of black; you're really opting for either glossy or matte finishes. Unlike most of phones here though, the 6T has no IP rating and no wireless charging support. 
The 6T has a 6.41-inch Super AMOLED display with a 2,340 x 1,080 pixels resolution (402ppi). It is bright, with excellent contrast and color, but for a display this big, it could really use a higher resolution. Compared to other big phones, there's a noticeable drop in clarity. 
Like the Mate 20 Pro, the 6T has an in-display fingerprint scanner. The scanner works well, and is both fast and reliable. Despite OnePlus' claims that this is the fastest in-display fingerprint scanner ever, I found it to be exactly the same as the one on the Mate 20 Pro. 
On the rear, there's a 16-megapixel main camera with OIS paired with a 20-megapixel depth sensor, which is a bit of a shame to have such a high resolution secondary camera used only for Portrait Mode depth information. 
The OnePlus 6T is powered by a Qualcomm Snapdragon 845 processor with either 6GB or 8GB RAM. The 6GB RAM version comes with 128GB internal storage, while the 8GB RAM version has either 128 or 256GB storage. 
The 6T has a fairly large 3,700mAh battery and supports fast charging through OnePlus' own Dash Charge technology. Dash Charge is just as fast as QuickCharge, but also has built-in overheating protection. The disadvantage is that it requires both proprietary Dash Charge wall plug and Dash Charge USB-C cable. 
The 6T's teardrop notch is one of the smallest out there. 
The 6T is the first OnePlus phone without a headphone jack. 
OPPO FIND X 
The Oppo Find X is about as close as you can get to the coveted dream of holding just a display in your hand. It has a hidden pop-up camera mechanism and ultra-thin bezels that give it a ridiculous 93.8 percent screen-to-body ratio, which absolutely destroys both the Samsung Galaxy Note9 (83.4 percent) and Apple iPhone XS Max (84.4 percent). 
The Find X's unique hidden motorized panel houses both front and rear cameras. Whenever you use Face Unlock or open the camera app, the entire top panel will raise up with a mechanical whirr in under a second. 
Oppo claims to have tested the motor for up to 300,000 actuations, or roughly 400 movements a day for two years, but it's still a unique worry other phones don't have. As there's no fingerprint scanner on the Find X, every time you turn the phone on, the camera will raise up to activate Face Unlock. Oppo's version of Face Unlock projects 15,000 IR dots to scan your face in 3D. That's half the number of dots used by Apple and Huawei in their 3D face scanning technologies, and the unlock process itself is a little slow. 
The Find X has a 6.42-inch AMOLED display with a Full HD+ 2,340 x 1,080 (401ppi) pixels resolution and a 19.5:9 aspect ratio. Oppo's "Panoramic Arc" screen is curved like Samsung's Infinity Display too. It is vivid and bright, with great contrast, deep blacks, and wide viewing angles, but like the OnePlus 6T, its huge size really needs a higher resolution.  
The rear camera setup consists of a 16-megapixel f/2.0 lens with OIS paired with a 20-megapixel f/2.0 lens. Unfortunately, like the OnePlus 6T again, the secondary sensor has no functionality on its own, and is merely a depth sensor for Portrait mode. 
Inside the Find X is a Qualcomm Snapdragon 845 processor with 8GB RAM. It has a 3,730mAh battery, and comes supplied with Oppo's 20W VOOC fast charger. Unfortunately, despite its glass rear, it does not support wireless charging, and also lacks NFC support, which rules out contactless mobile payment options. 
The top of the phone houses the Find X's unique pop up camera mechanism. 
The Find X has a dual camera setup, but the secondary camera only functions as a depth sensor. 
RAZER PHONE 2 
The Razer Phone 2 is actually not that different from its predecessor with most of its upgrades under the hood. The phone has a 16:9 aspect ratio 5.72-inch display with huge bezels above and below, and the same industrial "metal slab" design as the first Razer Phone. 
The difference is that the back now sports a Gorilla Glass surface and a new RGB- customizable Chroma Razer logo. The Razer Phone 2 has also gotten a bump in durability, and is now IP67 rated. 
The dual rear camera setup on the Razer Phone 2 has moved to a more central position. It features a 12-megapixel f/1.7 wide-angle lens paired with a 12-megapixel f/2.6 telephoto lens, but Razer has upgraded both image sensors to a Sony IMX 363 with OIS for the wide-angle, and a Sony IMX 351 for the telephoto.  
Like the original Razer Phone, the Razer Phone 2's signature feature is its Ultramotion 120Hz IGZO IPS LCD display. A 120Hz screen results in a more fluid viewing experience, but only if the content supports it (games that don't support 120Hz refresh rates and will default down to 60Hz). Display quality itself has received some upgrades and now supports DCI-P3 color accuracy, with higher brightness and better contrast. The only real downside is that a 120Hz refresh rate is quite power inefficient, and as a result, battery life isn't that great for the Razer Phone 2. 
As before, Razer uses the chunky bezels to fit in large front-facing stereo speakers (the entire bezel is a speaker grille), resulting in impressively loud volume. The speakers support Dolby Atmos surround sound for a more immersive audio experience. Alternatively, if you don't want to use the speakers, the USB Type-C port has a hi-res 24-bit DAC built into it. 
The Razer Phone 2 is powered by a Qualcomm Snapdragon 845 processor with 8GB RAM. It also features Razer's vapor chamber cooling system, which helps to maintain low system temperatures. It has a 4,000mAh battery that is compatible with QuickCharge 4.0 and, thanks to the new glass back, it now also supports wireless charging through the Qi standard. 
The back of the Razer Phone 2 has a customizable RGB Chroma Razer logo. 
The dual rear camera module is now in the middle of the phone instead of the top left corner. 
SAMSUNG GALAXY NOTE9 
The Galaxy Note9 carries the same design Samsung has used for the past two years, though the camera module is now color matched to blend in with the rest of the phone, and the fingerprint scanner has thankfully been relocated to a more sensible position. 
The Note9 remains one of the few phones to still feature a headphone jack, while its speakers are now AKG-tuned. The Note9 is compatible with microSD cards up to 512GB in capacity, so if you get the 512GB model, you can have up to a whopping 1TB storage! 
The Note9's Super AMOLED display has a 2,960 x 1,440 resolution (516ppi) and an 18.5:9 aspect ratio, and is bright, with natural but rich colors, deep contrast, and perfect blacks.
The S Pen on the Note9 has been completely rebuilt with a Bluetooth Low Energy module to work up to ten meters away and can now be used as a remote control. Long press the S Pen's button to launch the camera app, click once to take a picture, click twice to switch between cameras. It's really convenient and a great way to take selfies. 
The S Pen remote works in other apps too. In YouTube, Spotify, and Samsung Music you can click once to pause/ unpause, or click twice to advance to the next video/track. Of course, the S Pen is still useful for taking notes and sketching on the go. The stylus has the same 0.7mm tip and 4,096 levels of pressure sensitivity as its predecessor, and drawing with it on the Note9's display feels fluid and responsive. 
Both the phone and the S Pen are IP68 rated.
The Note9 has a dual rear camera setup pairing a 12-megapixel wide- angle main camera with a dual aperture f/2.4 and f/1.5 lens, paired with a 12-megapixel, f/2.4 telephoto camera, both of which have OIS, making it one of the most user-friendly camera phones around. 
The Singapore version of the Note9 runs on Samsung's own Exynos 9810, a 10nm 64-bit octa-core processor. 
The Note9's 4,000mAh battery supports both Samsung's Fast Adaptive charging and Qi v1.2 wireless quick charging.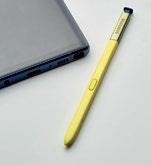 The Ocean Blue Note9 comes with a yellow S Pen. 
The camera module is now color matched to the rear of the phone. 
SONY XPERIA XZ2 PREMIUM 
The Sony Xperia XZ2 Premium looks quite dated for a phone released in 2018. Its 5.8-inch display has a traditional 16:9 aspect ratio and massive bezels above and below the screen. The phone is 11.9mm thick and weighs 236g, making it by far the thickest and heaviest phone here. 
Sony ditched its minimalist 'OmniBalance' design in favor what it calls "Ambient Flow." Despite the fancy new name, the XZ2 Premium actually looks quite generic, with an aluminum frame and curved glass on the rear. It is IP68 rated though. 
This is Sony's first dual camera setup, pairing a 19-megapixel f/1.8, 25mm, 1/2.3-inch, 1.22μm RGB lens with a 12-megapixel f/1.6, 1/2.3-inch, 1.55μm monochrome lens. It boasts video recording up to ISO 12,800 and photos at ISO 51,200. Strangely, despite an emphasis on low-light photography, neither lens has OIS. 
Sony used to have its fingerprint scanner on the power button, a feature I loved, but the XZ2 Premium has a standard rear fingerprint scanner. However, it is strangely positioned almost exactly in the middle, making it ergonomically awkward to reach. 
The XZ2 Premium has two front-facing stereo speakers above and below the display. They are quite loud, and features what Sony calls Dynamic Vibration. This is essentially an oversized haptic actuator – the same one found in the PlayStation 4's Dualshock 4 controller – that syncs with loud audio cues. Sony says this lets you "feel your music", but it doesn't work with many games (its key demographic), and only sporadically on Netflix and YouTube. 
Sony remains the only smartphone maker to offer a 4K display, with the XZ2 Premium boasting a 
The fingerprint scanner on the XZ2 Premium is very low on the phone. 
The XZ2 Premium has huge bezels above and below the display. 
SPECIFICATIONS
BENCHMARK PERFORMANCE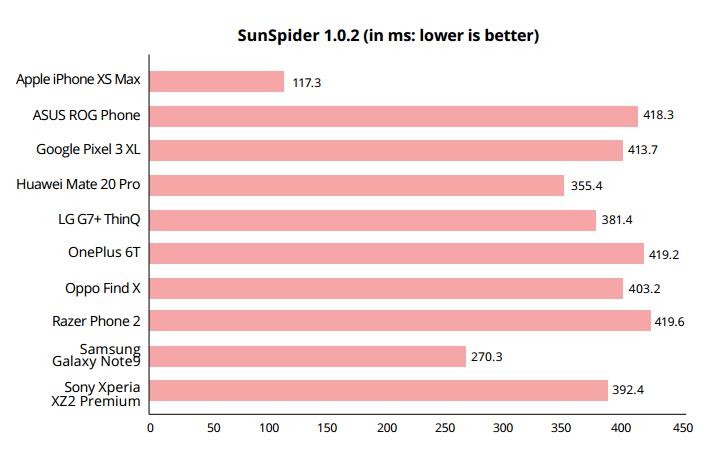 SUNSPIDER JAVASCRIPT
SunSpider JavaScript measures the browsing performance of a device when processing JavaScript. 
Apple has always performed really well on this benchmark due to how well optimized Safari is for Apple's processors. That trend continues here with the XS Max, which was the only phone on this benchmark with a sub-200ms score. The Galaxy Note9 stood out among the Android phones, while the Mate 20 Pro was also a snappy performer. In terms of actual browsing experience, the XS Max provided the smoothest experience, while all of the Android phones felt about the same. 
ANTUTU 
AnTuTu is an all-in-one benchmark that tests CPU, GPU, memory, and storage. 
Apple's A12 Bionic once again proved its power by absolutely crushing the competition in this benchmark. Most of the Android phones running on Snapdragon 845 hovered around the same average, except for the overclocked ASUS which posted a higher score. 
What's interesting to note here is the performance of both Huawei and Samsung, which are the two Android phone makers developing their own processors. 
Huawei's Kirin 980 managed to keep up with the Snapdragons, while somewhat surprisingly, Samsung's Galaxy Note9 with its Exynos 9810 processor underperformed. 
3DMARK - SLING SHOT UNLIMITED
3DMark Sling Shot is an advanced 3D graphics benchmark that tests the full range of OpenGL ES 3.1 and ES 3.0 API features. We're running this benchmark in Unlimited mode, which ignores screen resolutions. 
The A12 Bionic isn't limited to just processing power, its quad- core GPU packs a punch too, and the XS Max was once again way ahead of the competition. While the Huawei Kirin 980 didn't quite manage to match the 845 phones here, Samsung's Exynos 9810 fell behind quite far from the pack.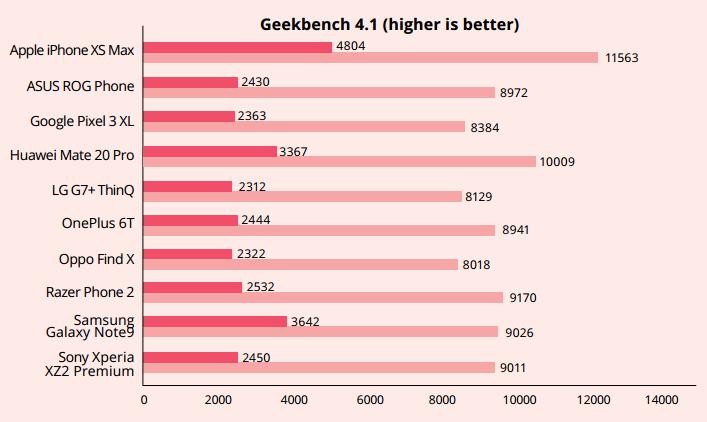 GEEKBENCH CPU
Geekbench CPU is a cross- platform processor benchmark that tests both single-core and multi-core performance with workloads that simulate real-world usage. Geekbench 4 scores are calibrated against a baseline score of 4000 (which is the score of an Intel Core i7-6600U CPU processor). 
The A12 Bionic was again impressive in this benchmark and was about 25 percent better than the Snapdragon 845 and Exynos 9810. Huawei's Kirin 980 was also quite impressive and also outperformed the 845 and 9810. 
BATTERY LIFE 
Our standard battery test for mobile phones involves looping an HD video with screen brightness and volume at 100%, Wi-Fi and Bluetooth connectivity turned on, and constant data streaming through email and Twitter. 
Three phones stood out: The Huawei Mate 20 Pro, the Samsung Galaxy Note9, and the Apple iPhone XS Max, with all three lasting over 13 hours. These three phones are even more impressive considering they all have huge displays. On the other side of things, the Razer Phone 2's 120Hz LCD display and the Sony XZ2 Premium's 4K LCD display proved to be major power drains, resulting in disappointing battery life. 
AND THE BEST FLAGSHIP SMARTPHONE IS… 
HUAWEI MATE 20 PRO 
As the price of flagship smartphones continues to soar, Huawei has managed to make a phone that costs less than many of its rivals, but that still boasts a refined, classy design, a gorgeous AMOLED display, the most versatile rear camera setup out there, the best combination of biometric security you can get, expandable storage (albeit with a proprietary format), fantastic battery life, and super fast 40W charging that's far faster than anything else out there. Its 15W fast wireless-charging is a great addition too. 
In past years, Huawei's Achilles' heel has been its weak benchmark performance, but that's no longer the case, as the Kirin 980 is superior to Samsung's Exynos 9810 and just as capable as Qualcomm's Snapdragon 845. Apple's A12 Bionic still holds the edge here, but the Mate 20 Pro isn't that far behind. 
Huawei has also shown that it's not content with iterative upgrades, and there's something very likable about that. It could have easily taken the P20 Pro's already excellent triple rear camera and stuck it in the Mate 20 Pro, but instead, it redesigned it with a new, and very useful, ultra-wide angle lens resulting in a highly versatile camera kit suitable for practically any situation. 
Huawei has been threatening to challenge Apple and Samsung's smartphone dominance for years now, but it's no longer just a threat. With the Mate 20 Pro, Huawei has surpassed the competition. This is the best smartphone of 2018, hands down. 
Photography by Darren Chang
Art Direction & Digital imaging by Ashruddin Sani