Apple iPad Pro 12.9-inch.
Apple iPad Pro 12.9-inch
Apple's newest iPad Pro is the biggest update to the iPad Pro ever. It has an all-new design to go along with massively upgraded internals. It has new accessories too - a second-generation Apple Pencil and a redesigned keyboard. It's not a stretch to say that everything has changed. 
Let's begin with design. The new iPad Pro comes in two sizes - 11-inch and 12.9-inch - and the first thing you will notice is that it has dramatically thinner bezels. It's as slim as the ones on the iPhone XS and XS Max, but it is considerably less conspicuous than its predecessor, especially along the top and bottom of the display when holding it in portrait mode. This was achieved thanks to the new Liquid Retina display as well as the removal of the Home Button. Along with the brilliant display, the new iPad Pro looks especially dramatic. 
The new iPad Pro is remarkably thin too at just 5.9mm - the thinnest ever for an iPad. And because of the smaller bezels, this means that the overall volume of the larger 12.9-inch model that we are testing is a whopping 25% less than its predecessor. It is a considerably more compact device, this. Weight has been slightly reduced too, by around 8.5%, bringing it to just 633g. 
As I mentioned, the display is a Liquid Retina- class display - the same as the iPhone XR. It has rounded corners, supports the DCI-P3 color space, and also supports Apple's ProMotion technology for variable refresh rates, and TrueTone technology for better color accuracy under various lighting situations. More importantly, it is sharp, crisp, and vibrant. The 12.9- inch model has a display resolution of 2,732 x 2,048 pixels and a pixel density count of 264 pixels per inch. Apple's iPads have always had great displays and the latest iPad Pro proves that it is no different. 
Without a Home button, logging into the iPad Pro is now done using Face ID, just like Apple's newest phones. However, Face ID on the iPad Pro is even more capable because it works regardless of the device's orientation. Orientation aside, it also works at steeper angles and at greater distances. This is hands down the best implementation of Face ID yet and I hope they bring it to iPhones in the future. 
Gone also is the Lightning port and in its place is a USB-C port that supports the USB 3.1 Gen 2 standard. The switch to a USB-C port means the iPad Pro can now play well with a greater range of accessories. For example, you can connect it to cameras to quickly preview and edit shots, musical instruments to record performances, and even external displays with up to 5K resolution.
However, the USB-C port has one glaring limitation and that is it won't read or write to external storage devices. For readers who have already invested heavily into the Apple ecosystem, this isn't a huge deal since you can use AirDrop to easily send files from one Apple device to another. It's also not a problem if you already have iCloud and you use it to sync your files on your Desktop and Documents folders on your Mac. But if you are new to Apple, transferring files can be a hassle as you would need to rely on cloud storage services like Dropbox or Google Drive. 
Inside the latest iPad Pro is Apple's most powerful mobile chip yet, the new A12X Bionic, which is essentially a heavily beefed up A12 Bionic processor found in the iPhone XS, XS Max and XR. This processor has a whopping 10 billion transistors. The CPU is an octa-core design with four high-performance cores and four efficiency cores, while the GPU consists of seven cores. In comparison, the A12 processor in the new iPhones has two high-performance cores, four efficiency cores, and a quad-core GPU. 
As you'd expect, the A12X Bionic processor delivers substantially more performance than its predecessor, the A10X Fusion. When comparing the two, Apple claims that the new A12X Bionic is up to 35% faster in single- core operations and up to 90% faster in multi-core operations. But more amazingly, Apple also claims that the A12X Bionic is faster than 92% of all portable PCs sold in the past year and that it also offers graphics performance that is comparable to the Xbox One S gaming console. 
Apple claims are spot on. In our tests, the iPad Pro proved itself to be the fastest tablet we have ever had in our lab. On popular mobile benchmarking test AnTuTu, the iPad Pro achieved a score that was 98% better than its predecessor and it was also nearly 50% faster than the iPhone XS Max, its closest competitor. On 3DMark, its score of 13,355 was double that of its predecessor and 60% more than the iPhone XS Max, which was again its closest competitor. That said, battery life has been adversely affected as it managed 283 minutes in our battery test, which was about half an hour less than last year's model.
The iPad Pro also gets new accessories in the form of the second-generation Apple Pencil and the new Smart Keyboard Folio. The new Pencil now comes with a matte finish that makes it easier to grip and it has a flat side that prevents it from rolling away. It also attaches magnetically to the side of the iPad Pro, and when it does, it charges wirelessly and automatically pairs with the iPad Pro. The Pencil also has gesture support. Double tapping on the side of the Pencil allows users to quickly switch controls. For example, in the Notes app, double tapping lets you swap between pen and eraser modes. 
The new Smart Keyboard Folio now wraps around the iPad Pro and protects the front and back. It does add a bit of thickness but I think most users will enjoy the extra protection. The other big change is that it now offers two viewing angles, giving users more flexibility and making the iPad Pro much more comfortable to use when it's on your lap. The keys are covered by a fabric-like material and are large enough to make wtyping comfortable. 
The new iPad Pro is a tablet with no equal. It is thin, light, powerful, and offers decent battery life. The only question that remains is if it fits your lifestyle, needs, and usage patterns; and if you are comfortable enough with iOS to use as your main workhorse. 
CONCLUSION 
A tablet with no equal.
The latest generation of the iPad Pro comes in two sizes: 11-inch and 12.9-inch. 
Writing and drawing is a pleasure thanks to the Apple Pencil's responsiveness and fluidity. 
The Smart Keyboard Folio has two viewing angles. 
Multitasking on the iPad Pro is easy with multi-window modes like Slide Over, Split View, and Picture in Picture.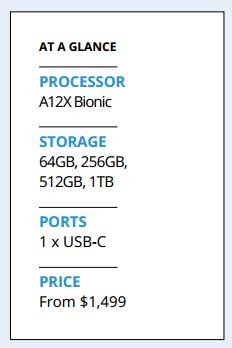 PICTURES APPLE