The year end = a getaway for your mind and body. Luxe out and recuperate at these wellness retreats that look great, and are even better for the soul.
Joali's Luxury Water Villa with an ensuite pool 
Big inhale, and exhale — nothing is more important than your health (physical and mental!) and you might feel like you need some time away just for yourself to get some headspace. Just so you know, you don't need an excuse to take care of yourself. When you're at your best, you can be better in all other aspects of your life, whether at home, at work or with family and friends. You'll also start to find that little challenges during the day bother you less. These wellness retreats will make you feel chill, centred and keep the anxiety away. Remember that you deserve the absolute best! 
THE ULTIMATE TREAT YOURSELF
With a holistic approach to wellness, Joali Spa specifically created a mindful wellbeing programme with renowned spa brand ESPA — with a single goal to help guests reconnect to who they truly are. The spa's collaboration with wellness experts brings guests a range of body and facial treatments to de-stress, rejuvenate their skin and find an inner calmness. Each treatment starts with a refreshing coconut water infusion and ends with special culinary delights to keep you happy from the inside out. Apart from facilities like a sauna, steam room, hammam, vitality pool and a fitness centre, there's also a private spa beach and outdoor vitality pools for you to relax in the open air.
Go for a yoga or meditation session before or after treatments to experience the Transformative Wellness. The Inner Joy session includes body and facial massage, using breathing and visualisation techniques so you feel relaxed and calm.
WHERE Joali Maldives, Muravandhoo Island, Raa Atoll, Maldives PRICE $$$$$ Start saving now! From $3,606/night in the One-Bedroom Beach Villa CONTACT +960 658 44 00; joali.com 
End your day with a sunset at the Water Villa Patio 
Joali Four Bedroom Beach Residence 
LOST AT SEA
Love a good ocean view while you're at the spa? Song Saa Private Island gives you the perfect view of clear waters while you get your massage.
The spa here incorporates the Buddhist tradition of Metta Bhavana, or loving kindness, using Earth-friendly, natural products, too. Cambodian spa treatments are targetted around the main energy channels of the body. Try the Stillness Treatments for a sense of peace from within, Healing Treatments for awareness of the body, or Blessing Treatments to nourish and revitalise. Each treatment comes with a spa ritual and individual treatments.
As for facials, a popular face therapy treatment is the Rainforest Facial. It provides anti-aging benefits and uses raw ingredients from the Amazon Rainforest for a natural regeneration of the skin. The Song Saa Sanctuaries also has the Khmer Traditional Spa and Massage, a special local offering that uses traditional techniques with herbal oils.
To balance the body and mind, the Cambodian spa retreat also provides yoga and meditation therapies. You'll find your zen for sure with internationally trained wellness pros, yogis and meditation gurus.
WHERE Song Saa Private Island, Koh Ouen, Koh Rong Archipelago, Near Sihanoukville, Cambodia PRICE $$$$ From $2,178/night in the One-Bedroom Jungle Villa CONTACT +855 92 609 488; songsaa.com 
Breathtaking views of Koh Rong Archipelago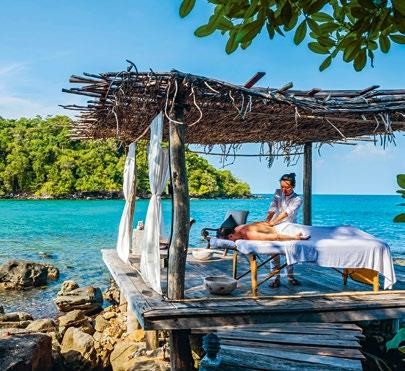 Unwind with a massage at the Outdoor Spa Sala 
"You'll find your zen for sure with internationally-trained wellness pros, yogis and meditation gurus." 
AFFORDABLE LUXE
The Pavilions Hotels and Resorts aim to make guests feel recharged and ready to face anything after your stay. Make full use of the unlimited free massages they offer at The Pavilions Phuket's spa using locally sourced essential oils which will help you totally switch off. The signature is a two-hour Thai Silk experience with a refreshing mandarin orange scrub and a traditional Thai massage to release tension and increase flexibility.
Want to DIY your own self-care regimen but don't know where to start? The Pavilions Bali's organic spa holds masterclasses for exactly this. Expert therapists will show you a step-by-step guide on how to pick the freshest natural ingredients, prep your own 'skin superfood' and indulge in an at-home spa.
WHERE The Pavilions Bali, 76, Jalan Danau Tambilingan, Sanur, Bali, Indonesia PRICE $$$ From $272/night in the One-Bedroom Garden Villa CONTACT pavilionshotels.com/bali
WHERE The Pavilions Phuket, 31/1 Moo 6, Cherngtalay Thalang, Phuket, Thailand PRICE $$$ From $272/night in the Hill View Suite CONTACT pavilionshotels.com/phuket 
Take a dip any time during your stay at The Pavilions Phuket's Pool Villa 
Warm Balinese interiors at The Pavilions Bali's spa 
TEXT PAMELA CHOO PHOTOGRAPHY COURTESY OF SONG SAA PRIVATE ISLAND, JOALI MALDIVES, THE PAVILIONS HOTELS AND RESORTS