The demand for prenatal fitness classes is hitting a new high. ESTELLE LOW susses out the yoga, barre and pilates ones.
The demand for prenatal fitness classes is hitting a new high. ESTELLE LOW susses out the yoga, barre and pilates ones.
Times are getting exciting for pregnant women. While the general, well-meaning advice for mums-to-be a decade ago was to lay off  exercise and get plenty of rest, the tide has turned.
These days, so long as you have no pre-existing medical condition or any pregnancyrelated condition in which your doctor deems you unfit for exercise, such as vaginal bleeding, abdominal pain, dizziness or breathlessness, health and fitness professionals actually recommend you to stay active throughout your pregnancy.
Besides improving your posture and staving off  aches and pains from loosening joints and ligaments due to the surge of pregnancy hormones called relaxin, regular exercise goes a long way to keep your energy levels in check (less dozing off  in the office), reduce swelling and bloating, boost your strength and stamina (much needed when baby comes!), lower your risk of gestational diabetes, and even power you through a natural delivery. Now, which expectant mum wouldn't want that?
Thanks to the growing number of prenatal fitness classes in Singapore, there are many ways to exercise safely during pregnancy. From yoga to barre and pilates, these prenatal classes are led by qualified instructors, who will pay close attention to your form and specifi c needs. The class sizes are a lot smaller compared to typical classes, so more movement space is guaranteed.
Newbies need not worry – the exercises are designed to be beginner-friendly, while effectively targeting certain muscle groups. Some moves will push you to perspire, but you shouldn't reach a point where you're catching your breath. (If you do, it's time to scale back.) Another beauty of prenatal workouts? You are encouraged to rest or take water or toilet breaks as and when needed. Absolutely no judgment here. Consider these classes one of your best pregnancy investments, and well-deserved me time.
Breathe Pilates – Preggi Bellies
#09-33 Novena Medical Centre; #13-02 Parkway Centre; #01-04 Galaxis www.breathepilates.com.sg
Running at least 12 prenatal pilates reformer classes a week, Breathe Pilates places emphasis on strengthening the core muscles which include the glutes, hamstrings, quads, upper and lower back, pelvic floor, deep abdominal muscles and chest, to help pregnant women gain body awareness and maintain a proper posture throughout their trimesters. The exercises also work on improving neck and shoulder stability, to build the upper body strength that's necessary to handle a newborn. Props such as hand weights, fitness circles and exercise balls may be used. Pilates reformer newbies are required to go for a few private sessions to learn the basics, prior to joining the group classes.
How much: $55 for a single class; $480 for 10 classes
Platinum Yoga – Pre-Natal Yoga #02-462-466 Suntec City Mall; #11-09 and #1308/09 Parkway Centre;
#26-01 Westgate Tower; #05-03 Westgate Mall www.platinumyoga.com
If you're looking for a moderately paced workout to challenge your strength, flexibility and balance, this class will not disappoint. In one hour, expect to do modified sun salutations and poses that will warm up your body and leave you feeling more mobile. Modified inversions that are known to boost blood flow to the brain and reduce stress, such as shoulder stand, may be introduced under the instructor's close supervision. While executing the poses, you'll be trained to use ujjayi breathing, a deep breathing technique that will help you relax during labour.
How much: $85 to $105 per month of membership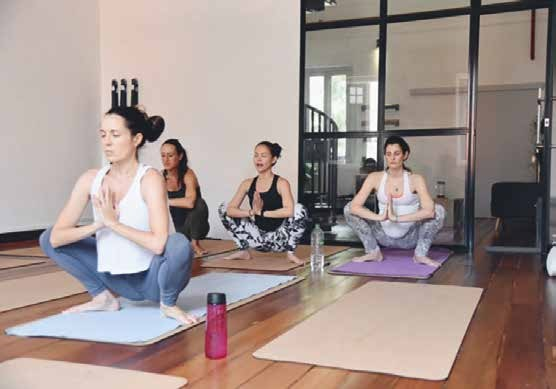 Yoga+ – Pre-Natal
28A Pagoda Street www.yogaplus.sg
In an intimate class setting of up to five students, you'll do poses that encourage ease of movement, improve flexibility, and help you connect with baby. Designed with beginners in mind, this 60-minute class is slow-paced, with an emphasis on breathing techniques and restorative stretches at the end to relieve discomfort and anxiety. You'll also learn active birthing techniques that will empower you during labour.
How much: $30 for a drop-in class; $140 for five classes
Hom Yoga – Prenatal
#06-12/13 Orchard Central www.homyoga.com
No prior yoga experience is required for this hour-long class, which will take you through a series of standing poses, followed by restorative floor work that's designed to stretch and strengthen muscles that are essential for labour and postnatal recovery. The usual class size ranges from three to eight students. Bolsters, blocks and straps are used to provide comfort and support, and to deepen the practice.
How much: $32 for a drop-in class; $155 for five classes
Pure Yoga – Pre-natal Level 4, Chevron House; Level 18, Ngee Ann City Tower A;
#06-02 Asia Square Tower 2; #01-501 Suntec City Mall North Atrium www.pure-yoga.com/singapore
The 60-minute prenatal classes at Pure Yoga are designed to improve circulation throughout the body, facilitate connection with your baby and body, as well as promote awareness of your pelvic floor area and strengthen specifi c core muscles. Poses are suitable for all trimesters, with variations given to enthusiastic yogis, first-timers and those facing certain pregnancy-related conditions.
How much: $53.50 for a drop-in class; membership rates vary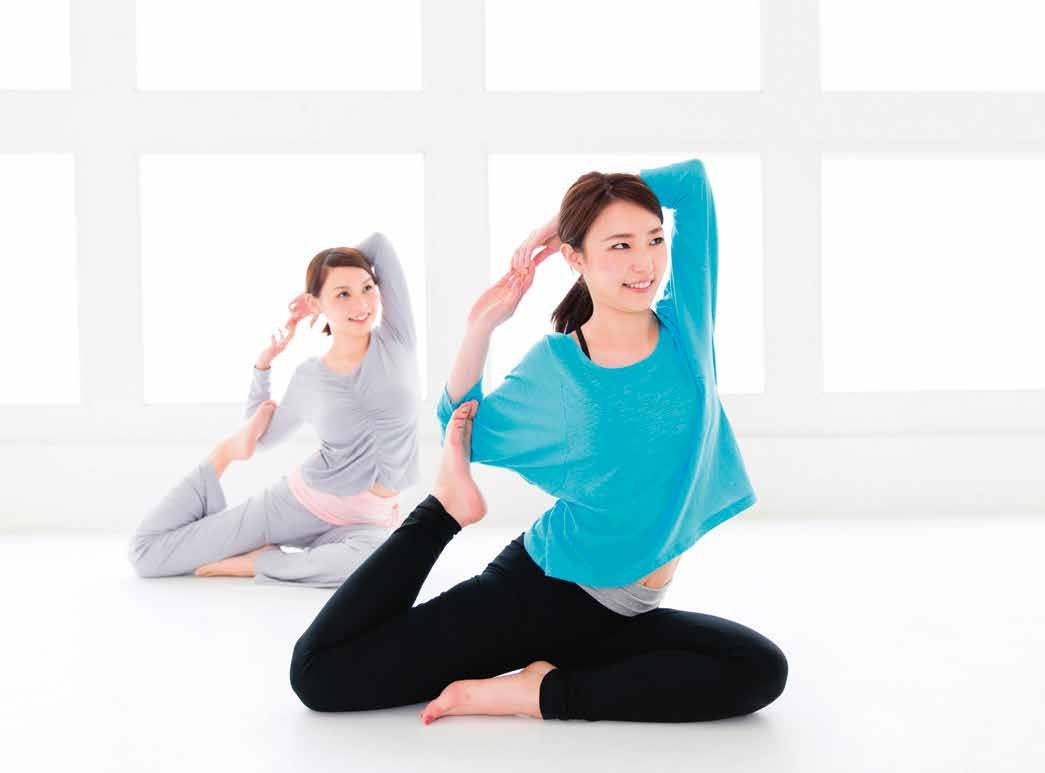 True Yoga – Prenatal Yoga
Level 4, Pacific Plaza www.trueyoga.com.sg
Gentle poses like cat-cow, bridge, butterfly and modified cobra are done in this 75-minute class that's meant to improve flexibility, as well as strengthen muscles in the neck, shoulders, hips, back, butt, knees, ankles and pelvic floor to alleviate posture-related aches during pregnancy. Through breathing exercises and visualisation techniques, you'll emerge calmer and more mentally prepared for delivery. Poses that require deep twisting or lying flat on your back are avoided. To get comfortable in the poses, the use of props such as bolsters, cushions, blankets, blocks and straps is encouraged.
How much: $44.94 for a drop-in class; $401.25 for 10 classes
The Moving Body Group – Pre-Natal Reformer
#01-23/24 Robertson Walk www.themovingbodygroup.com
To up the fun factor, consider joining a pilates reformer class. Using props such as foam rollers, resistance bands, weighted balls and pilates circles, this 60-minute prenatal class is both engaging and educational. You'll do a mix of stretching and strengthening exercises with an emphasis on the abs, arms, back, glutes and pelvic floor, to help you better support baby's weight. Breathing exercises are done to activate the core and keep the abdominal region supple during pregnancy. Classes are kept to a maximum of six students. Those who are new to the reformer are required to attend at least three private sessions before joining the group classes, for safety reasons.
How much: $49 for a drop-in class; $859 for 20 classes
The Yoga School – Prenatal
#39-01/08 OCBC Centre www.yogaschool.asia
Appealing to office workers in the CBD, The Yoga School offers an unparalleled view of the city skyline – made even more splendid when you're there for a class during sunset. Prenatal classes are offered during lunchtime (60 minutes) and in the evening (75 minutes). With a class size of up to 20 students, this is a great opportunity to hear and gain support from fellow mums-to-be. The poses are aimed at strengthening your postural muscles to minimise pregnancy aches and prepare you for labour. Breathing and meditation exercises are incorporated to help you de-stress.
How much: $38 for a single class; $180 for five classes; $280 for 10 classes 
Como Shambhala Urban Escape – Pre-Natal Yoga
#06-01/02 Delfi  Orchard www.comoshambhala.com/singapore
Whether you're bursting with energy, feeling tired or nauseous, or dealing with back ache and pelvic pain, you'll enjoy this 75-minute multi-level class that offers sufficient options for a safe and effective workout that challenges your strength, stamina and flexibility. Every pose – including variations – is clearly explained and demonstrated. Much attention is paid to posture and alignment, so you can be sure of doing the right thing. Through the knowledgeable prenatal instructors, you'll learn about your changing body, and how best to support those needs. The props come in all forms – blankets, foam blocks, wooden blocks, egg blocks, straps, round bolsters, flat bolsters, birthing balls, wall ropes and even chairs.
How much: $45 for a single class; $210 for five classes; $400 for 10 classes 
Yoga Lab – Pre-natal
Level 2, 10 North Canal Road; Level 2, 27 Boon Tat Street; #0301, 135 East Coast Road www.yogalab.com
Perfect for beginners, the 75-minute class focuses on improving blood circulation and promoting body awareness, while introducing fundamental poses such as warrior, downward facing dog and cat-cow, with modification options. Props include mats, blocks, straps and bolsters. The supportive, non-judgmental vibes makes it easy to relax and stay focused. First-timers can enjoy a complimentary trial.
How much: $40 for a drop-in class; $150 for four classes; $330 for 10 classes 
WeBarre – WeBarre Pre-Natal
Level 3, 86B Tanjong Pagar Road; Level 2, 5A Stanley Street; #02-01 School of the Arts www.webarre.com
Even if you have not done barre before, you wouldn't feel out of place here. The instructors will ease you into the moves with detailed instructions, and adjust the pace for first-timers. The hour-long class works you from head to toe by segments: arms, legs, glutes and core, followed by a rejuvenating cool-down. Props such as dumbbells, resistance tubes, resistance bands and pregnancy wedges are used. The wedges are particularly benefi cial for those in their second and third trimesters, to reduce pressure on the body.
How much: $29 for first-timers; $43 for a drop-in class; $410 for 10 classes