Through the powerful characters she plays onscreen and her work helping women and girls around the world, Black Panther star Danai Gurira has found a strength and purpose that propels her forward.
When Danai Gurira wants to clear her head, she hands her phone to her trainer and launches into a 90-minute workout. "It takes me away from whatever else is going on," says the actor, awardwinning playwright, and social activist. "All the things pulling at me out in the world are put on pause. My trainer uses my phone to track my heart rate. So I don't have access to anything except what we're doing."
Taking time out to focus is especially important these days because Danai, 41, is one very busy woman. In the last year, she has starred as the fierceOkoye in not one but two movies – Black Panther, the award-winning superhero film that broke box office records, and Avengers: Infi nity War – and portrayed the zombiekilling Michonne in the hit TV show The Walking Dead. Danai is also in Avengers: Endgame.
Then there's all the advocacy work she does. Recently named a UN Women Goodwill Ambassador, she also founded and leads Love Our Girls, an organisation with a mission to bring awareness and support to issues a ecting women and girls worldwide. In truth, this part of her life is therapeutic, says Danai, who was born in Iowa and grew up in Zimbabwe. "I consider everything I do that involves any degree of advocacy or service to be self-care," she says. "Stepping out of myself to help others is also a way of taking care of my soul, quite honestly. I don't feel good about who I am if I'm not connected to a larger issue."
As her inspiring list of professional and personal projects grows, these strategies keep Danai inspired, happy, and strong.
Put in the work – and it will pay off
"For the last three years, I've worked out with my trainer, AJFisher, three or four times a week. I started working with her when I got  the role of Okoye. I was about to go into pre-production, and I felt like I needed to amp up my fitness and endurance. I call her the MacGyver of trainers because she can create an elaborate course in your living room with just a co ee table and a couple of resistance bands. She mixes things up – it's never the same workout, so your body can't get used to it. She uses methods I was already connected to, like the Alexander technique, yoga, and pilates, and incorporates them into a very rigorous workout that enables me to strengthen and become holistically stronger.
"For me, the coolest thing is when you feel the work pay o . You exercise a lot, and you're doing your job, shooting long hours. And then you go to work one day, and you have to do something physical, and your body just knows how to do it. That happened for me in The Walking Dead and Black Panther. I thought, I did that, and it was not difficult. And I knew that my body was getting smarter as I was devoting hours to its upkeep. It delivered at the moments when I needed it to."
Eat what genuinely makes you feel good
"Five years ago, I made the decision to eat cleaner. I try to avoid dairy, I eat mainly fish, and I have a lot of vegetables. It doesn't make sense as a meal to me if there is no green on my plate. Eating this way truly made me feel better, and so I've stuck with it. I'm not a zealot about it, though. I really love fries, and I have them when I want to treat myself. Sometimes when I'm on a plane, I'll eat a little something I don't normally have because I'm like, 'Eh, I'm in the air, so it doesn't count.' It's all about moderation."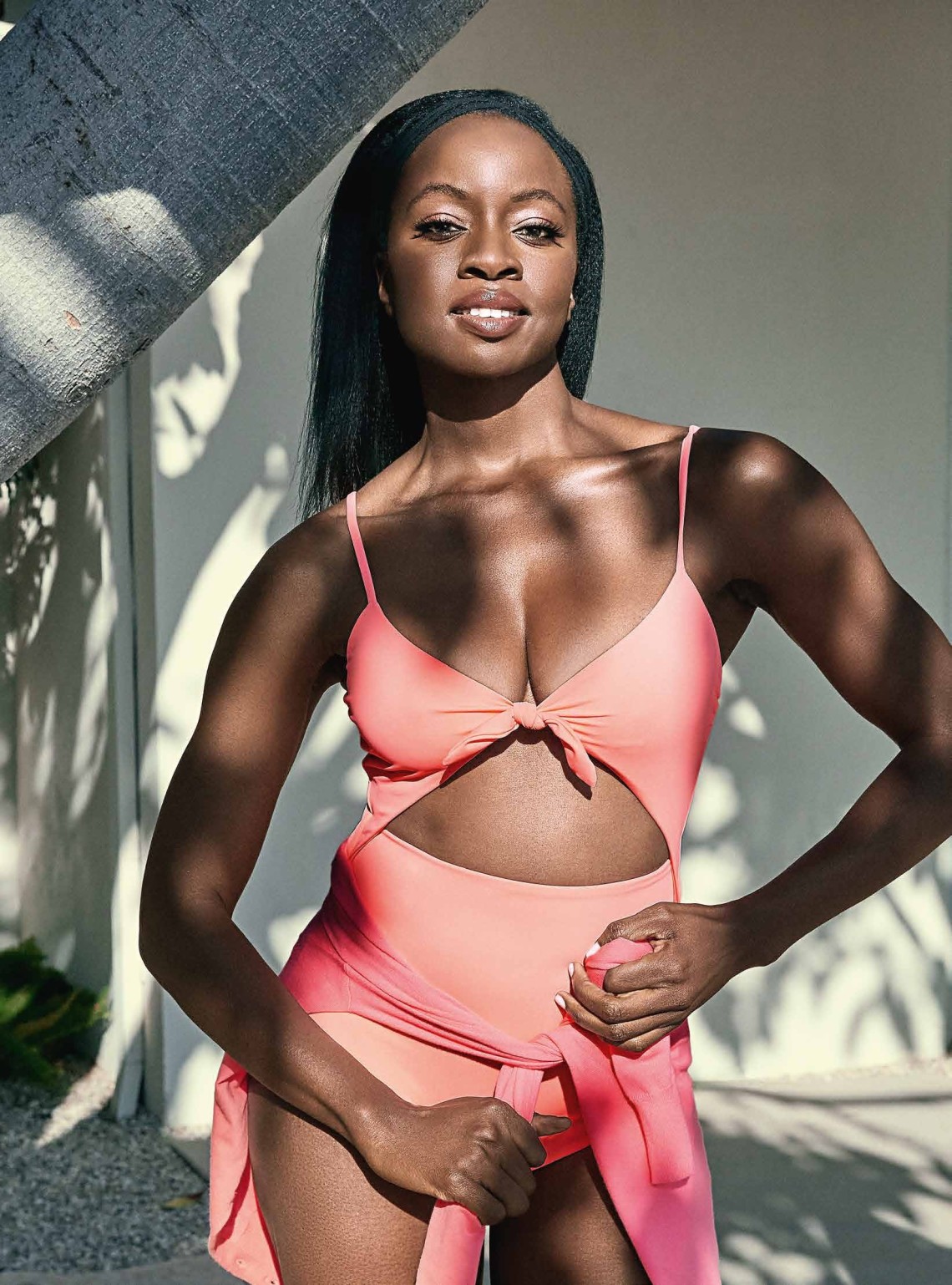 Mara Hoffman Kia swimsuit (www.marahoffman.com). J.Crew Featherweight Cardigan sweater (www.jcrew.com).
"I can confidently walk through this world because I know who I am, what I'm doing, and why." 

"There's no point in doing something if it doesn't challenge you." 
Nylora Caddie top (www.nylora.com). Milly Marley shorts www.saks.com). Roger Vivier Bikiviv' Trekking Sandals ($875, rogervivier.com). Opposite: Flagpole Florence swimsuit (www.flag polenyc.com).
Break out of your bubble
"I aim to do something in the realm of meditation and prayer every day. That's crucial. It's about having a spiritual relationship and total well-being, and really being a person who cares about things far beyond herself. If I get too caught up in myself and my little life, it can become a much smaller world. I want to have an awareness, a concern, and a service toward the larger world."
Aim for messy, not perfect
"I have had the good fortune of being able to portray characters like the leader of an army or a woman with a big samurai sword that she uses very well. And I thoroughly enjoy that. I believe women should be able to play roles that are messy and contradictory, as well as complicated and not always likable, just as men have. To me, that's equality. But we can't overcorrect and make all female characters strong and perfect. Because that is also limiting and restricting. Women should be able to portray the full gamut of human experience. There's a lot of power in complexity."
Speak up for those who can't
"I started Love Our Girls three years ago, around the time my play Eclipsed went to Broadway. The play, which takes place in a war zone in Liberia, gives a voice to girls and women in captivity. It's an issue we don't hear much about, and I realized it was the moment to create a platform for it. It was Valentine's Day, which is also my birthday, and I thought that if we were to love women and girls in this world more, surely the issues of inequality would steeply diminish or disappear. And that's basically the premise of Love Our Girls. On the 14th of every month we send a newsletter that features women, girls, and organisations around the world that are doing amazing things but don't get enough attention. To join our efforts, go to logpledge. Org and take the pledge. We'll give you the tools to become involved. It's a way of giving girls and women, whether they're in Congo or Brooklyn, more opportunity."
Christian Siriano scoop neck textured dress (www.farfetch.com). Dinosaur Designs Irregular bangles, Large Organic bangle, and Shield ring (www.dinosaurdesigns.com).
"Self-care is about pursuing what brings you joy and prioritizing time for that ."
TEXT PAM O'BRIEN PHOTOS JAMES MACARI STYLING BROOKE ELY DANIELSON HAIR VERNON FRANÇOIS/THE VISIONAIRIES AGENCY FOR VERNON FRANÇOIS PRODUCTS MAKEUP TYM BUACHARERN/THE CRITERION GROUP MANICURE SREYNIN PENG FOR ESSIE SET STYLING ANDY HENBEST/ART DEPARTMENT